In the hamlet of Ameliasburgh, in Prince Edward County, Ontario, you will find a street, about an eighth of a mile long, that runs from County Road 19 up to the Harry Smith Conservation Area. 
If you visit the website of Quinte Conservation, however, you won't find any mention of the Harry Smith Conservation Area; when I spoke with someone there this morning I was told that the area has been decommissioned and re-naturalized, and that the footpath that circumnavigates the Ameliasburgh Mill Pond is no longer maintained.
The Harry Smith Conservation Area is remarkable for two reasons, beyond the mere fact of its generous donation by Harry Smith to "retain its natural atmosphere and be developed into a day-use area." 
First, there is a photograph in the Irving Layton fonds titled "A man at the Harry Smith Conservation Area, Ontario." How I'd love to see that photo. Why was Irving Layton in Ameliasburgh? Which man?
Second, the name of the street running up to the Harry Smith Conservation Area is Purdy Street (originally Purdy Lane), named for Canadian poet Al Purdy:
So when it came to celebrating its celebrity, as small burgs like to do, Ameliasburgh named a lane after him. Al was amused by the fact that Purdy Lane led down to the graveyard. It is now called Purdy Street, and you can follow it down to the beautiful book-shaped stone with Al Purdy's name on it, not many steps from Owen Roblin's resting place.
Ameliasburgh, you see, was the hamlet chosen by Eurithe and Al Purdy as the site for what became the most well-known A-frame house in Canadian literature:
In 1957 the Purdys bought the property on "the south shore of Roblin Lake, a mile or so from the village of Ameliasburgh, in Prince Edward County… (the) lot bordered the lake shoreline, a teacup of water nearly two miles long. Dimensions of the lot were 100 feet wide by 265 long."

With a pile of "used lumber, concrete blocks, studdings, beaverboard and the like" Al, Eurithe and Jim Parkhurst (Eurithe's father) began construction on the now famous A-frame. Al tells the story in Reaching for the Beaufort Sea.

Things happened in that house. Alfred W. Purdy, the "failure" of a man and poet (as Al looked back on that time), started publishing as Al Purdy. Just as Al and Eurithe composed the A-frame from available materials, Al began to compose poems about Roblin Lake, Ameliasburgh and Prince Edward County. In 1962, Poems for All the Annettes was published. Al considered this book a "watershed" in his development. The following year he submitted the manuscript of The Cariboo Horses to McClelland and Stewart. It won the first of Al's two Governor General's Awards.
The presence of the Purdys in Ameliasburgh helps explain why Irving Layton would be taking photos at the Harry Smith Conservation Area.
(It is worth noting that while the sons and daughters of Ameliasburgh have embraced poet Purdy, here in his hometown of Charlottetown, we've yet to embrace Purdy's friend, and fellow poet, Milton Acorn).
This Ameliasburgh jag was triggered by the news Yann Martel to match donations to Al & Eurithe Purdy A-frame Foundation Campaign. 
Longtime readers will recall my own brief encounter with Yann Martel, the bond between Al Purdy and my friend and former next door neighbour, Mike Johnston, and my love for the Bruce Cockburn song 3 Al Purdys.
All of these led me to believe that it is fated that I should contribute to the A-Frame Foundation campaign. 
So I did.
In memory of Milton Acorn.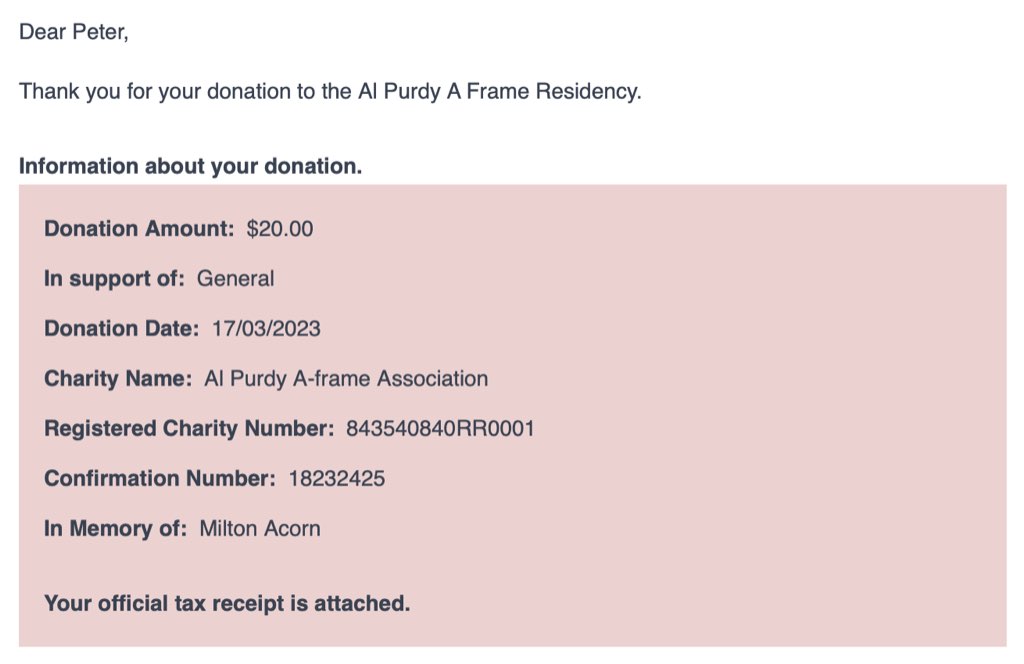 Perhaps you'd be willing to match my donation?