Our friend Beth Cudmore died last week.
Our lives overlapped with Beth's in innumerable ways over the last 20 years: I used to shop at Henderson & Cudmore, the Charlottetown haberdasher run by the family; I worked with Beth's son Chris at the Anne of Green Gables Store; I counted Beth's late husband Brian as a good friend; I came to know Beth's daughter Cynthia, first here on PEI and later through her Panamanian operation and her daughter Carolyn, with whom I shared an excellent travel agent; I helped Beth get her computer working when it had problems; and, by coincidence, I am friends with many of the people who called Beth a landlord over the years.
Perhaps more than anything, however, I got to know Beth around the dinner table at our mutual friend Catherine Hennessey's house, and through the dinners and Christmas and birthday parties we shared there I came to know her as an independent, funny, caring, curious person.
The last time I saw Beth was earlier this fall — it seems like only yesterday — around that same dinner table. We talked about our Volkswagens, about her kids and grandkids and about Oliver and shared a meal with friends and family.
During Oliver's first summer back a decade ago in the summer of 2001 my friends Sophie and Oliver (Oliver's namesake) visited from the USA and we used the occasion to hold an "Oliver Oliver" party at 100 Prince Street. Beth and Brian both came, and I snapped this photo of the two of them: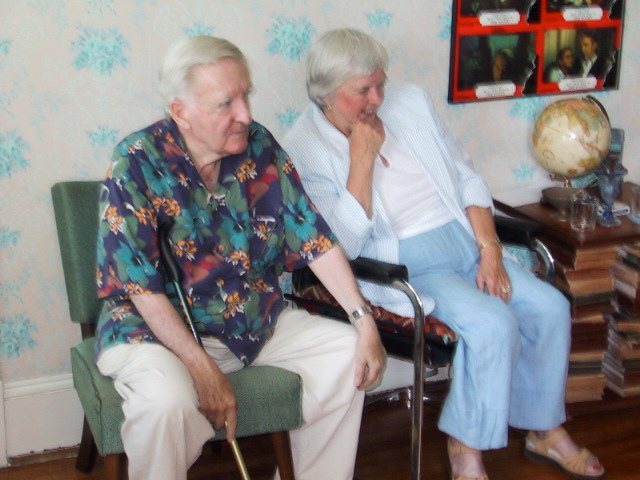 We'll miss Beth around that supper table; our condolences go out to her family.