This page describes the original Reinventorium, where my office and print shop were located for the six years from from January 2012 to March 2018; I've since moved on to a new location, which you can read about here.
Located inside The Guild, in downtown Charlottetown at 111 Queen Street, it's spread over two rooms: a 286 square foot (26 m2) office and studio on the second floor, and a 90 square foot (9 m2) print shop in the basement.
History
Previously my base of operations was on Fitzroy Street, shared with silverorange; I moved my operation into the Reinventorium in January of 2012; in the years since I've been making myriad digital and analog things, from web pages to mobile apps to letterpress broadsides.
Although being 10 feet from an active theatre, which is often filled with laughing children or crescendoing troupes, is not without its sonic challenges, the spaces are bright, central, flexible, comfortably heated and cooled, and well-managed. It would take a lot to get me to move.
The Office and Studio
The second-floor office is where I spend most of my time. It's 26 feet long and 11 feet wide, and overlooks Richmond Street, with the tiniest sliver of a view of Charlottetown Harbour down Queen Street.
Before I moved, the room looked like this: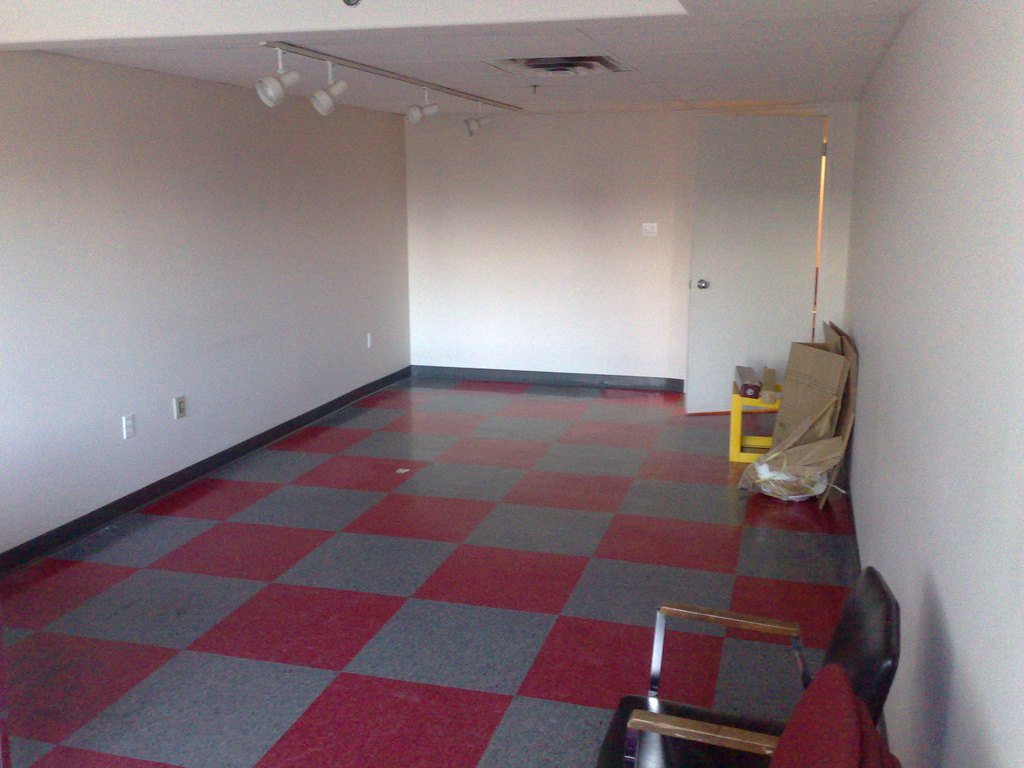 These days here's what it looks like, as rendered in Sketchup: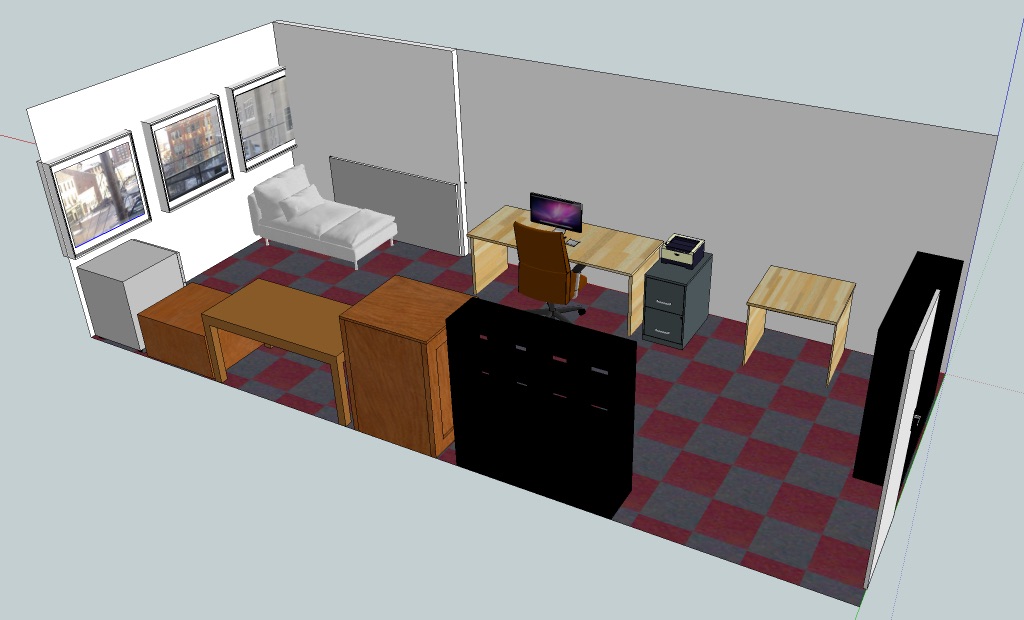 The entrance is through a door on the far right of this sketch: as you enter the room, the analog operation is on the left and the digital operation on the right, a choice made simply because there are no electrical outlets on the left.
The analog setup consists of a build-like-a-tank type cabinet filled with about a dozen fonts of cold metal type and topped with a work surface for setting type, along with a large wood work table, and a set of custom-built shelves to store paper.
The digital site centres around a stand-up desk topped with an Apple Cinema Display on an Humanscale M8 monitor arm connected to a late-2011 MacBook Air. There's also a Brother HLL2360DW wireless laser printer, a desk for tinkering, and an IKEA Sodëhamn chaise.
Also on the left and near the entrance of the office are sets of IKEA Expedit shelves, a gift from Casa Mia when I moved in. They hold files, envelopes, paper, USB cables, tins of ink and all manner of miscellanea. 
The Print Shop
The basement print shop is entered through a door off the Gallery in The Guild in the basement of the building. It's 7 feet by 13 feet, and is home to my Golding Jobber № 8 letterpress, century-old printing behemoth.
The space was the first one I rented in The Guild, while I was still working from Fitzroy Street: it was the only downtown space I could find with floors strong enough to handle the weight of the press (variously estimated at 600 to 1600 pounds, depending on the mover you're talking to). When I first moved in it was part of a larger workshop that had been originally renovated for the PEI Printmakers and was, at the time, used mostly to hold children's art classes and as a screen printing studio; in early 2016 renovations turned it into a room of its own, with its own entrance.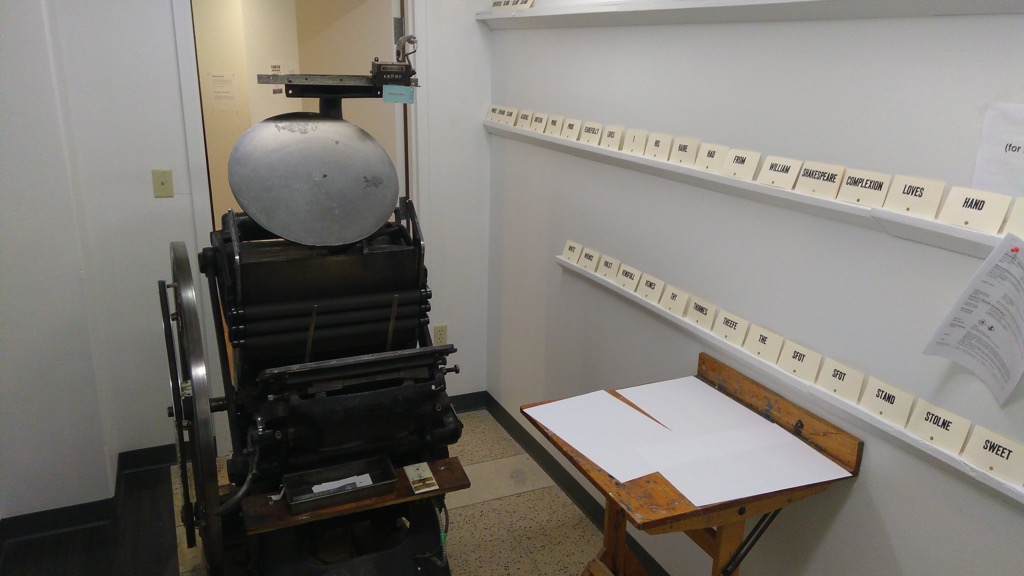 How to Visit
Because the Reinventorium is located deep in the heart of The Guild, behind several locked doors, you need to contact me first to make arrangements to visit. Both rooms are accessible: the basement space via elevator from the Queen Street box office entrance, the second-floor space via an elevator from the Richmond Street entrance.