Back at the dawn of the century, when the web was a new frontier and we were making it all up as we went along, a lot of what was written about in the nascent weblogs of the day (did we even call them that?) was blogging itself (we might have just called it "writing"). These days we tend to treat blogs as though they've always been here: there's nothing novel about them, and the basics of the form — posts sorted in reverse chronological order written in a personal tone — has largely remained frozen for the last 10 years.
That's a good thing — how long would your interest be kept up by a prime time TV lineup that consisted of shows about the prime time TV lineup? — but it's also a bad thing, as it means that if you want to write on the web you basically do it in a blog-like format or you don't do it at all.
Meanwhile, I just keep blogging along: it's become part of the DNA of my everyday life, and it would be hard to stop doing it, as it's an integral part of how I process my thoughts and ideas, and, increasingly, it's how I remind myself of where I've been and where I'm going.
One of the things that has changed in this space is the degree of what they call "user engagement" in the business. As a reader, your opportunity to "participate in the dialog," such as it is, has been through your ability to comment on each post (when we all thought that eventually everybody would have a blog we had visions of an interconnected network of cross-linked blogs; that idea has largely died out and comments are what's left over). Here's a graph of the number of comments per month here on ruk.ca from July 2003 to October 2001. The peak was that first month, with 532 comments; the valley was March, 2010 with 21 comments. And the trend is, unmistakenably, down.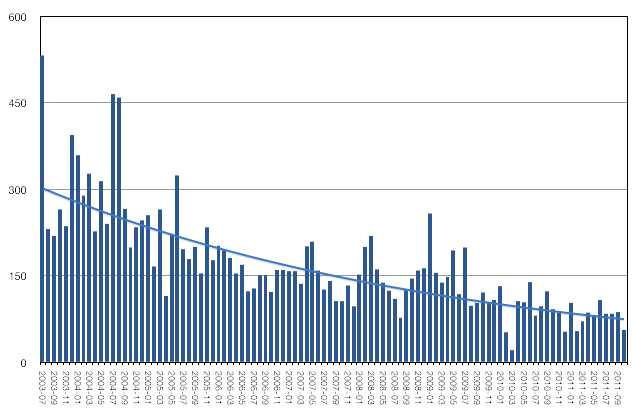 You'd think that this trend might simply reflect a decrease in the number of visitors to the weblog, but that has remained scarily consistent over the this period; here's a Google Analytics graph of visitors by month from 2007 to present:

The number of visitors per month hovers just around 30,000 and the number of pageviews per month around 50,000.
So you're all visiting and reading just as much as you ever did, you just have less to say. There are a whole host of reasons I imagine that this might be true:
I'm writing less interesting, or at least less-comment-worth (less inflamatory, less gripping) posts; it's easy to chime in when I get coffee thrown at me; perhaps I'm the only person on earth with as intense an interest in Charlottetown building permits?
It's become harder to comment: various anti-spam mechanisms that are in place now to combat the ceaseless torrent of comment-spammers may have the unintended side-effect of making it harder for real people with real things to say.
The Guardian and the CBC ruined commenting: it's generally acknowledged that the comments section of both news outlets' websites are fetid cesspools of ad hominem attack and anonymous name-calling; perhaps the very act of web-commenting has suffered as a result.
Facebook et al is where all the conversations are happening. It's no secret that I think of Facebook, Google+ and all the other walled parallel Internets as a wrong turn on the information superhighway, but there's no arguing that they've made "user engagement" painless and integrated into a whole host of other everyday activities (all with the goal to making us more highly-valued advertising targets, but that's another story). Who wants to hang out on a creaky old blog in this new world?
At the risk of encouraging comments-about-commenting, I'd be interested to know more about what your actual reasons for reading-but-not-writing here are.