If you are anything like me, the question "I wonder where the secret Korean grocery store in North River is" has never occurred to you. This is likely because the notion of their actually being a secret Korean grocery store in North River never occurred to you.
If this is the case,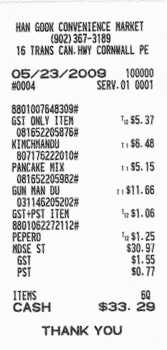 then prepare to be amazed and delighted as I lead you to the door: from Charlottetown drive as if you were going to Cornwall on the Trans-Canada Highway. Head over the North River Causeway and before you get to the PetroCan gasoline station on your right you'll see, on the left, a white plaster horse with it's right leg raised. Turn left at the horse and into the parking lot for Winfield Motel. On the left-hand side of the parking lot you'll see a new building that looks like it's not yet in use. Drive to the end of the building and park. Go to the last door on the building, the one with the Post-It note with Korean writing. If the door is locked, go around to the office of Winfield Motel and ask the woman behind the desk about for help (warning: she does not speak English) and help will appear.
Once you are admitted you will find a bright, modern grocery filled to the brim with the culinary wonders of Korea, everything from silkworm pupae to kimchi to dumplings to bottled squid to tiny table-top gas-fired grills for making bulgogi.
If there was any doubt as to Charlottetown becoming a culturally more diverse place of late, surely this all the evidence needed to prove the case. It's not an exaggeration to say that when we arrived in Charlottetown 16 years ago if you'd told me the city would boast a Korean grocery I would have laughed you out of town: back then, outside of the always rich Lebanese menu, and with the notable exception of The Noodle House, "pizza" was about as "international" as food got in the city.
We live in exciting times.