In 2014 I posted about our energy consumption at 100 Prince Street: that year we used 3,710 litres of home heating oil.
I asked Kenmac Energy for a statement of the three years we've been a customer (we switched from Coop Energy when it shut down) and they helpfully provided it. Combining that with data from Coop Energy, here's what we consumed:
2016: 3710 litres
2015: 3920 litres
2016: 4264 litres
2017: 4391 litres
2018: 4421 litres
Here's a visualization of our usage, contrasted with the annual heating degree days for Charlottetown (from here: a measurement designed to quantify the demand for energy needed to heat a building. It is the number of degrees that a day's average temperature is below 65o Fahrenheit):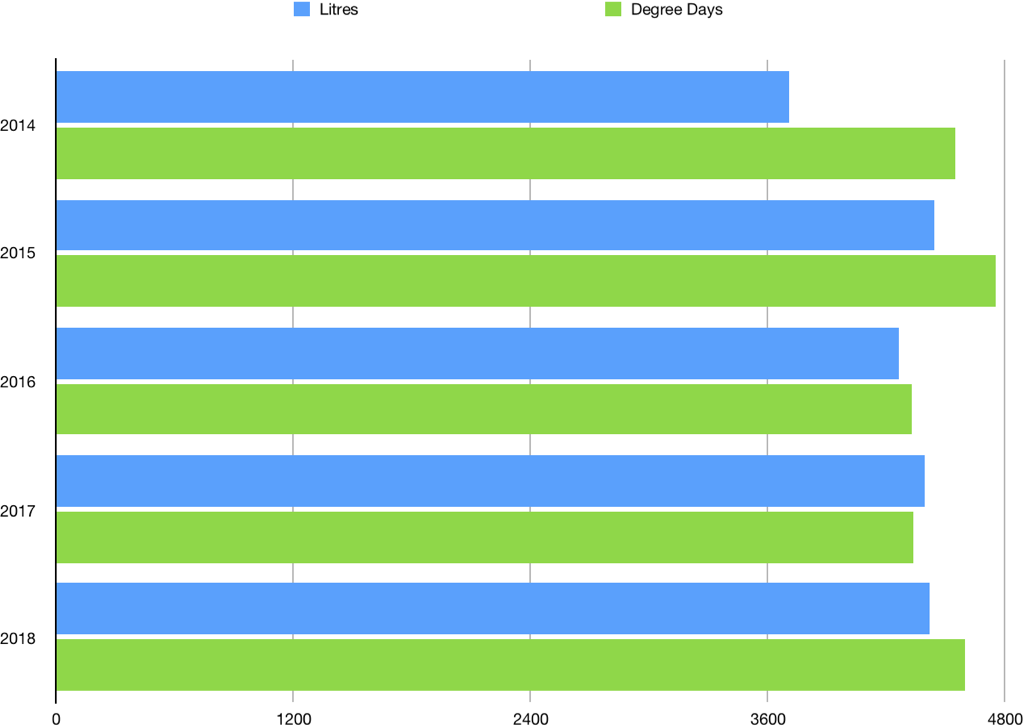 Our consumption has gone up 711 litres/year from 2014 to 2018, but otherwise appears to be generally related to the number of heating degree days, which makes sense; given the number of degree days in 2014, though, I'm wonder if I under-reported the figure for that year.
I do all this calculating by way of trying to determine the way forward for how we heat our home.
We got a (very) ballpark estimate of $36,000, all-in, for replacing our oil-fired boiler with a high temperature vertical closed-loop geothermal system; while such a system wouldn't take our energy costs to $0, as the system requires electricity, it would be dramatically less expensive.
We spent $4500 for our 4421 litres of home heating oil last year, so, very crudely, the geothermal system would have a payback period of 8 years. Which seems pretty amazing (assuming, of course, free and ready access to $36,000).
Our EnerGuide home energy audit last year estimated that we'd consume 4881 litres annually, which would emit 13.4 tonnes/year of greenhouse gas emissions; at that rate, we emitted 11.6 tonnes/year of greenhouse gases from home heating last year, and a geothermal system would take that down much closer to net-zero, which must be figured into any calculations we make.