I have been a happy member and customer of Coop Energy for more than 20 years. The service has been great, the people friendly and helpful and, more than anything else, I've been happy to be able to purchase home heating oil from a cooperative enterprise.
And so I was dismayed to find, upon returning from vacation this week, that Coop Energy is no more: its assets have been taken over by Ultramar, which is a division of CST Brands, "the second-largest publicly traded fuel and convenience retailer in North America."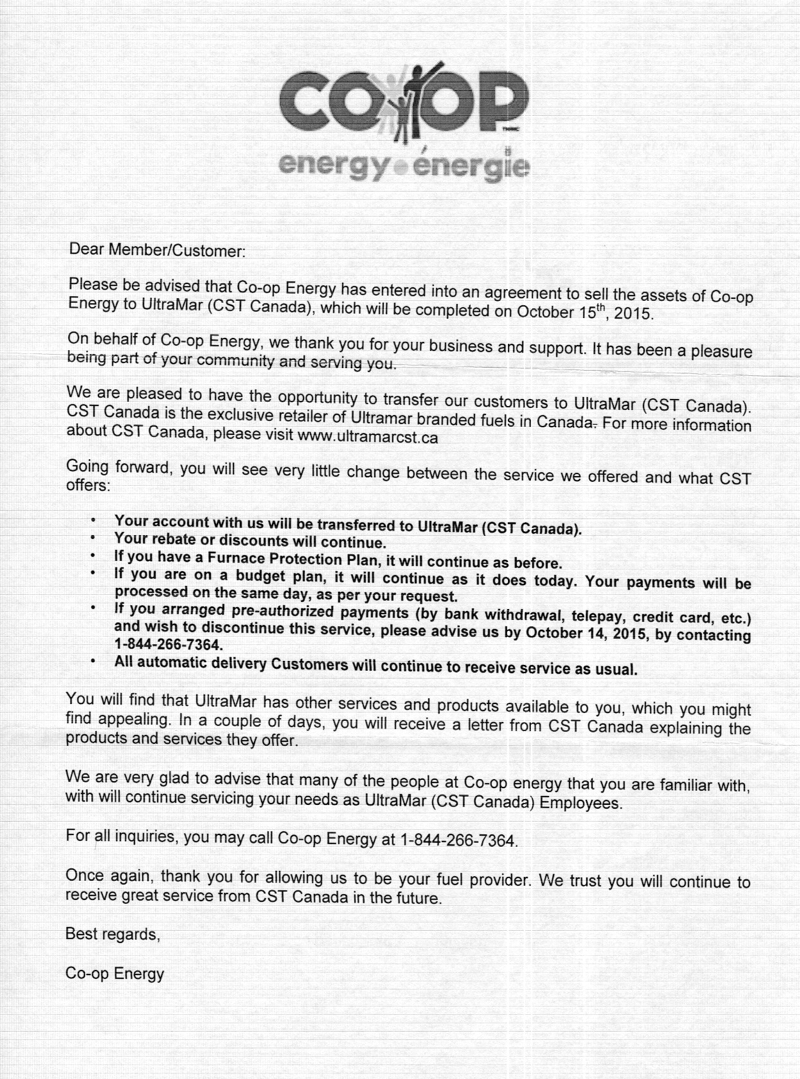 I'm not entirely sure I want to be a customer of Ultramar's, and so yesterday I send an inquiry to the suppliers of home heating oil in Charlottetown – Kenmac, Island Petroleum, Bluewave, Irving and Ultramar – asking them about the services, their billing procedures, and, most importantly, their ownership structure.
So far the only company to respond has been Ultramar: I received a call this morning from a former Coop Energy employee, now presumably employed by Ultramar, from their New Brunswick office, offering to answer any questions or concerns I might have. She took great pains to reassure me that nothing would change: I would still call the same number, I would still be dealing with the same employees, the same discounts and rebates would apply.
My response was that while all of that might be true, from my perspective everything had changed, as Coop Energy was a coop and Ultramar is a branch of a large multinational corporation. She agreed that there wasn't much she could do about that.
Of course it's not like there's anyone selling artisanal locally-produced home heating oil here in Charlottetown: they're all dipping into the same well, so to speak. But I care about the way that businesses I purchase from are owned and operated, and home heating oil is by far and away the household expense I spend the most money on every year, so to the extent that's it's possible to exercise some influence through the kind of company I purchase from, I'd like to. It can't be a coop now, alas, but perhaps it doesn't have to be a multinational either?
I welcome comments from customers of other providers here in Charlottetown (or from the providers themselves).