Here's a snippet from Google Analytics showing the source of traffic to OpenCorporations.org from November 24, 2008 to December 11, 2008. Over that period there were 7,863 individual visits to the site. Here's how they got there: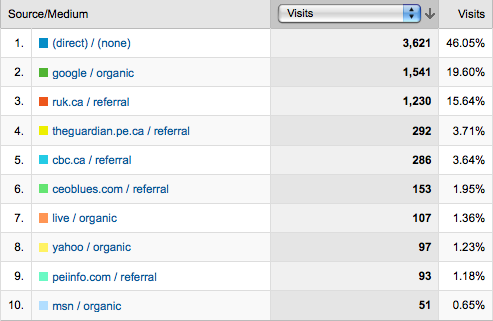 It's interesting that the traffic from the CBC and from The Guardian was effectively equal; traffic from Dan James' blog was about half of each of those, but still worthy of note as Dan runs a tiny little blog, not a vast media empire.
Of the 7,863 total visits to the site, 5,232, or 70%, were from Internet addresses identified by Google as being in Charlottetown, making "intensely local" a pretty good way of characterizing the audience (by comparison, only 17% of the traffic to ruk.ca comes from Charlottetown).