I mentioned this five years ago, but it bears repeating: Prince Edward Island residents can pay $10 for a "community ID" and get borrowing privileges from the Robertson Library at the University of PEI. Mine was due for an update — since I originally got it many years ago they went all "smart card" — and so I stopped in today and got a new one: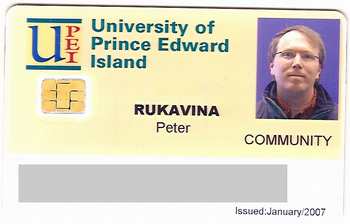 My operative G. tells me that I can somehow parlay this into a card that lets me add cash and use the photocopier in the library too, but I haven't tried that yet.
Holland College extends similar privileges to Islanders.
Add to this the feature of islandlibraries.ca that lets you request items from the Provincial Library, Holland College and UPEI collections be delivered to your local library.
PEI residents have excellent, free access to a stunning array of library resources.