I purchased my first fountain pen in May of 2000 from Fountain Pen Hospital in New York City, a Waterman Hémisphère.
My first use of the pen was to write a letter to the editor of Saturday Night magazine. They didn't run the letter, but they did run the envelope.
In the years since, my tastes have run to the cheaper end of the fountain pen universe, and I am especially fond of those made by Lamy; I own three of them, and I don't believe I paid more than $30 for any of them.
I've always used cartridges in my fountain pens, mostly for fear of ink spills (as Catherine will attest, fear-of-spills runs strong in me). Many years ago my friend Catherine Hennessey generously gave me a bottle of Quink (which might be the most elegantly-named product ever). I was terrified of spilling the bottle, and I handled it like one might handle an atomic bomb. This fear prevented me from ever actually using the ink, and, as far as I know, it still languishes in some spill-proof corner of our attic.
All the talk of the joys of using dip pens when sketching, though, got me thinking that it might be time to break out of my ink shell, and that The Bookmark, our independent bookstore here in Charlottetown, has developed a helpful sideline in pens and inks and related supplies proved to be all that was needed to push me all they way.
Oliver and I took a walk up last night after supper and picked up a "converter" for my yellow Lamy Safari pen, along with a bottle of waterproof Noodler's Ink (a laudable brand, but one with packaging seemingly designed on a Commodore 64 by someone who's just figured out that you can stretch letters).
This morning at the office, I flushed the blue cartridge ink out of the pen, using this helpful video and a newly-acquired nose-aspirator-bulb, and then carefully dipped the converter into the ink bottle and used its twisting suction mechanism to slurp up some ink.
I pulled a Fabriano notebook from the reserve shelf, and took the newly-equipped pen for a ride: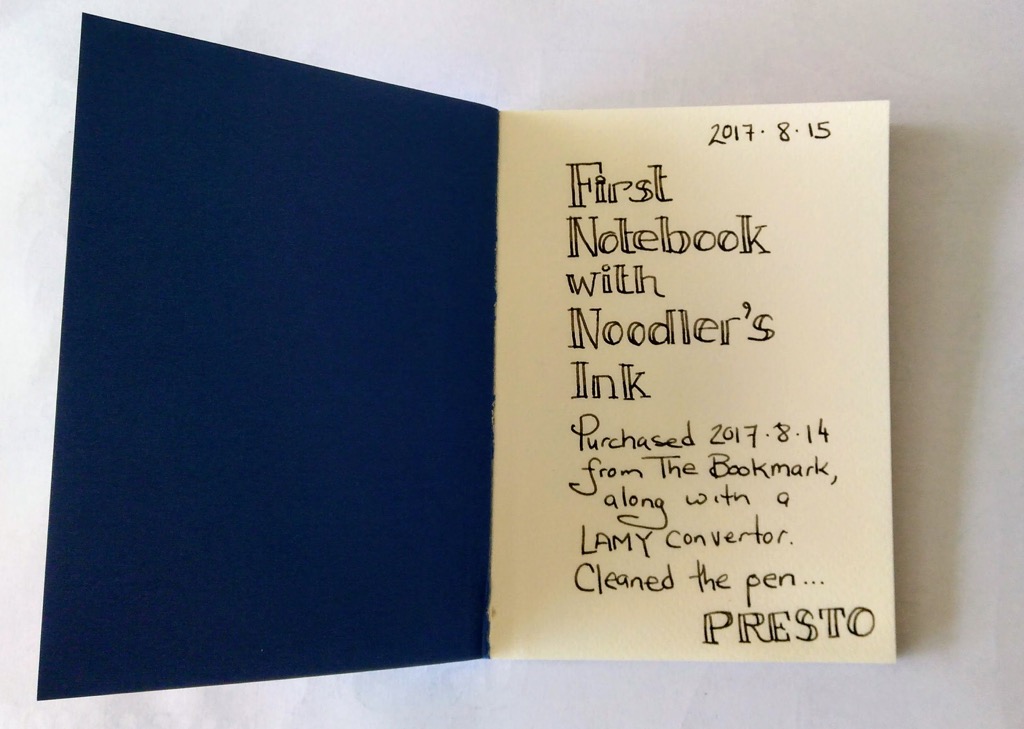 The ink is beautiful, especially on the Fabriano paper. And it is, indeed, waterproof:
And now I've got no more cartridge-anxiety and can write and sketch with carefree abandon.