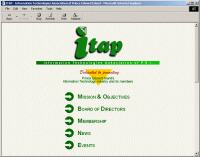 Could someone please put the ITAP website out of its misery. I'm not even an ITAP member and it bothers me. It may have been state of the art when it was created, but it's now both ugly and broken.

The site hasn't been updated since the 2001 Christmas mixer. It's full of broken links and missing graphics.

Imagine if the Housepainters Association was headquartered in a building with a bad paint job. It's an embarrassment to the industry.

I know that the silverorange folks have offered to replace it pro bono, but that professional rivalries have kept this from happening. Just let them do it: anything is better than the status quo.