From today's Autism Society of PEI newsletter:
The Autism Society of PEI and the PEI Public Library Service are happy to partner on a new collection sharing initiative. Islanders can now access the Autism Society's in-house collection with their PEI Public Library card. Members of the public can search and request these materials through the library's online catalogue and have them delivered directly to their local library. Thank you to the PEI Public Library for this great partnership opportunity!
This is tremendous news, and a fantastic move forward given the previously muddled situation with autism resources.
You can see all of the available resources like this:
Go to the Public Library Service catalogue in your browser.
Click Advanced Search.
Select "Autism PEI" under Location.
Click Search.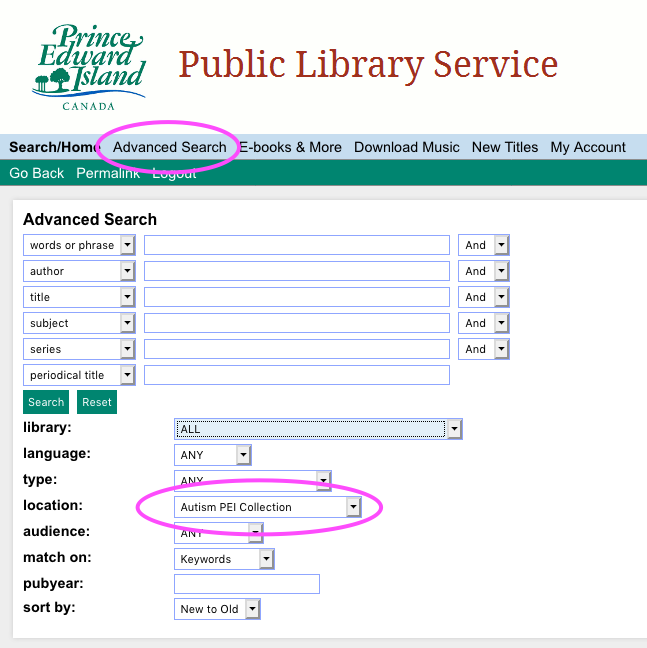 As of this writing there are about one hundred items in this collection, from 101 tips for the parents of boys with autism to Video modeling for young children with autism spectrum disorders. The ability to order these resources for delivery to one of the 26 library branches across the Island makes the collection so much more valuable than when items were only available from the Autism Society's office in Charlottetown.
This is also a good example of interlibrary cooperation in general: there are myriad resource libraries held by non-profit organizations and institutions across the Island, with collections that could benefit greatly from exposure to a wider audience. Cooperative projects like this leverage the curatorial skills of subject-matter-expert organizations with the visibility, systems and logistics expertise of the Public Library Service.
Bravo!