Since I started experimenting with visualizing Prince Edward Island energy information over a year ago, one of the most important pieces missing from the data puzzle has been Island's "load" — what the province calls "the amount of electricity required to power lights, motors, appliances and other users of electric energy in PEI."
So, in other words, "how much electricity we 140,000-odd people (and our machines) are using."
But last week the province started publishing that figure in near-real-time and so now we can generate graphs like this one, showing the load over the past 5 days (you might very well ask "what the heck is using 100MW of electricity in the middle of the night?" and I've posed that question to Maritime Electric and await an answer):
Now that we have that "total load" number, we can compare it to the "how much wind energy are we generating on the Island right now" figure, and so get a near-real-time percentage figure that looks like this for the past three hours:
(As I write this the figure is 1.26%, in part because there's not a lot of wind blowing today and the load, at 162MW, is high).
Overlaying the wind energy generated (orange) on top of the load (black) for the past five days, you can see that once during that period (around midnight on June 23) we came really, really close to meeting 100% of our load with wind energy: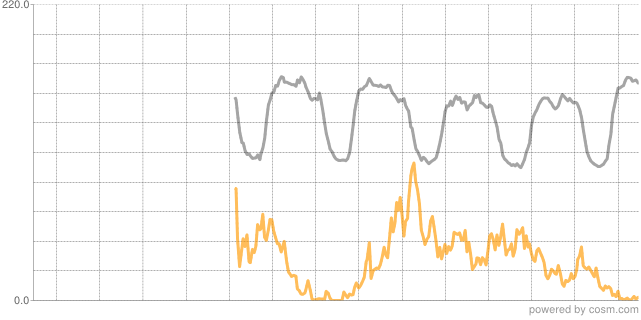 (Cosm doesn't have the ability — I don't think — to generate graphs with two data values, so I grabbed these individual graphs and combined them together myself manually).
The logical next step here is to create a physical device that I can place on my desk — a siren? an LED slider? a VU-meter? — that will offer instant feedback about what the current percentage figure is.
Note: in my calculations I'm using the figure for wind energy generated on PEI, regardless of whether it's being generated to meet an export contract; like the province says, "usually all electricity generated in PEI remains on-Island," which is to say that the electrons stay on the Island, even if the dollars come from elsewhere.