Yesterday I wrote about Plazes, a neato "geosocial" service. Tonight I saw it work in the real world.
At about 1:00 a.m. I was just finishing up on the late-nite blogging and email checking when a new email came in: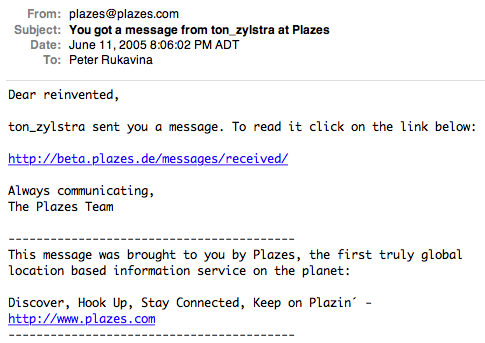 So I did was I was told, and clicked on the link, which took me to:

Ton found me originally because (a) Rob Paterson (big in Europe) told him to watch out for me and (b) because his Plazes told him I was here: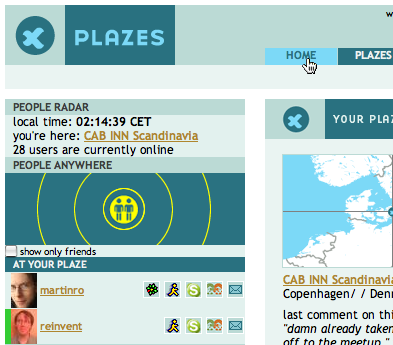 So I replied:

…and got dressed, went out to the lobby, and found Ton and Martin having a drink. I grabbed a hot chocolate, sat down, and we talked for over an hour about everything from Robert Scoble to making open source bread and open source cars, to just what all those people with laptops open during presentations at reboot were doing.
So Plazes was a social prosthetic device that (relatively) effortlessly enabled a conversation to happen that otherwise never would have.
By lucky coincidence I ended up crammed into the back of a Mercedes with Stefan Kellner and Felix Petersen — the "Plazes guys" — tonight on the way to dinner. They're thoughtful, intelligent guys, but they're otherwise completely normal. I think one of the most useful roles of conferences like reboot is to expose easily star-struck and meek people like me to thoughtful, intelligent people with brilliant projects like Plazes who happen to be otherwise completely normal: it makes it seem possible that, with some work, we too could become thoughtful and intelligent.