Today's side-project: bring the world of Plazes together with the world of 2D barcodes to create printable information sheets for individual Plazes. The result: http://givesome.info/, a tool that makes things like this:
The idea is that crazy mobile camera-phone owners can walk up to the sheet posted on the wall at the Plaze in question and use a barcode reader application (see here to get one) to translate the barcode into a URL: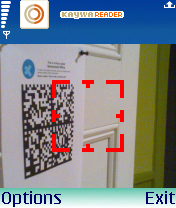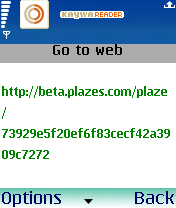 …that can then be used to open the mobile browser on the phone to the page for that Plaze. In theory, on that page they'll find useful information about where they are: reviews, comments, who's been there before, and so on. It doesn't take too much imagination to imagine this becoming the mechanism for a new-style "point and shoot" Plazer.
This is just a little experiment in bridging Plazes to the physical world: please let me know if you have any difficulties making this work. I owe a great debt to the excellent Semafox project, from whence the "make a barcode in JavaScript" code comes.