When he finished high school in mid-June, Oliver transitioned to the day program at Stars for Life, an organization I believe in deeply, and from which he will derive great benefit.
The primary logistical challenge of this is that Stars for Life is located 5.5 km from our house, and I need to get Oliver there every morning and pick him up every afternoon.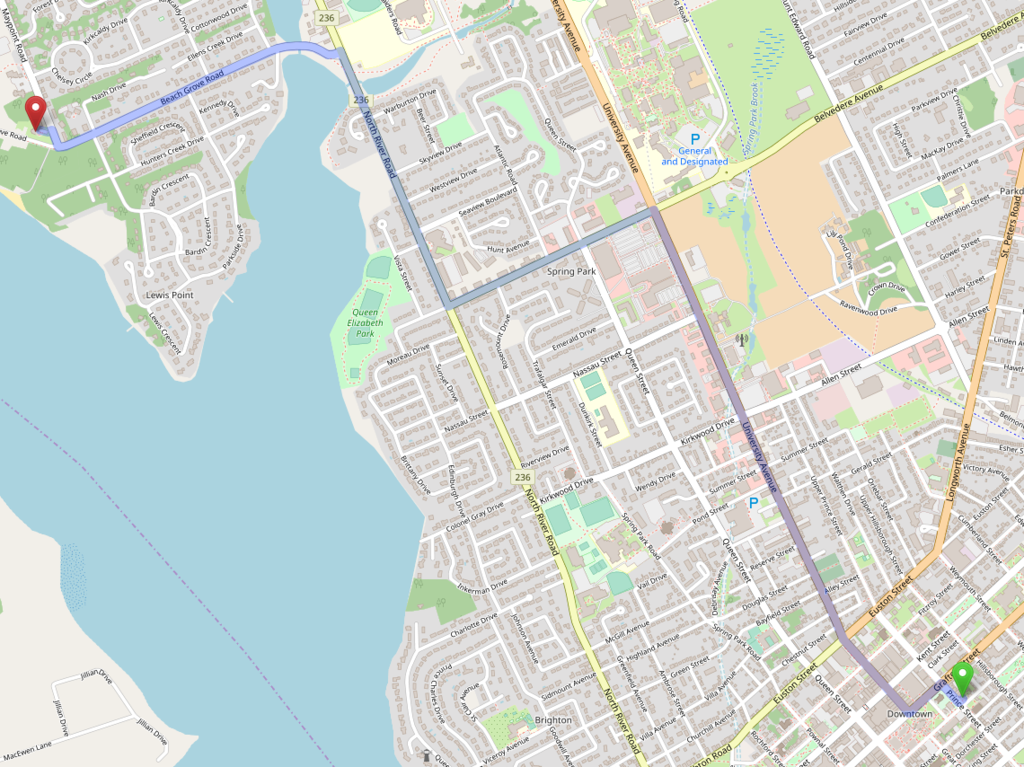 Given that we own a car, and that I can drive, our fallback position is that I'll simply drive him to and from.
But as we only have 12 years to become carbon neutral, it's time to start the planning for alternatives to that, and so I've started out by focusing on alternative methods for the trip home.
Baseline
Heretofore I've driven both ways. Traffic there is usually pretty light; traffic back is slowed when encountering the mass of public servants leaving the office at 4:00 p.m., which creates some jams, but only in the Charlottetown sense of the word.
Generally I'd leave home at 3:45 p.m., arriving at Stars for life at 4:00 p.m. and arriving back home about 4:25 p.m.
Total Time: 40 minutes
Driving Distance: 11 km
Experiment One: Bus, Walk, Bus
Yesterday was the first experiment: Oliver was coming home early, and I needed to pick him up at 1:00 p.m.
I caught the 12:45 p.m. Route № 3 bus from Confederation Centre and arrived at Stars for Life exactly at 1:00 p.m.
Oliver and Ethan the Dog and I then walked down Beach Grove Road to North River Road, across North River Road to pick up the Hermitage Creek Trail, and walked along the trail to the back yard of the PEI Union of Public Sector Employees where we emerged onto University Avenue. We walked down University Avenue to the UPEI bus stop where we caught the 1:54 p.m. Route № 1 bus downtown, arriving at 2:00 p.m.
Statistics
Bus Fares: $6.00
Bus Distance: 8.6 km
Walking Distance: 2.8 km
Total Time: 75 minutes
Pros
Convenient bus connection, almost door-to-door on the way there, only a short wait on the way back.
Mostly pleasant walk along the Hermitage Creek Trail.
Cons
The Hermitage Creek trail has some muddy/soggy spots, and could use some maintenance.
Connection between the Hermitage Creek Trail and University Avenue is more "cut through a field" than an official trail.
Adds 35 minutes, compared to driving, to the pick up run.
Experiment Two: Bike, Bus
One of the things I was curious about is whether having an electric pedal-assist bicycle would make it more possible for me to build cycling into the trip somehow.
Oliver doesn't have a bicycle yet, so I can only cycle to Stars for Life for the pickup, and need a way of getting the bike back home.
For today's experiment I rented an Evox City520 electric bike from MacQueen's for 24 hours. It wasn't cheap, at $86 taxes-in, but it was cheaper than buying an ebike, and I plan to amortize the rental by taking it for a longer spin tonight.
I left home on foot at 3:00 p.m. heading toward Outer Limit Sports where I'd originally intended to rent the bike; along the way I phoned them to confirm they had something in stock and learned that a 24 hour rental is considered two days in their calculations, and so I'd end up spending $150 for the experiment.
So I rerouted to MacQueen's, which has a more sensible policy, arriving at 3:20 p.m. I was in and out of MacQueen's in 10 minutes and it took me 13 minutes to ride the 2.8 km to Stars for Life (maxing out at 30 km/h coasting down the North River Road hill down to Ellen's Creek).
It was here that things went slightly off the rails, as the buses stopping at Stars for Life–Route № 2 going clockwise and Route № 3 going counter-clockwise–only run once an hour, and when I arrived at 3:45 p.m. the next Route № 3 bus downtown wasn't for 45 minutes.
So we caught the 3:58 p.m. Route № 2 bus.
Getting on the bus involved a complicated ballet of son, dog, bike, and me. I tied Ethan to a stop sign while I mounted the bike on the cowcatcher and then retrieved him and Oliver and I got on, paid our fare, and sat down. It wasn't elegant, but it worked, aided by a very patient bus driver.
We had a chance to quicken the journey when we got to the Charlottetown Mall at 4:15 p.m.–we could have transferred to Route № 1– but I wasn't eager to repeat the ballet, so we stayed on Route № 2 for a complete clockwise-tour of Charlottetown, seeing parts of the city I didn't know existed.
We arrived at the Grafton-Polyclinic stop at 4:45 p.m. where I repeated the ballet in reverse and we walked the block to home.
Statistics
Bus Fares: $4.00
Bus Distance: 13.6 km
Bicycle Rental: $86.00
Cycling Distance: 2.8 km
Total Time: 105 minutes
Pros
The electric bicycle was fun to ride, and made short work of the hills: it felt like nothing at all to climb the 5% grade up Beach Grove Road from Ellen's Creek.
Despite the complexity of our party, we pulled off the ballet of mounting the bus without problems.
Cons
The electric bicycle rental was expensive (although the purchase cost would be amortized across many trips in a more permanent scheme).
The bike was heavy–54 pounds–and unwieldy, and so it was a lot harder to get on and off the cowcatcher than my regular bicycle.
Although the cowcatcher held onto the bike well, despite the pothole-ridden streets and speed bumps, I had a background fear that it would fall off and I'd be out the cost of an expensive bicycle.
The long bus journey home (which could be mitigated by a change in schedule that would allow a more direct return home on Route № 3).
What's Next
There are lots more options to experiment with, including Oliver cycling (we need to figure out a trailer or basket for Ethan to make this work), repeating today's experiment with my regular non-electric bicycle, or taking the bus there and walking all the way home.
Stay tuned; I'll update this post as we forge on.