A couple of months ago I related how I'd been dinged for $30.65 for two road tolls, leaving and returning to Boston, because of Hertz's use of the extortionate PlatePass system.
To ensure this didn't happen again, I ordered an E-ZPass transponder of my very own from the E-ZPass New York State Service Center, and it arrived in time for my trip back to New England in late August: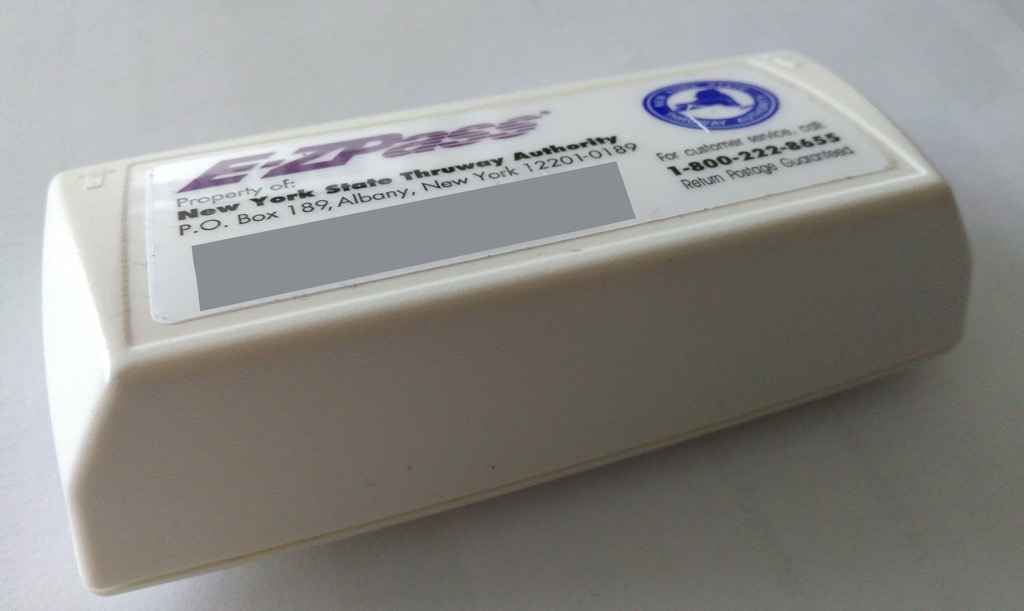 I stuck the transponder on the dash of my rented VW Jetta when I picked the car up on Boston's Logan Airport on August 27, and I left it there until I returned the car on September 1. Today I received an email notification that my E-ZPass statement was available for download, and here's what it looks like: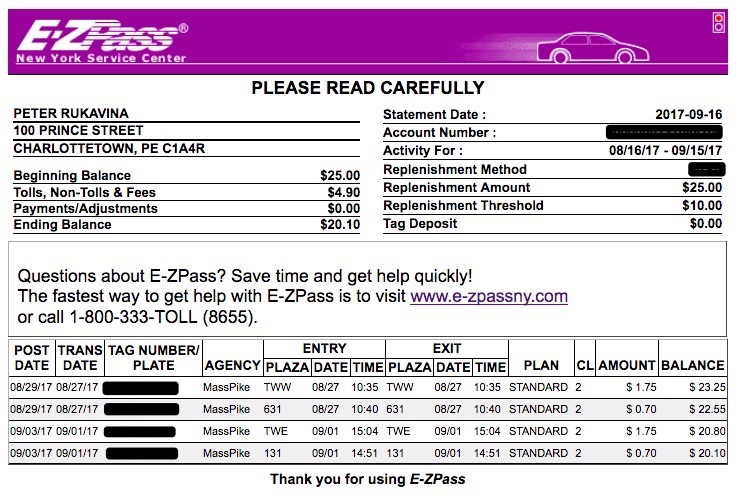 My flight landed at Logan at 9:45 a.m. on Sunday morning; 50 minutes later I went through the Ted Williams Tunnel, heading west, and was billed $1.75 at the TWW plaza; 5 minutes after that I was billed 70 cents when I exited the I-90 at the Allston – West exit (plaza 631).
The following Friday, I did exactly the reverse trip: I was guided by Waze through Cambridge and onto the Turnpike, entering at Allston – East plaza (131), costing 70 cents, and exiting at the Ted Williams Tunnel's east exit (TWE) where I was billed $1.75.
I covered the same distance on both trips; the Sunday trip, with light traffic, took 5 minutes from entry to exit; the Friday trip, with Labour Day weekend traffic clogging the tunnel, tool 13 minutes (still pretty zippy, considering).
In total I paid $4.90 in tolls, for which I was billed $4.90 in tolls, not an inflated PlatePass amount.
My E-ZPass is in my travel "go bag" now, and I'll use it every time I travel down to Boston from here on.