I was in Boston on business in late April, and rented a car from Hertz at Logan Airport.
I've been making this trip several times a year for more than 20 years, and I'm used to travel weirdness leaving the airport: I survived the years of the Big Dig after all. New this trip was that I was no longer able to pay the toll for the Ted Williams Tunnel with cash: it's an all-electronic system now, and my only option was to use the E-ZPass transponder in the rental car.
Hertz, like most other rental companies with cars in E-ZPass states, uses a third-party company called PlatePass to manage its in-car transponders, and the fees associated with this amount to extortion; here's how the Hertz website explains the charging:
How Much Does It Cost?

If you use PlatePass®, you will be charged a $4.95 service fee for each day of the rental including any days on which PlatePass® is not used, up to a maximum of $24.75 per rental, plus incurred tolls at the Toll Authority's cash toll rate or highest undiscounted toll rate. PlatePass LLC will automatically charge the credit card used for the rental, typically one-to-three weeks after the rental closes. Processing of charges can at times take up to a month or more.
Now read that again: it actually reads "for each day of the rental including any days on which PlatePass® is not used."
Which is to say that, for me, who needed the transponder twice, once to leave the airport via the Ted Williams Tunnel and once to return to the airport via the Callaghan Tunnel, rather than being billed $1.75 and $1.50 for the tolls, respectively, I was billed $30.65: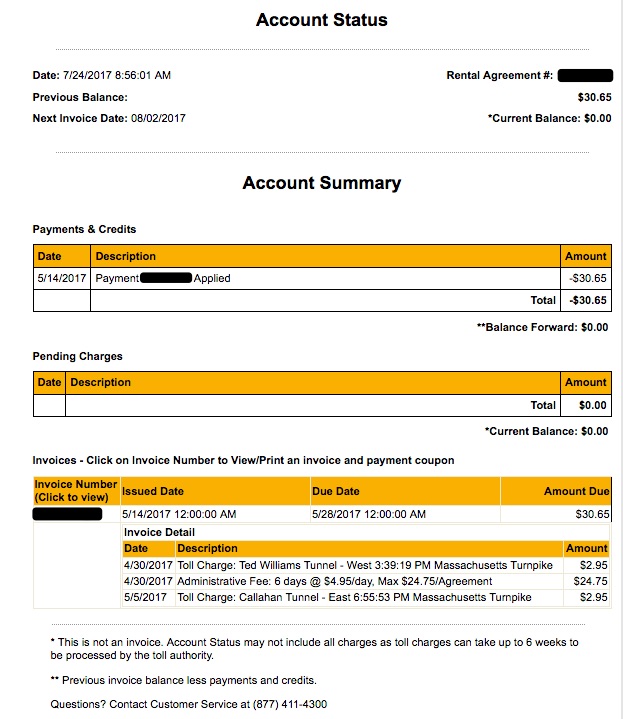 This was because I was also billed $4.95 a day for the 6 days I had the rental car, including the days I was miles from any toll road. And, in addition, I was charged the cash rate for the tolls ($2.95). So what should have been $3.25 in tolls became $30.65 in tolls.
Other than taking a circuitous route out of Logan, there's no way to avoid tolls, but fortunately there's a non-extorting way around this: get your own E-ZPass.
You can sign up for one online, and it's free (although you have to deposit at least $25 US to be able to request one; this will be applied against future tolls). Although you're asked to specify your car make, model and license when you sign up, you're allowed to also use the transponder in your rental car, as explained here.
I've just signed up, and my E-ZPass should arrive before I'm next scheduled to travel to Boston at the end of August. I figure this will save me about $200 Canadian a year.