My iPhone doesn't know that Catherine died 9 months ago, so it keeps on doing things like this: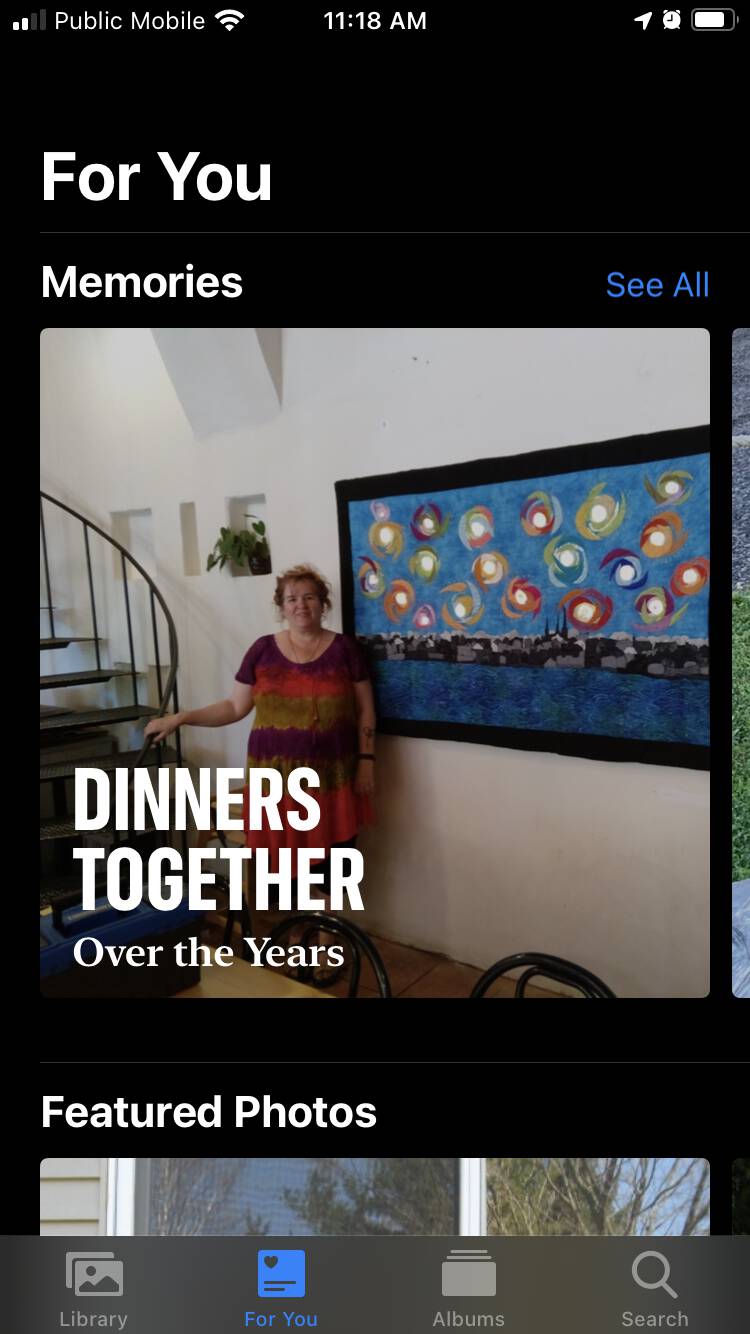 What would have once been a passing dip into nostalgia now takes on a decidedly different tone.
I was not, I am happy to report, plunged into despair by my iPhone's callous disregard for Catherine's passing, however.
Time has passed. Seasons changed. I'm no longer on emotional tenterhooks.
On the way to get our flu shots this morning, I remarked to Oliver that the time since Catherine died is the same amount of time she was pregnant with him. We couldn't figure out whether that was properly called a coincidence, something ironic, something remarkable, or just a thing.
We got our flu shots at Dr. Hooley's office because Dr. Hooley's nurse Cheryl has the best bedside shot-giving manner that there is. When Cheryl came out to steady the horses, she offered Oliver the option of flu mist or flu shot, which was news to me, as, based on last year's experience, I thought the days of flu mist were over. Oliver, who really really really doesn't like shots, decided, nonetheless, to have the flu shot: I'd already put the numbing creme on his arm, and he wanted to follow through. Which tells you something about the power of trajectory in Oliver's mind.
I really really wanted to tell Catherine about that. She was the only other person who would understand it in the same way I do.
Over the weekend, amidst an internecine battle with Oliver about whether we needed to go on an outing for the sole purpose of listening to the Spotify playlist that he'd prepared, I realized something: I've been focusing a lot on the absence of Catherine in Oliver's life, and the absence of Catherine in my life, but not so much on how those absences resonate to affect our relationship with each other.
Parts of the role Catherine played in Oliver's life are now left to me.
Parts of the role Catherine played in my life are now left to him.
And, as she's gone, and as Oliver and I aren't everything for each other, we're also simultaneously becoming new people, all on our own.
And understanding that is more about untying logistical and emotional thickets than it is about out and out sadness.
I dropped in on the monthly grief club on Zoom last week ("grief club" sounds a lot better than "open grief support group," its formal name).
Any trace of resistance to listening and talking about grief in front of strangers left me months ago. I can bear witness to tears and agony and joy and frustration and anger and not look away, not judge, not offer advice, and yet feel my presence is of value, and feel the value of the presence of others. On a more practical level, grief club is a barometer: from month to month I can see, with some remove, how I am evolving. 
One of the things I've seen is that, although I have my moments, I'm less sad, less angry, less frustrated. Having figured out protein and laundry, having purchased new sheets and a new dishwasher, having realized that floors left unswept accumulate dust with regularity, I look back with some amazement over the nine months since Catherine died, and I am happy that the feeling of drowning that was once all-consuming has, at least for the moment, passed. There are moments, days even, when I don't think about absence.
Not feeling like I'm drowning allows some room for me to think about other things.
The future.
Or at least the winter.
Or at least next week.