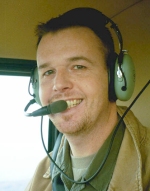 I'm happy to announce that my brother Mike has been offered the part of Dr. Grant 'Doc' Roberts Jr. in a new CBC Television series,
Danger Bay: The Next Generation
.
The new series picks up where the original Danger Bay left off: Doc Roberts Sr. is killed in a horrible whale accident and his long-lost son, Doc. Jr., returns from the Amazon rainforest to continue his work on behalf of the biologically underrepresented.
Mike will be joined on screen by original cast members Ocean Hellman, (recently seen with Morgan Freeman in Along Came a Spider) and Susan Walden (see in the recent movie of the week Taking Back My Life: The Nancy Ziegenmeyer Story).
Filming starts off the coast of Nanaimo, BC in May. Pictured above right is a publicity shot of Mike, high over the rockies, taken during his audition.