As I dropped various Europeans friends off in various places over the past two days, the minivan I'd rented for the journey became less and less appropriate for the size of our party, culminating  me driving around Halifax alone in a vehicle that can carry seven people. Realizing that I had an empty van in Halifax that I could fill with something to take back to Prince Edward Island, I decided to take yesterday to visit the bicycle shops of Halifax, with an eye to perhaps acquiring an electric-assist bicycle.
I rode my first ebike in Montreal 9 years ago; it was really more an emoped than an ebike, but the underlying idea was the same: could I make more places more reachable without my car by replacing it with something that makes cycling slightly less athletic.
I returned to the idea last year when I test-rode an Evox electric bicycle here in Charlottetown. At that point, even though I loved the ride and could see the potential, the $3,199 price tag put me off, and the idea returned to the back of my mind.
Over the last year, however, there have been new, cheaper imported ebikes available, in the $1500-ish price range, and I wanted to get a sense of how they compared. As Charlottetown only has one (and a half) bicycle shops, my opportunities for shopping around here are limited, hence my Halifax tour.
The eBike Centre
The eBike Centre is located in deepest light-industrial Dartmouth and shares facilities with NewStar Marine, which sells boats. They didn't have a lot of electric bicycles in stock; their sales floor was more taken up with electric scooters. But they did have a folding Emmo F7 that I could test drive, and salesperson Celina took me on a cook's tour of the bike and its capabilities. Because it folds, the F7 is also referred to as their "RV bike," as it's frequently purchased by people with motor homes for its more compact size when folded.
The bike retails for $1,699 plus freight and assembly, placing it in the heart of the "cheaper ebikes" category, and it does, indeed, feel slightly-less-than-premium in its build quality and ride. Of course a folding bike is, in part, optimized for folding, with smaller wheels and a different kind of frame, so it's naturally got a different feel. But the F7 felt sluggish and more tank-like than I was comfortable with, and even its folding was unsatisfyingly un-Brompton-like, as it doesn't origami together in its folded state, and just flops around ("most people use a bungee cord," Celina said).
I was limited in real world test drive experience, as I was just riding around the shop's parking lot, but I think I got a good sense of the bike; it wasn't for me.
Dragon Ebikes
On the opposite end of Dartmouth, in a similar-feeling light industrial area, I visited Dragon EBikes.
Unfortunately, although their website shows a good selection of ebikes and accessories, they didn't have any electric bicycles in stock, and their focus seems to be more on four-wheeled scooters than on bicycles. A wasted drive.
Cyclesmith
Across the harbour in Halifax proper I visited Cyclesmith, which is a traditional bicycle shop with all the good things (selection, expertise, bikes in stock) and bad things (intimidating vibe, bicycles mounted on inaccessible stands where you can't get a visceral sense for them) that brings with it.
Cyclesmith's ebike offerings are, as you might expect from the aesthetic and focus, on the high end: they had 10 models in stock, with the cheapest one starting at $2,499 and models as expensive as $6,199. This put things out of my price range, and it didn't seem worth it to try to penetrate the bike-culture-wall to see if I could test drive one, so I took a browse around, looking mostly at non-electric bicycles, and then moved on.
Robertson C Business Equipment
My Google Maps searches for "ebike" kept surfacing Robertson C Business Equipment in the results, and I'd been assuming this was some kind of SEO error. But it turns out that in addition to selling computers and point-of-sale systems, they also sell electric bicycles from the storefront next door, under the Halifax Electric Bike Store label.
This was certainly the weirdest bike shop I visited, and the one with the most genial staff.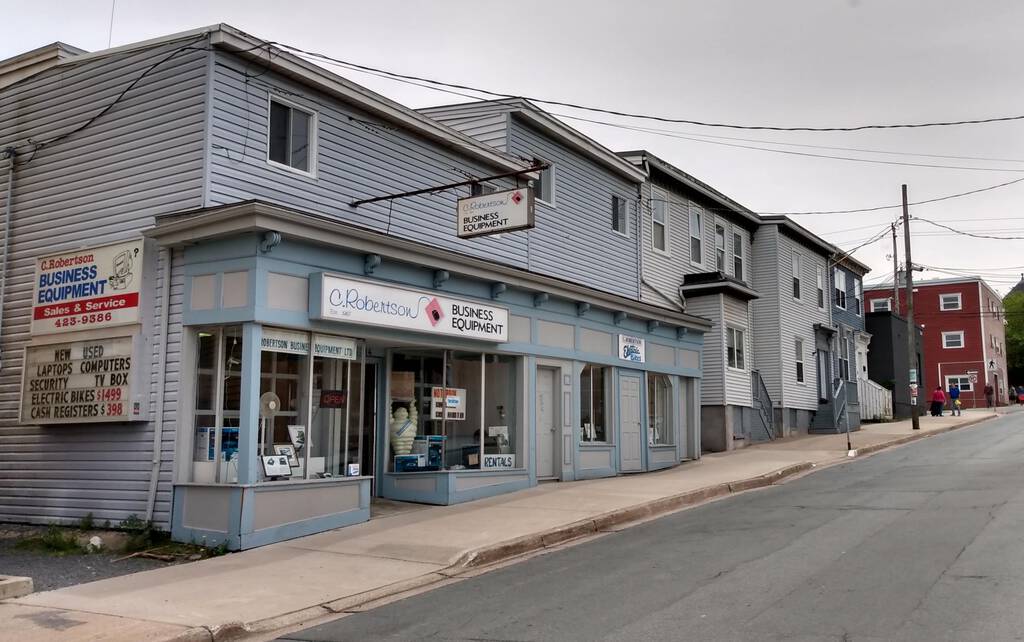 They had two models in stock, both from the Canadian iGO brand, the M29 and the Erö. I got a brief overview of the differences between the two (mostly styling and a difference in where the motor is located) and a recommendation that I try the M29 out on the road ("why don't you take it up Citadel Hill to get a good test of how it handles," it was suggested).
With a request to leave my wallet behind as collateral (a request that gave me no pause given the aforementioned geniality), I was given a helmet, a brief tutorial about how to use the bike, and sent on my way for an open-ended test ride. This is the way that testing should happen; the "no rush" is key, especially when dealing with things that cost multi-thousands of dollars.
I did as was suggested, and took off up Citadel Hill, enjoying Halifax's considerably-better-than-Charlottetown bike lane infrastructure as I navigated around the neighbourhood.
The M29 was palpably different than the folding Emmo; some of this comes from the different form factor, but it's also a much better-made bicycle, with a better, more responsive electric drive system. It was a joy to ride, and the pedal-assist felt sufficiently Superman-like on all but the steepest hill-climb (and even there, I didn't sweat it to the top of Citadel Hill, I just had to pedal a little harder).
At $2,499 the M29 was still too rich for my blood, but I am happy to have test ridden it, and happy to have been able to do so outside of the confines of a mainline bicycle shop.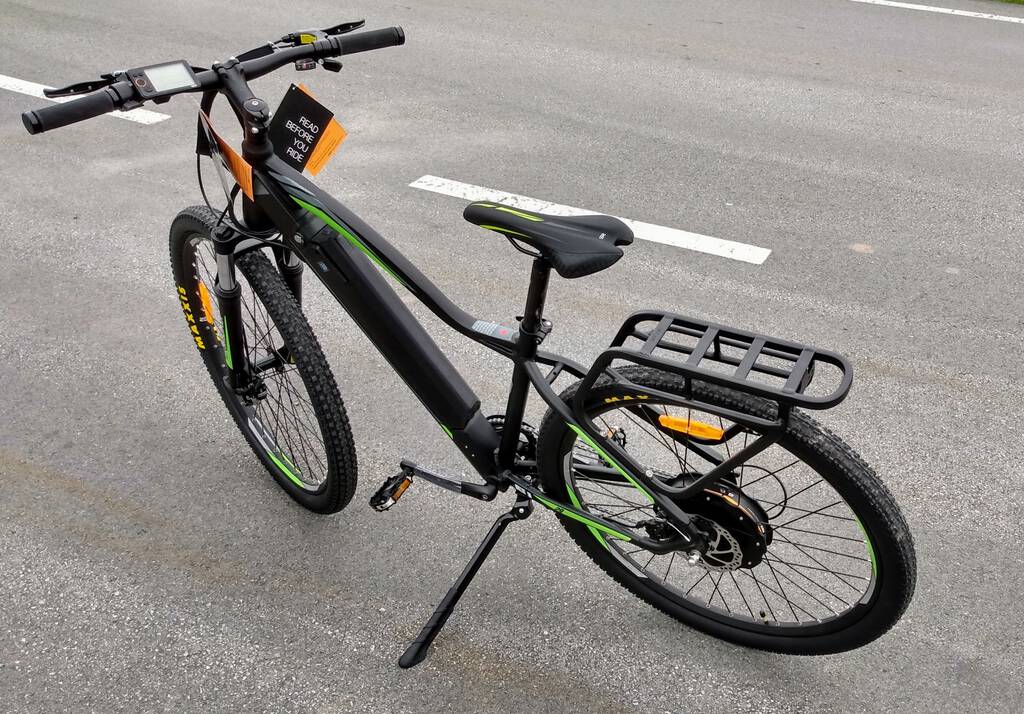 Sportwheels
My visit to Sportwheels, in Lower Sackville, was more about looking at adapted bicycles for Oliver than looking at ebikes, which was good, as they had only one ebike model on the floor.
While the shop is a straight-ahead bike shop (albeit with a significant hockey sideline), it was more workaday than elite, and I felt more comfortable there than I had at Cyclesmith.
I was referred to Sportwheels by the Recreation Therapy program at the IWK, and evidence suggests that they do a fair amount of business finding bicycles to suit people of all needs.
They didn't have any adaptive bicycles in stock, but they were able to show me a Tri-rider, fitted with electric assist, that was a kind of hybrid between a standard trike and a recumbent. This seems promising, and like it might work for Oliver. It's frustrating to not be able to have him try it out, however; it would be really great if PEI sported a program similar to the adapted bikes loan program at the IWK (perhaps that's something Cycling PEI could take on?).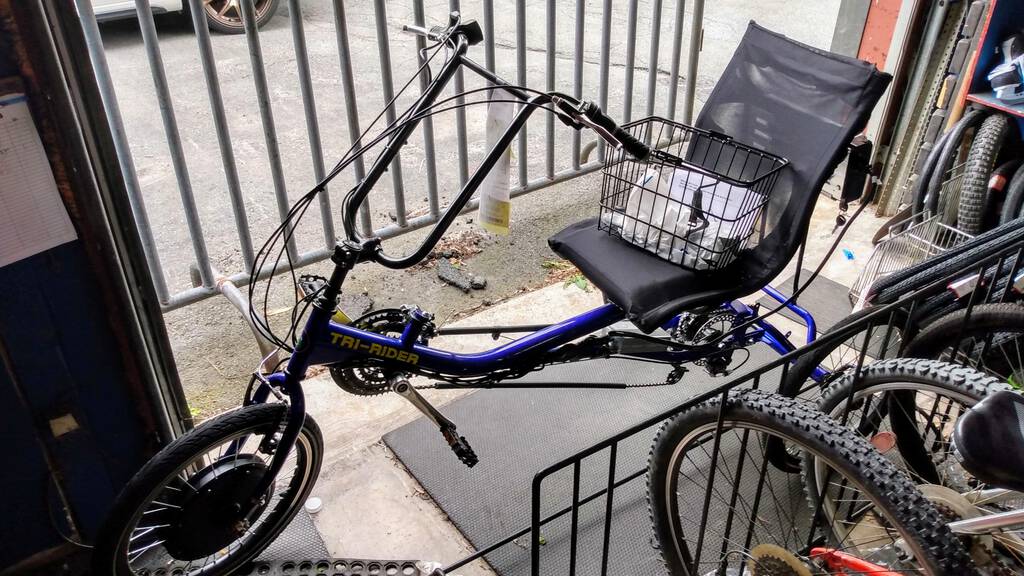 I didn't buy an electric bicycle…
I returned home to Charlottetown with a empty van.
I decided that, as with the decision to insulate our house or purchase an electric car, the economics don't make sense: I'm far better off, for now, continuing to ride the regular old Palomar that I've had for many years and to put my climate change-mitigation dollars into efforts that have a more substantial pay-off.
My tour of the bicycle shops of Halifax didn't leave me with a lot of warm feelings about bicycle retailing in the 21st century: it appears to be a retail sector still very much rooted in sport rather than transportation, and for something that's demands test riding to get a real feel for, the setup of shops isn't optimized for this.
If my life was different and I was, say, commuting in to the city from Brookfield every morning, I'd certainly take a serious look at the iGO M29, as it would make a lot of sense for a longer-distance commute like this, and appears to have the build quality to stand up to daily use and the drive train to handle the varying terrain.