Next up in the Google Maps experimenting game is RealCharlottetown.com, an annotated map of the City of Charlottetown.
The idea is this: take a Google Map, and wrap around it a simple "tag this place" interface that lets anyone associate a geographic location with a name, some tags, a URL and a description. Think of it as "Plazes for ditches."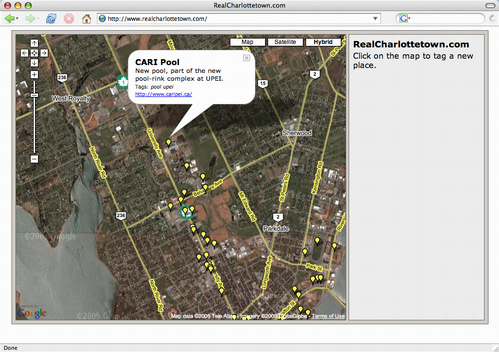 This is still a very, very beta-quality application, but it does work, and you're free to tag all the places you like.
Some important things to note:
As described here, the Tele Atlas map layer for the Charlottetown area is somewhat out of date; you'll notice this particularly when you're browsing in the "hybrid" view — sometimes the roads don't line up with the satellite imagery.
Still to come are things like an RSS feed of newly tagged places, XML export of all places, browsing the map by tag, etc. Stay tuned.
No way to edit or enhance already-tagged places yet.
The user interface, especially the visual indication of where you're tagging a new place, needs some work.
It seems to work in Internet Explorer for Windows, but I haven't tested extensively.
Comments welcome.