For the first month we had our Kia Soul EV electric vehicle, we charged it from a regular 120 volt outlet at the end of our driveway, an outlet originally installed to power the heating cables to keep ice dams from forming on our roof. We used the portable charger that came with the car. While this was convenient, inasmuch as it didn't require us to install anything, charging the car this way is very slow: at least overnight to go from 50% to 100%.
When we needed faster charging we used "level 2" chargers at places like Access PEI and Efficiency PEI; these 240 volt chargers charge much more quickly, and can go from 50% to 100% in just a few hours.
On January 18, 2020 a new option became available, a high speed "level 3" charger off the Canadian Tire parking lot in Charlottetown. This charger can take our Kia Soul from empty to 80% in less than half an hour.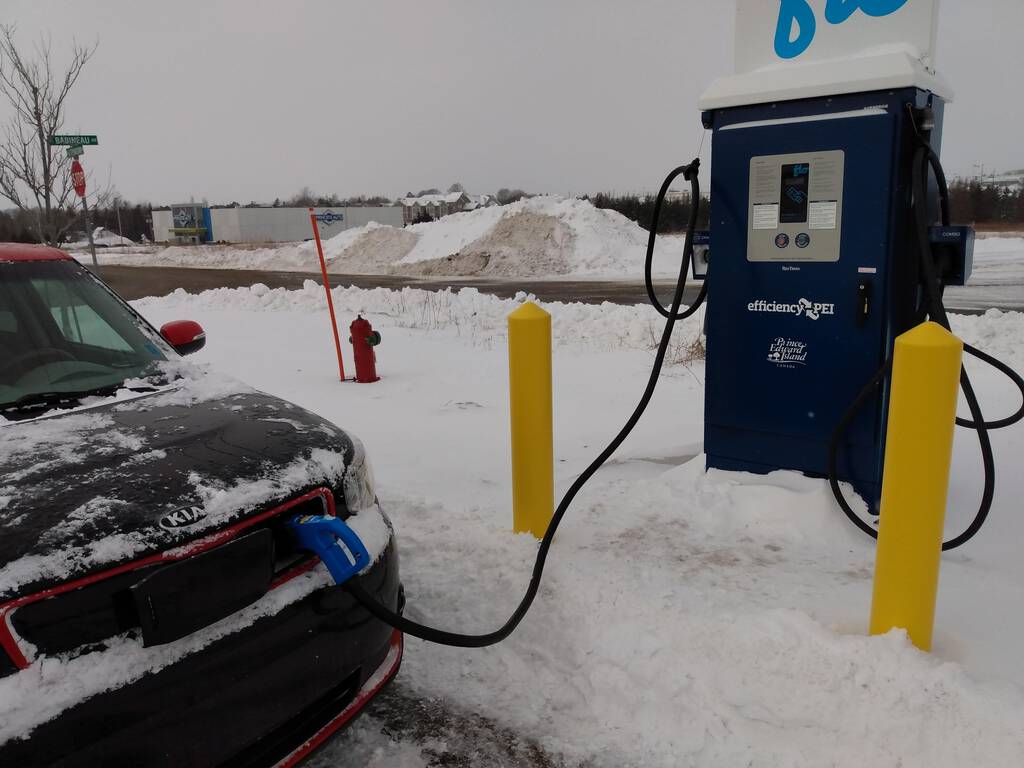 This faster charging comes at a hefty price: because only Maritime Electric can sell electricity, the use of this charger is billed by time, not energy, at a rate of $20 per hour.
The first time we used it we paid $14.84 for 8.06 kWH of electricity (a whopping $1.84 per kWh, or about 13x what we pay for electricity at home); four days later we paid $7.02 for 10.5 kWh (still an almost 5x premium over retail electricity). What determines the rate of charge, and thus the cost per kWh, I do not know.
A couple of weeks ago, our electrician came to install the wiring–a 240 volt "dryer" outlet in a weatherproof box–for our own EVDuty-brand charger, which we received as part of the purchase of the Soul from Pure EV in December. And finally, late last week, I got around to mounting the charger itself on the side of the house: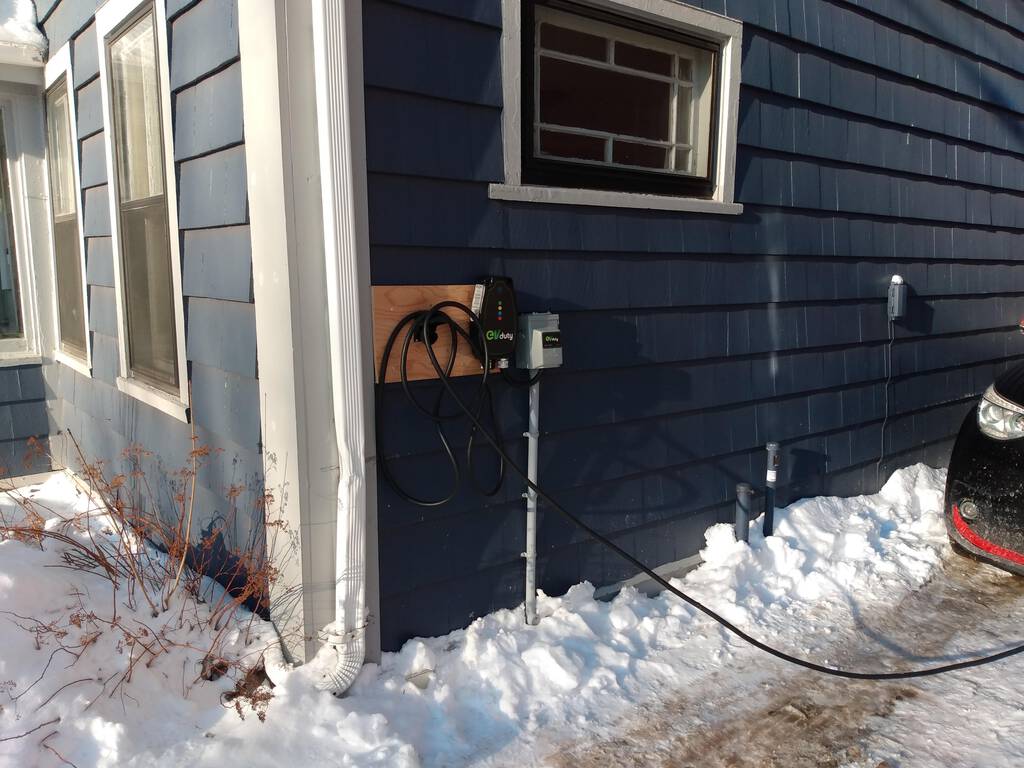 There are several benefits having a level 2 charger at home:
The faster charging time means that I'll rarely, if ever, get caught without a way to quickly charge the car.
I can set the Kia Soul EV up to automatically charge to 80% or 100% every night if I like, as long as it's plugged in, and I can also set it to warm and defrost the vehicle, from the mains electricity not the battery, so that it's ready to drive at a time I set.
The charger is there for others to use; outside of the flaky charger in the parking garage of the Delta Prince Edward, this makes it the first EV charger in downtown Charlottetown. And while I can't support full-on public charging–I need to be able to get my own car in and out!–I'm happy to offer those that need it a "top up."
So far I'm happy with the EVDuty charger: it does what it says on the tin, and, after I paid a $100 upgrade fee online, I have real time access to the charger via an app on my Android phone.
I'll report back once I've had more experience with the charger.