If there was a travel planning bug when I put this trip together, it was only leaving 48 hours for Amsterdam. But we had a hard start for public school on Thursday on one end, and TonElmineCon on the other, so there was, alas, no way to squeeze in more time. So we got to sample a quick swath of Amsterdam today in hopes that we one day use what we learned as the basis for a return trip.
We started the day with the bountiful breakfast at ZOKU (therein following Pete's Law, "always book a hotel with a good breakfast buffet"), and then lazed around on the roof, reading and sketching for another hour (therein following Pete's Law, newly-learned, "travel is not a race").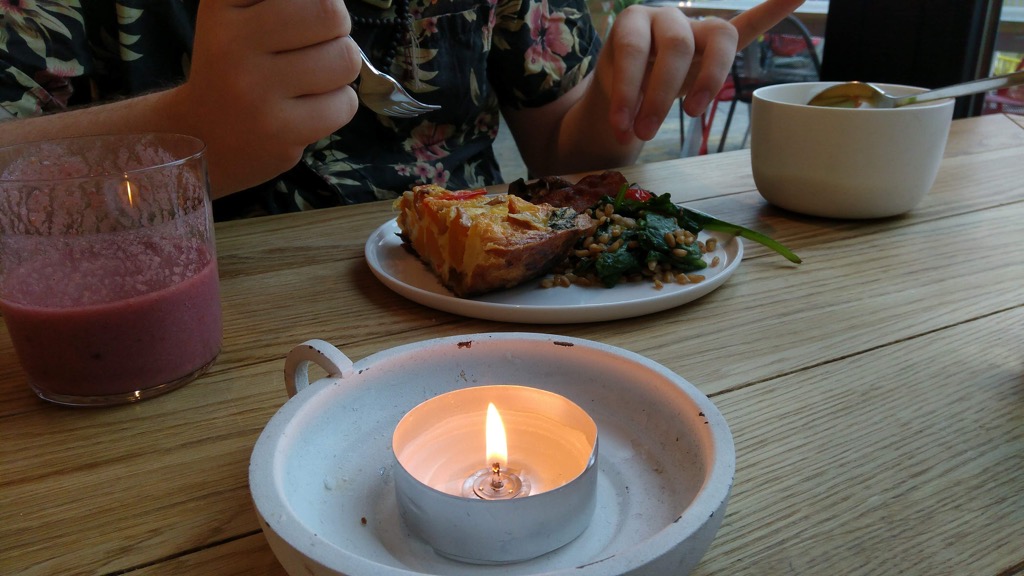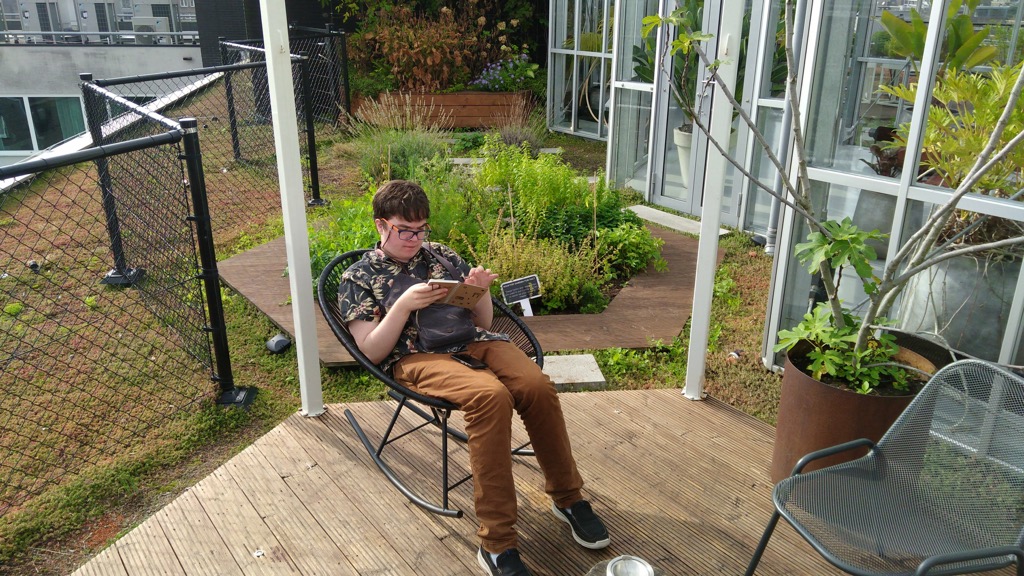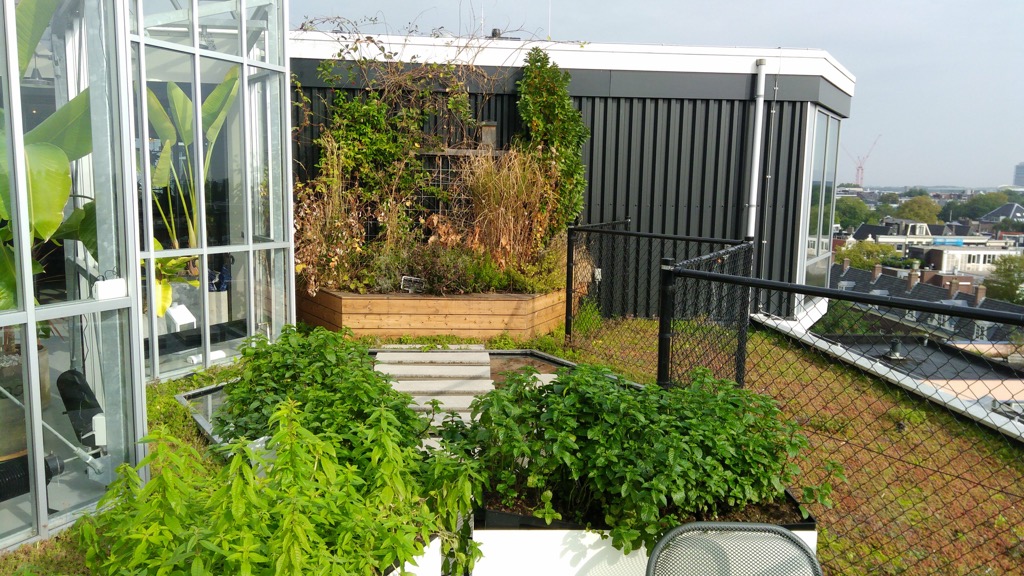 With a spring in our step from the hearty, relaxing start, we headed out on the town just after 11:30 a.m.
Given the success of our Malmö cargo bicycle beta test, we decided that our first stop would be to try renting a Dutch take on the people-carrying bicycle, the Bakfiets bike.
We walked up the street to MacBike Rental at Waterlooplein and found a straight-talking, helpful clerk there who considered the possibility and advised that I should try riding the bike without Oliver first, lest I be unable to, and he fall out. I left Oliver as a deposit, and headed off for a loop around the block.
The bike was unusual to ride, not surprising given how long it is, and how the front wheel is steered indirectly. But I managed to get the hang of it, and returned unscathed ("most people, if they're gonna fall off, do so in the first 20 seconds," I was told). Next it was time for Oliver to join in: I held the bike steady while he climbed into the wooden box and sat down, and off I pedaled.
With 150 pounds of teenager in the box the bike was even more unusual to handle, and after half a block I realized that even if I could get a rhythm down, I wouldn't feel comfortable merging into the chaotic flow of Amsterdam cycle traffic, so, with heartfelt hanks, we bid our host goodbye and continued on without cycle.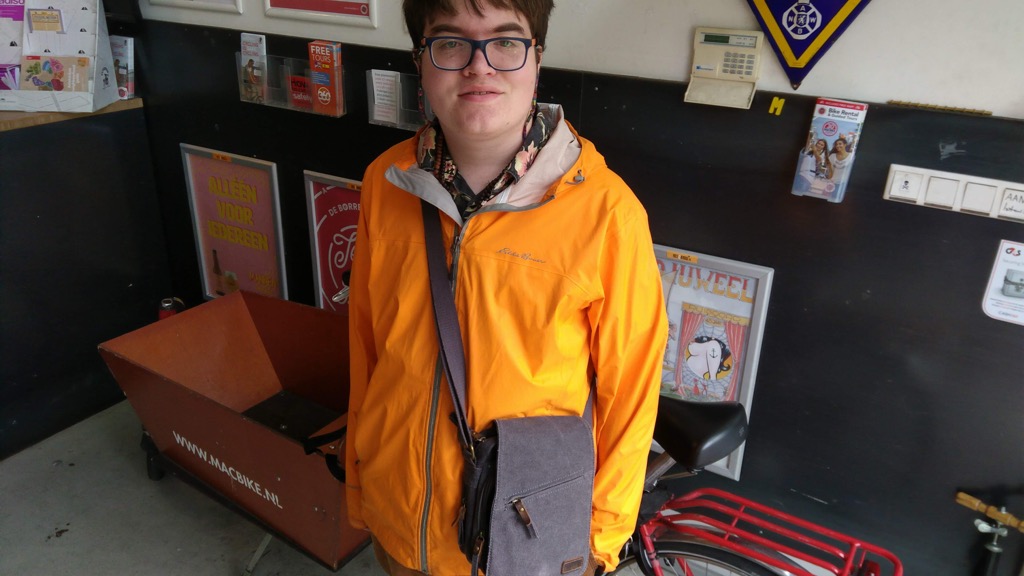 We walked west, through Rembrandtplein, and when we passed a Maoz Vegan restaurant on a corner Oliver, mindful of our need to eat and hydrate, insisted we stop for lunch, ever-mindful of my vegetarian tendencies. We enjoyed a couple of falafel sandwiches sitting at a counter overlooking both a tattoo & piercing shop and a multi-floor live sex show complex; Oliver was unphased.
Our next step was, I think, my favourite shop of our entire trip: the Boekie Woekie bookshop on Berenstraat is in its 32nd year of selling exclusively books made by artists; packed into its tiny storefront were more interesting books than I've seen gathered in one place anywhere. I stretched Oliver's patience and spent 30 minutes plumbing the stacks, whittling my selections down to three tiny books that I could fit into my satchel. Since I started experimenting with printing and binding books this year, I've wondered if there might be a way that I could sell them; Boekie Woekie suggests that there is. I could have spent the day there. (Thank you to Robin Sloan, whose own visit to the shop, mentioned in his newsletter, was my inspiration for the visit).
Although we'd only been out for a couple of hours at this point, a break was in order, so we rounded the corner and walked up the canal to Koffiehuis 'De Hoek' where Oliver devoured a piece of Dutch apple pie and I discovered "fresh ginger tea," which, as near as I can tell, is made simply by pouring boiling water over slices of fresh ginger (it was great).
Eager to see something of the Amsterdam waterfront, and armed with a recommendation from Harold, we walked to the central train station, through a tunnel under the tracks, and directly onto the ferry that runs to the area around the A'DAM building across the water (the ferry carries bicycles, scooters, and pedestrians, and it's free). The neighbourhood across proved to be an interesting one to wander around: we largely ignored A'DAM (the perilous-looking swing suspending from the penthouse was forbidding-looking), but we toured an interesting shipping-container-housed exhibit on waste management in New York, Jakarta, Lagos, São Paulo and Amsterdam, got a coffee at Coffee Virus, hidden inside the A LAB, and then wandered around the A LAB itself (which appears, from our brief tour, to be kind of like Betahaus on steroids).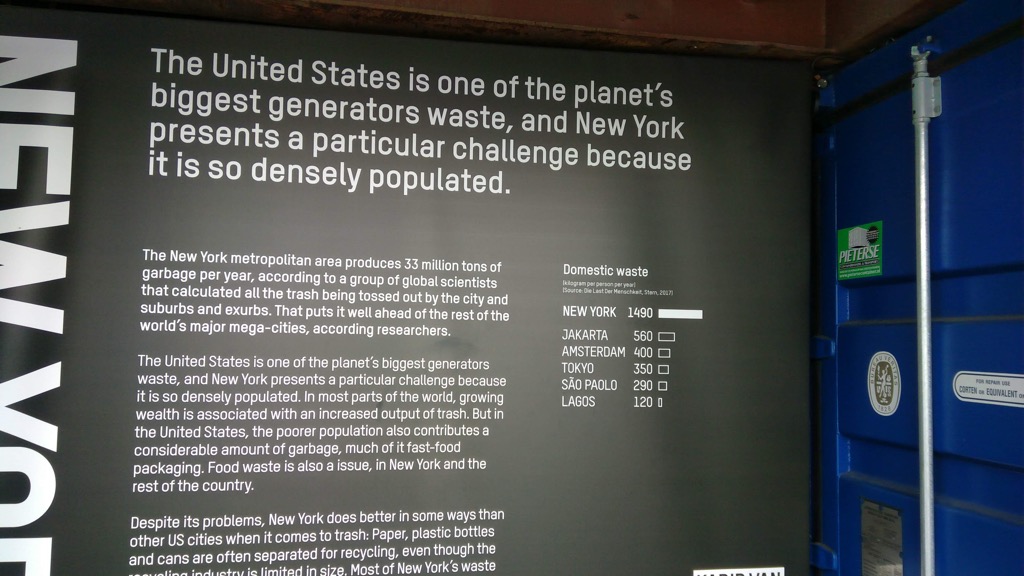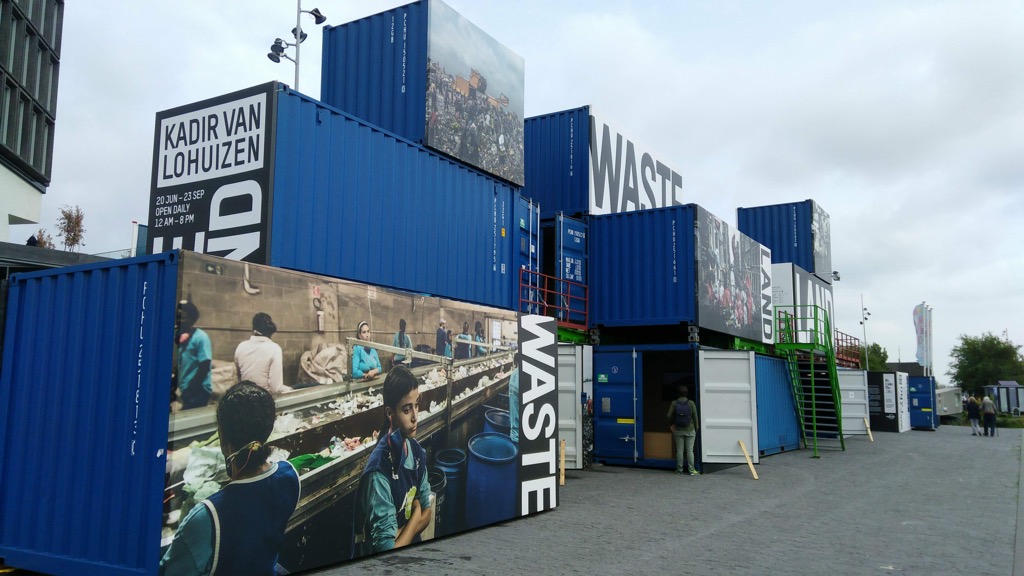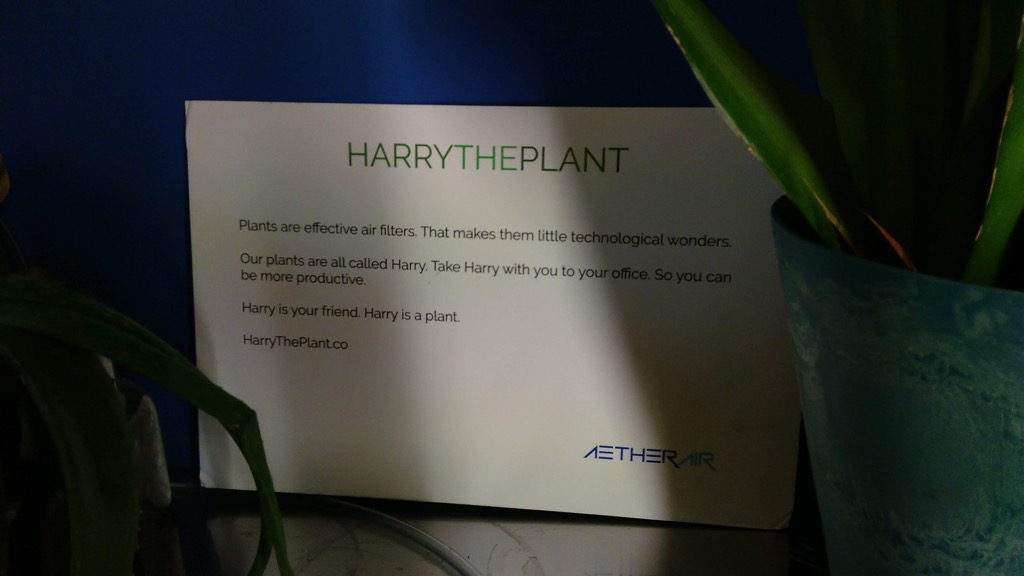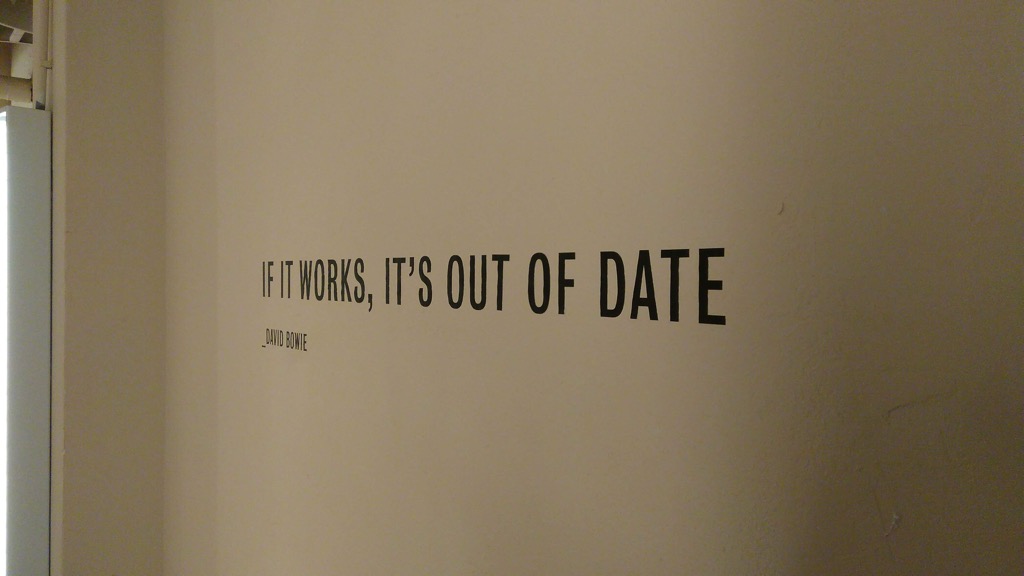 There was really only one place that I had to visit in Amsterdam, and that was Mediamatic.
I first learned of Mediamatic when the content management system cum wiki that powers its website was used to manage the website of one of the reboot conferences. I created a page for myself on the Mediamatic website back in 2007 and it's been there ever since. Also since then I've been subscribing to the Mediamatic email newsletter and paying attention to its various projects. So I've developed an affinity for the place, even though I've never visited. Until today.
Mediamatic describes itself like this:
Mediamatic is a cultural institution dedicated to new developments in the arts since 1983. We organize lectures, workshops and art projects, focusing on nature, biotechnology and art+science in a strong international network.
As far as the general day-to-day public is concerned, the easiest way to experience Mediamatic is through Mediamatic ETEN, its restaurant, and that's where we pointed ourselves for supper tonight.
That pointing turned out to be something of a vertical challenge, as dutifully following Google Maps' directions put us in full view of Mediamatic, but on a bridge two stories above, initially unable to derive the geographical path between us and it. Fortunately an elevator manifested itself at the end of the tram platform, and soon we were walking onto the grounds and in the door of the restaurant.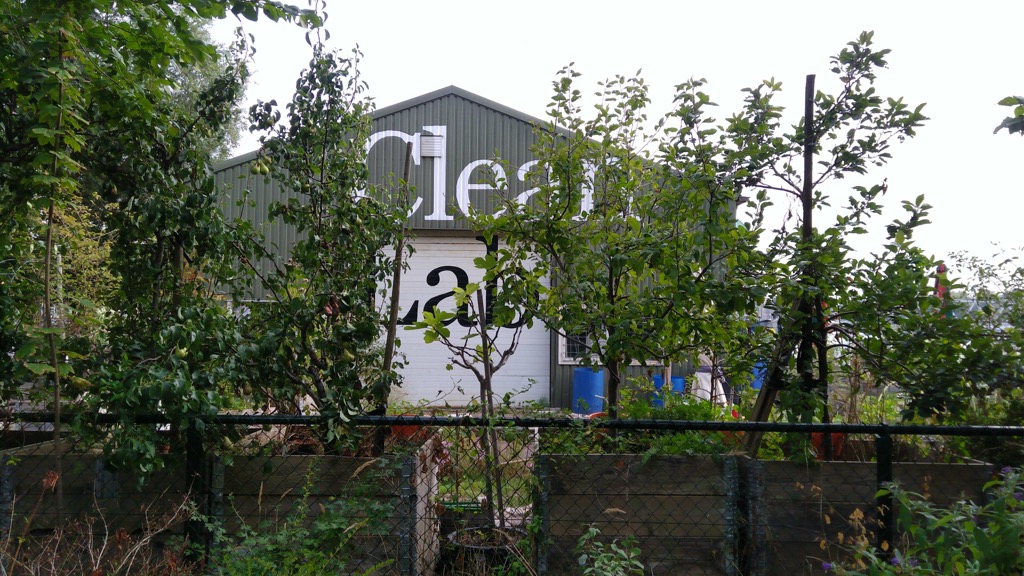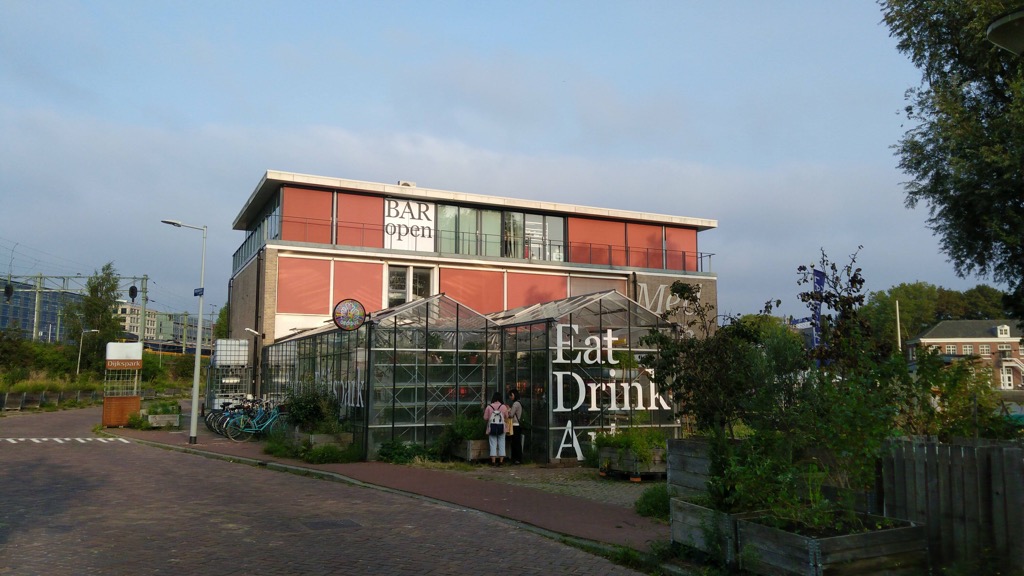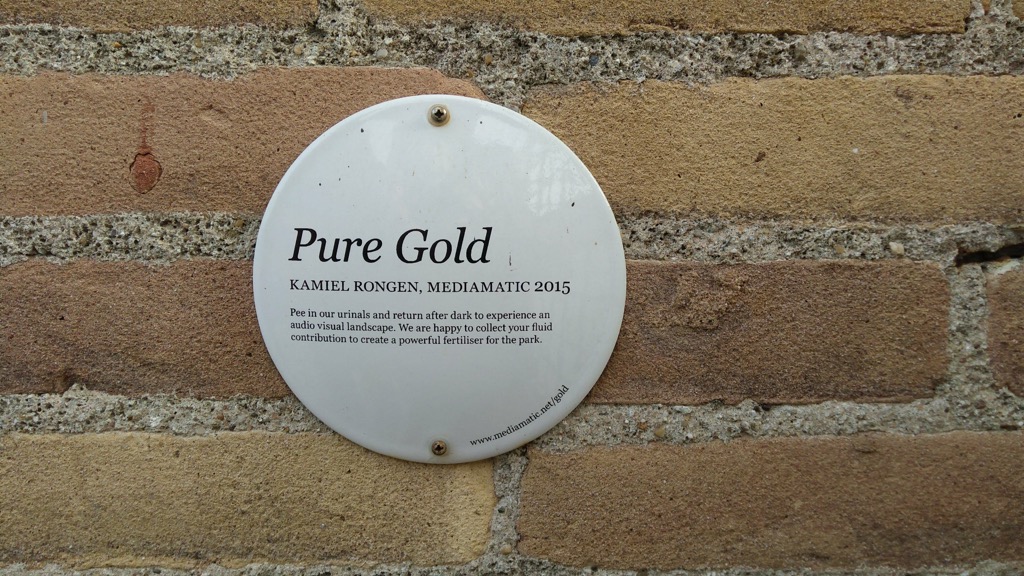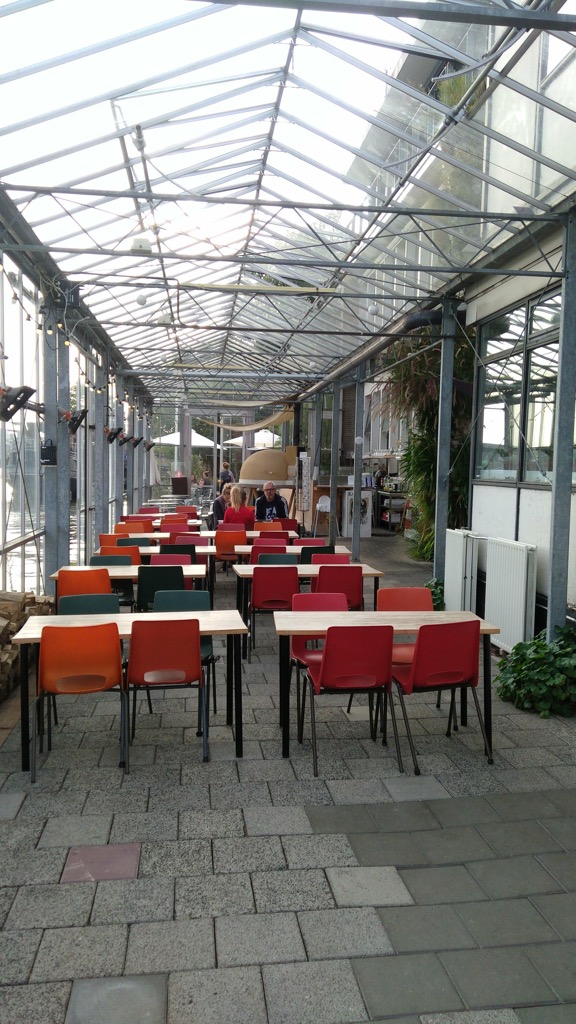 Mediamatic ETEN is a vegan restaurant perched on the water, overlooking the Nemo science museum. They were serving pizza this evening, and we ordered up the Pizza Nero, an apple-pear juice, and a Swingers beer ("Reminiscent of sun, the beach and the fresh saltiness of the North Sea, Swingers is the perfect partner on the dance floor we call life.")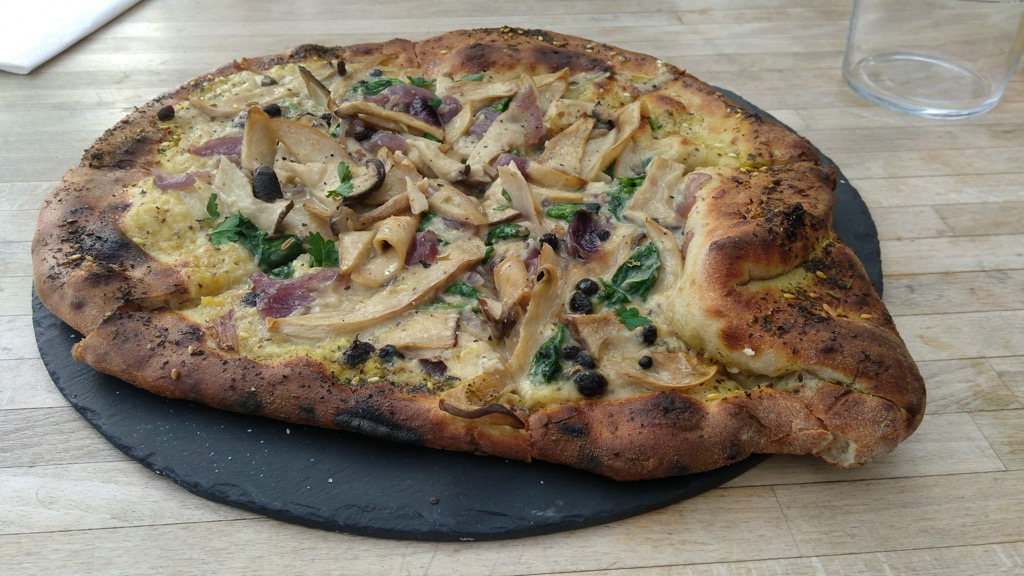 The pizza, covered in mushrooms, onions, beans and greens, was delicious. And the beer was, indeed, reminiscent of the North Sea.
From Mediamatic, we took the hidden elevator back up to the tram platform, caught the № 26 to central station, and, from there, took the Metro № 53 back to ZOKU, stopping to take a photo of at least one of the city's canals before leaving.
As I type we are in the sixth floor "living room" at ZOKU. I've just polished off another fresh ginger tea; Oliver a chai latte; and we shared a dish of mixed nuts (I could get used to having drinks and snacks easily-ordered 24/7).
Sitting here typing away I've just noticed that the cork map of the world that's mounted on the wall behind Oliver is missing Prince Edward Island; if we had more time, I'd use the 3D printer at the bar to rectify this. But we don't. So we'll have to come back another time.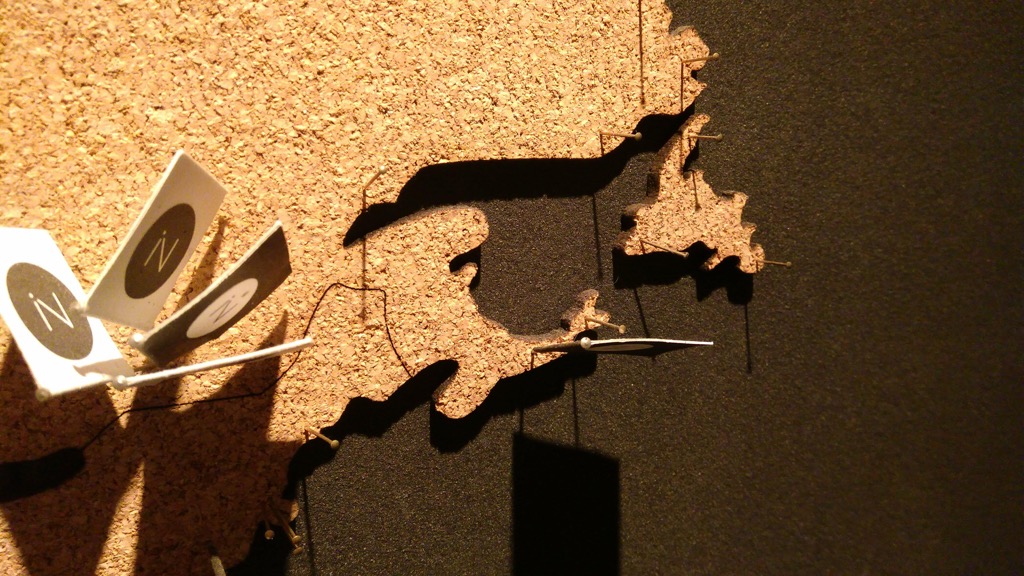 We take the long Amsterdam-Frankfurt-Halifax journey tomorrow, arriving in the early evening; after an overnight, we're back on the Island on Wednesday afternoon. And Oliver starts grade 12 on Thursday morning.