Malmö, like its Danish cousin across the sound Copenhagen, is a bicycling city, and the number and diversity of bicycles inspires awe, especially when compared to Charlottetown, where cycling remains the preserve, primarily, of the young, the car-less and the sporty.
Ever since my first visits to the area a dozen years ago, I've looked longingly at the cargo bikes that are used to haul around groceries, IKEA purchases and children. Nine years ago, when Oliver was 8 years old, I test rode a Nihola child-carrying bike with an eye, perhaps, to using it as a family transporter, but nothing came of it. But the candle burns as bright in me now as it did then, and finding myself in Malmö again, this time with Oliver, prompted a return to the notion.
I was fortunate in this regard to have stumbled across Cargo Bike of Sweden online; it's based just east of the central train station and an easy bus ride from our apartment, and so we headed there this afternoon.
We were placed in the care of the personable Nils, who showed us first the Cargobike Classic Electric, a 6-speed cargo bike with the classic box-in-front design and a 250 watt electric motor for pedal assist. The box was roomy enough that Oliver could fit inside it comfortably, and we could likely squeeze Ethan in as well: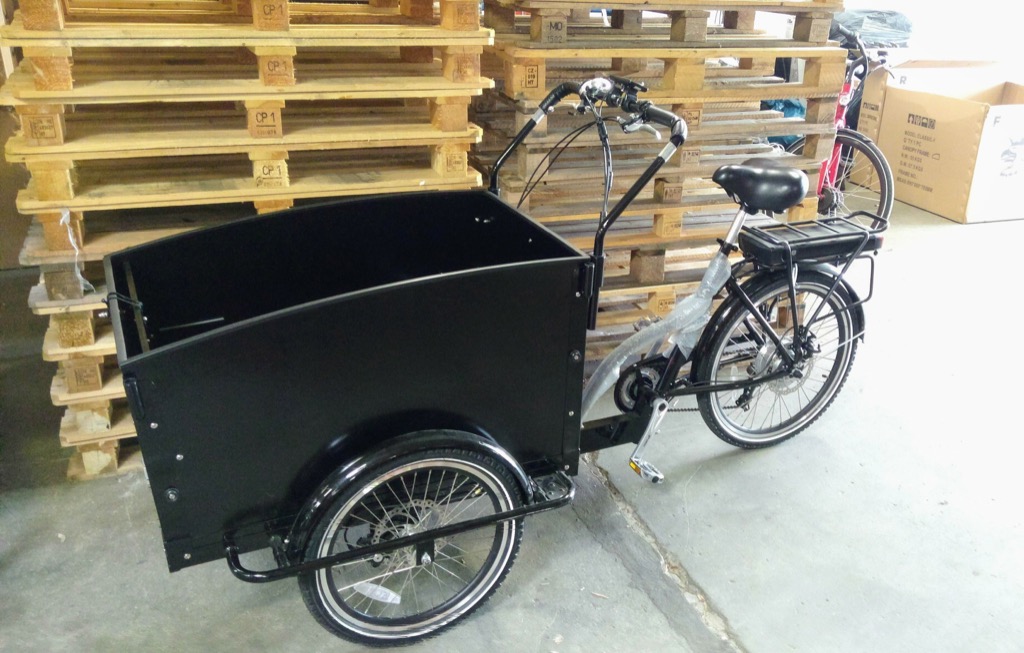 For such an ungainly-looking elephant, it was a joy to ride, and the electric assist allowed us to zip along at a comfortable pace. Oliver reports that the front bucket was comfortable and stable.
After a test drive of the electric assist, Nils asked if we wanted to test ride the non-electric version, and I took him up on it so that I could compare. As you might expect, it felt like pedaling a Sherman tank, and was the best advertisement for the wonders of electric assist you could imagine.
Here's Oliver in the non-electric model, looking suitably unimpressed (although still comfortable):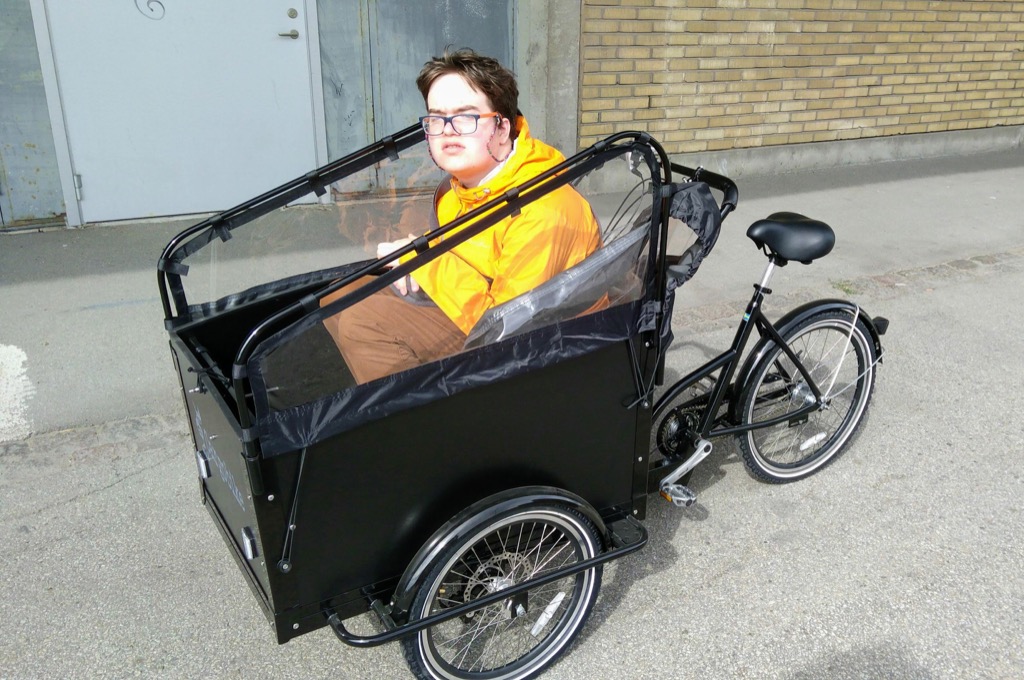 The Cargobike Classic Electric sells for 21,995 SEK ($3142 Canadian); because of a generous rebate from the Swedish state, however, Swedes pay only 16,496 SEK ($2357 Canadian), a savings of 25%. That seems like an eminently reasonable price given what standard e-bikes are selling for. Cost to ship to Canada would need to be factored in, of course (the bike comes in two large boxes, one for the bucket and one for the bike; together they weigh 50 kg).
Our cycling season in Charlottetown is shorter than it is in Malmö where you can almost cycle all year round, but this is still an attractive option, and while we might not get it together for this season, perhaps for next.