Back in 2015 I wrote about my first experience with Bitcoin: I exchanged $20 CAD for 0.06218887 BTC from a Bitcoin ATM in the back of Calories restaurant in Saskatoon.
Since that initial purchase, the value of Bitcoin has fluctuated a lot, but it's had a general upward trend, and, recently, a dramatic surge; here's the XE.com conversion chart from Canadian Dollars to Bitcoin from late May of 2015 until today: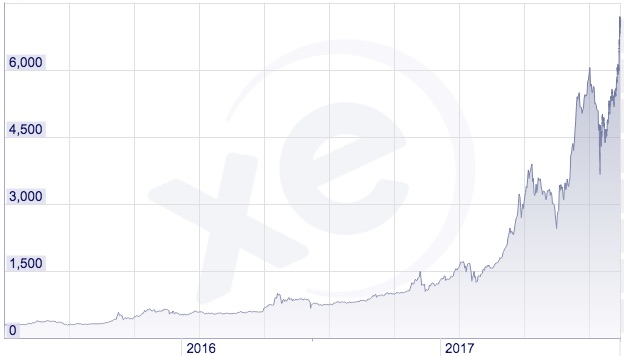 As a result of this, the $20 I converted to Bitcoin in 2015 is now worth $445.83 CAD.
Or at least it would be; in the intervening years I've spent some of my original Bitcoin stake, mostly for donations to the Internet Archive and OSMC, and through my experiments with the Brave browser's ad model.
I've also been paid back by Brave (0.00530655 BTC, at the time about $13 CAD, but now worth $38 CAD), and I purchased an additional chunk of 0.02 Bitcoin, online from QuickBT (no endorsement implied), which cost me $23.17 CAD at the time and is now worth $143.37 CAD.
Today the balance in my Bitcoin wallet is 0.00999723 BTC, or, at today's exchange, $71.66 CAD.
So my spend in Canadian dollars, all-in, has been $43 and, despite having paid out several donations, I'm ahead $33.
While my head dances with dreams of having, say, purchased $20,000 in BTC and now having $445,830 CAD, what would have been both beyond my means and an absurd risk. But what fun it would have been.
Stay tuned.