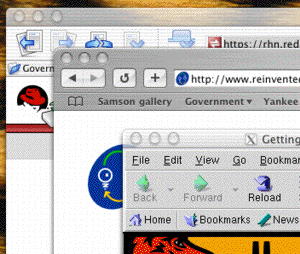 As noted by many, Apple also release an X11 server for OS X on Tuesday. While this isn't a revolutionary release — the same capabilities have been available using XDarwin for some time — the new server is much zippier, and better integrated into the desktop environment.

What the hell am I talking about?

Well, best explanation is through an example: there is a Linux server sitting, behind a firewall, 1/2 a mile from me. Using a VPN, I can connect to the server, and using the X11 server in my local Mac, I can run software on that machine that is displayed locally. For example, right now I'm running the Mozilla browser from that server, but its windows are being displayed on my own computer's screen. When I save files, they get saved on that computer's hard disk.

The network really is the computer.

Pictured right are Chimera and Safari, running locally, and Mozilla, running under X11 from the aforementioned server 1/2 mile away. Neato.