When I was a kid, music was a commodity, now it's an ocean. I remember distinctly going into Sam the Record Man and buying 45s — two songs! — with money saved up from my paper route. Now, through iTunes, Limewire et al I have, essentially, access to all music ever made.
While this is heady and, by today's generation expected and natural, I think that this era too will pass, and, again with technology as the enabler, we'll return to a rather pre-historic era where music is hand-crafted and hand-delivered. After experiencing a generation of boundless, easy access to more and more generic music, I think we'll seek out unique music experiences and a physical, more obvious connection to music makers.
By way of example, here is what arrived in the mail today from Issa (aka Jane Siberry):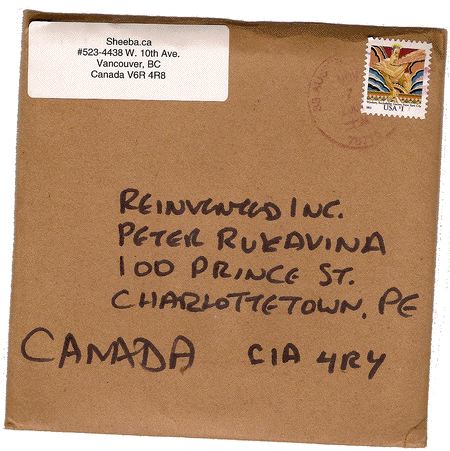 Inside was a CD with two songs. I paid $15 for it — $7.50/song. I choose the price, and my receipt said:
1 x MAILORDER WILDERNESS (tour CD single) to help fund Issa recordings EF (education factor): disc=$1.5/paypal fee= .45/postage about $1 (US cities) so please pay above $3 if you want to provide revenue to Issa. = $15.00
I haven't even listened to the music yet, and I already think of this as my most-treasured bit of music for the year.
This approach is not a return to music-as-commodity, nor is a "music as ocean." It has more in common with patronage than anything else.
In its least soulful interpretation it is a realization of the untapped equity offered by a personal relationship — or at least the appearance or perception of a personal relationship — with the artist. In a more positive light it's all about self-determination, disintermediation, DIY and all that other cool stuff.
But whatever it's about, it's really really cool to get a special, hand-addressed CD in the mail. You can't buy the physical object anymore, but you can buy the MP3 files contained thereon.