Oliver had a huge breakthrough in late 2020, overcoming his anxiety about crossing streets to the point where he can now happily retrieve the mail from our community mailbox, which requires crossing Grafton Street, every night. He parlayed this new superpower into a double-street-cross last week to meet our friend Sandy for coffee at Leonhard's.
Oliver's okay crossing at traffic lights, but not yet at intersections without lights; although this limits his terrain, it's a terrain vastly expanded nonetheless, and a great boon to his independence.
In order to give him an idea of where he can reach within the traffic-signalled area of downtown, I used Overpass Turbo to plot the locations of the 10 traffic lights of downtown Charlottetown on a map: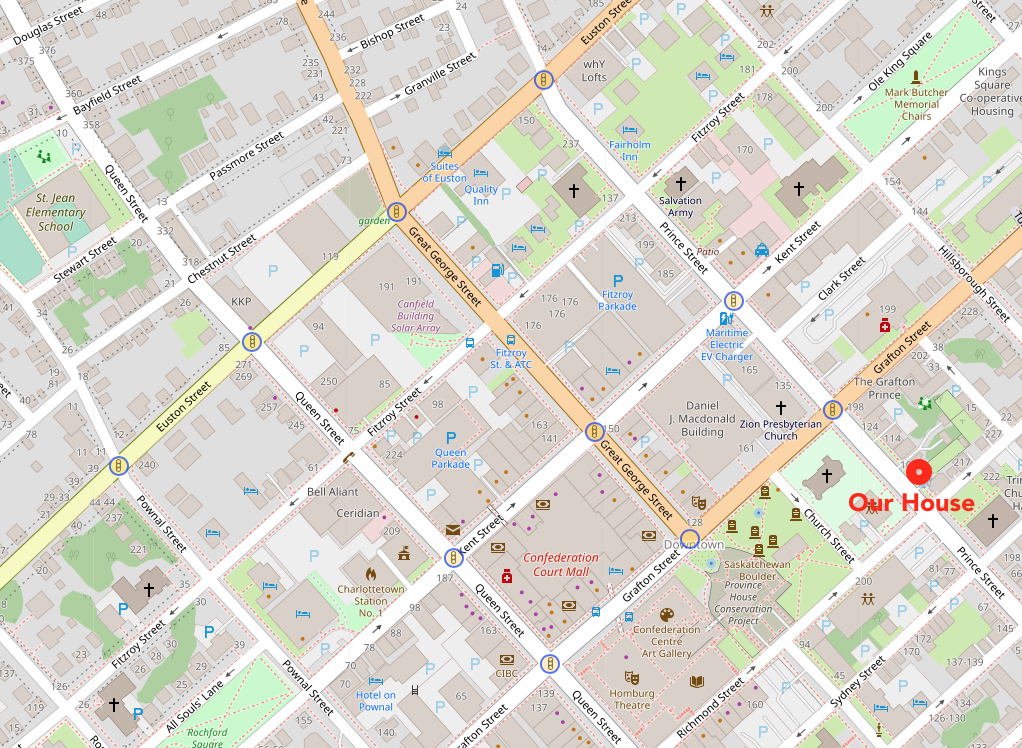 When we bought our house in 2000, at 100 Prince Street, we purposefully relocated as close to the heart of the city as possible: Catherine didn't drive, and, about to be a mother and coming off 5 years of expensive taxi rides from our house in Kingston, she was eager to be able to walk everywhere. Little did we know, at the time, that this would, 20 years later, prove to be a wise decision for the next generation as well.
Although there are 10 traffic lights downtown, the lack of lights on Fitzroy Street means it's a hard firebreak for Oliver, so there are really only 6 lights that are relevant; even with that limitation, he can still reach most of the streets in the downtown core between the north side of Richmond and the south side of Fitzroy and the east side of Pownal and the west side of Hillsborough:
Included in this area are the downtown public transit hub, a couple of dozen restaurants, The Bookmark, two pharmacies, The Guild, the Confederation Centre of the Arts (with its theatre, art gallery and library), City Hall, the Legislative Assembly, at least two places where he can buy carrots and fresh-baked bread, and an ATM that works on the Credit Union network.
Go Oliver!