I got an email late last week of the sort that I'd like to receive every week but that, alas, are very rare. Art Ortenburger, a home-schooled teenager from Bonshaw, lives in an area of Prince Edward Island where Bell Aliant isn't currently providing broadband infrastructure (despite promising end-to-end broadband for the Island by the end of 2009).
Art was curious to know exactly how many addresses on the Island were in the same boat, and, being a sharp guy, he set out to use Aliant's own lookup tool to find out.
Art wrote a well-crafted set of automated tools that takes every civic address in the freely-available PEI Civic Address Database and submits each one to Aliant's web page. That page responds with either "Congratulations! You can choose from the following list of services currently available to you…" or "Your address … does not currently qualify for Bell Aliant High Speed Internet service."
Art's "bot" is well-tempered: it only submits one query a second, so it takes several days to run. And this left Art with a problem: he didn't have a server on which to host the tool. And so he got in touch with me.
I was happy to provide a mechanism for the tool to do its work, and on Friday night I fired up an Amazon EC2 instance and set the script running. Three days later, the results were:
Total Addresses: 68,040
Addresses with no DSL: 10,439
Addresses with Basic DSL: 19,559
Addresses with Ultra DSL: 38,039
Here's what a Google Earth map of the addressed with no DSL service looks like (click the image for a larger version):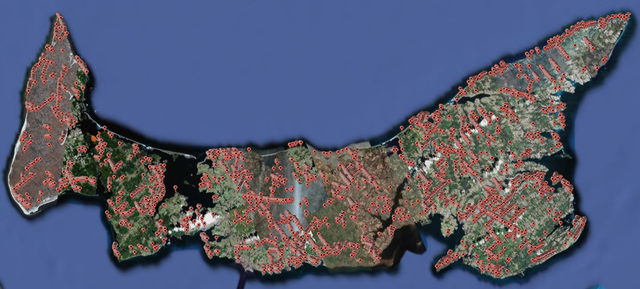 If you're interested and have Google Earth yourself, download the Google Earth file of the no-DSL addresses and zoom in to any area of the province to see the situation in detail.
Keep in mind, of course, that what Art's tool looks up is civic addresses, not "households that might want to have broadband Internet installed," and so among those 10,439 non-served addresses are everything from vacant lots to barns (although what farmer in their right mind doesn't want DSL in the barn these days).
Art has released his complete toolset with a GNU open source license so you can see how the magic works, run the bot yourself, or just get some ideas on how to write automated tools in Python.