When Confederation Bridge opened in 1997, a development called Gateway Village opened with it, on the Prince Edward Island side, in Borden-Carleton.
Part of Gateway Village was an interpretive centre: a combination exhibit, museum, introduction to the Island, and art installation.
Catherine, along with Lynn Douglas, was commissioned to create a piece for the centre, a large sphere constructed from witherod around a metal frame by Catherine, covered in hanging fibre human figures created by Lynn.
It looked like this, once it was installed: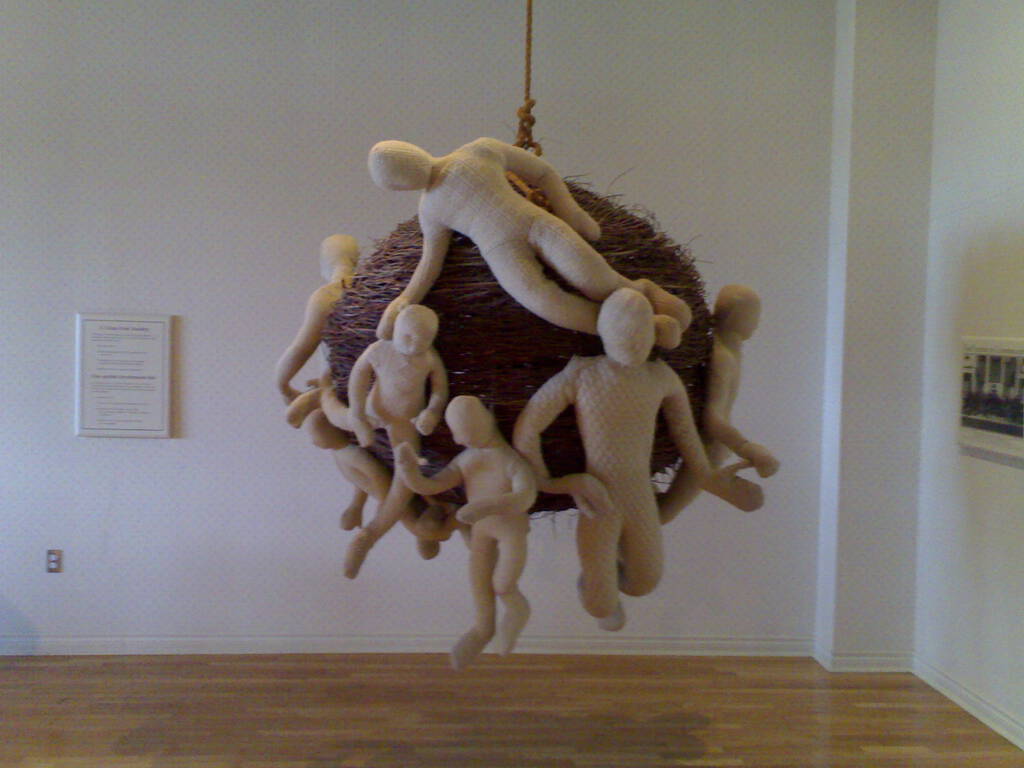 Catherine suffered for this art: she needed to gather all the witherod herself, and she did this in the fields around our house on the Kingston Road. One winter afternoon she was out gathering near the creek that runs parallel to the Bannockburn Road and she fell through the ice. The water was shallow, so she was in no danger of getting stuck. But she was chilled through to her core, and she carried that chill with her for the rest of her life.
At some point after 1997, the interpretive centre at Gateway Village was razed, replaced with other touristic infrastructure. It was a great assault against the artists and craftspeople who'd contributed exhibits, installations, music and film to the project. And, what's worse, it seems like nobody knows what happened to everything that had been installed: the "basket ball" was never seen again, and we have never found anyone who could tell us what became of it.
Does anyone in the readership have any idea, or know of someone who might?