There in an English liqueur called Pimm's, used to make an English drink called Pimm's, a potent mixture of alcohol and fruit. I was warned to tread carefully: wallops were hidden in for the unitiated.
But that all came later.
First thing Saturday morning, after a quick breakfast with Luisa, Olle and I hurried up the U8 to Bernauer Straße and through the empty back streets of the neighbourhood — not a coffee place open in sight — heading toward Berlin Kulturbrauerie, the Berlin base of NYU and the home of PirateBox Camp.
An interesting cast of geeks and hackers were gathered in the aerie on the 4th floor, huddled around laptops and ready for conferring.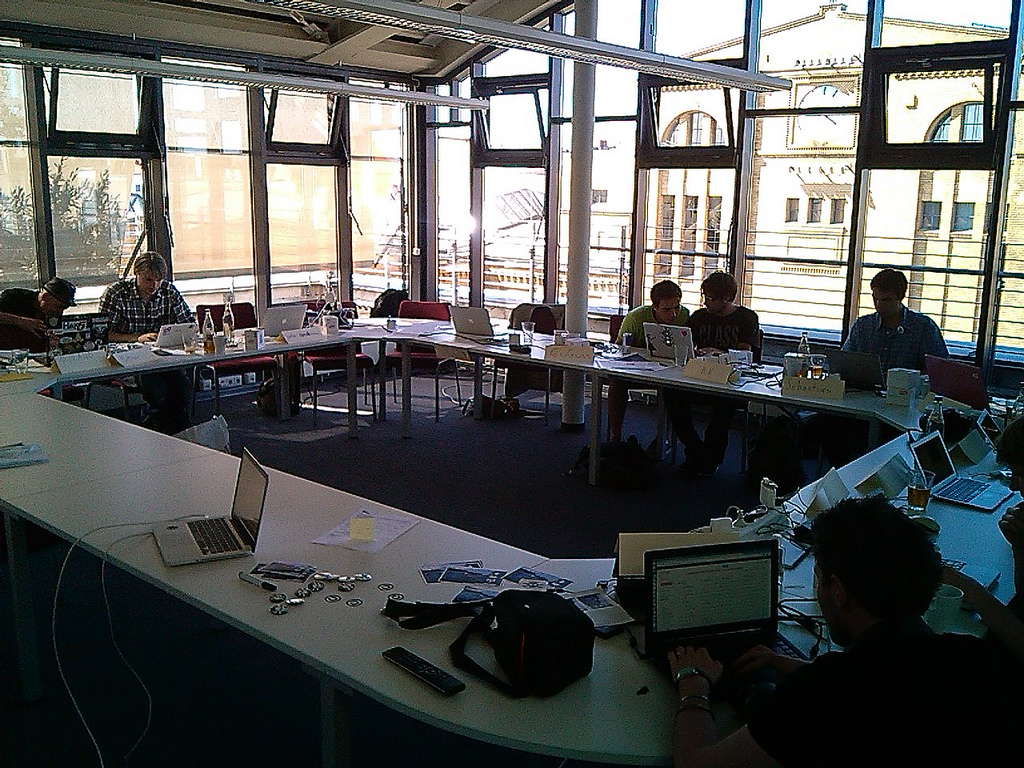 While it was 100% men — sadly not atypical for this sort of gathering — it was a diverse group of men: USA, Canada, Germany, Sweden, Ghana, France and Hungary were all represented.
While the hierarchy was pretty loose, PirateBox instigator David Darts and PirateBox coder Matthias Strubel, along with enthusiastic Frenchman Augustin Delaporte variously took the tentative helm.
We got a good grounding in the technical aspects of PirateBox from Matthias, a good grounding in the inspiration and history of PirateBox from David, and a good push toward organization and UI improvments from Augustin. We ate pizza, debated CMS platforms and GitHub repository layouts and talked about our favourite features-to-be.
There's a lot in the "coming soon" column for PirateBox: easier installation, new website, an "extensions" framework, a shared core codebase with LibraryBox (which has blown through its Kickstarter plateau impressively), and better code organization in GitHub.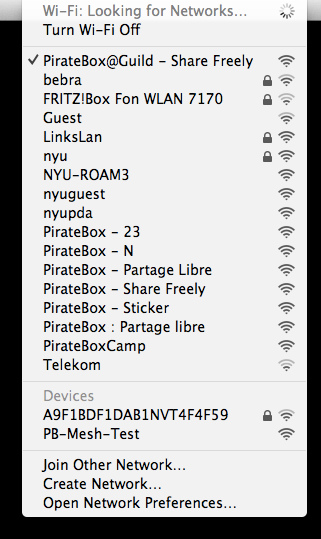 As I'd hoped, there was a lot of the spirit of Internet 1.0 in the room: smart minds concentrating on a mixture of the cool and the practical with no concern for anythingization. I came away energized and invigorated about the PirateBox idea, and even found some time to write up some documentation for a method for creating standalone "OpenStreetBoxes", building on some work done here by Gael Musquet.
When things wrapped up on Saturday night, Olle and I bought some beer at the nearby grocery store and took the M10 tram to Hausburgpark where a barbeque organized by our friend (and consummate host and partygiver) Morgan was already underway, with a motely collection of Morgan's friend from far and wide (including, as it turned out, 10% of the attendees from Zap Your PRAM 2008) eating grilled meat, fish and vegetables. And drinking beer, wine, and Pimm's. Remember Pimm's?
The barbecue continued on into the night, and I got a chance to meet many interesting people.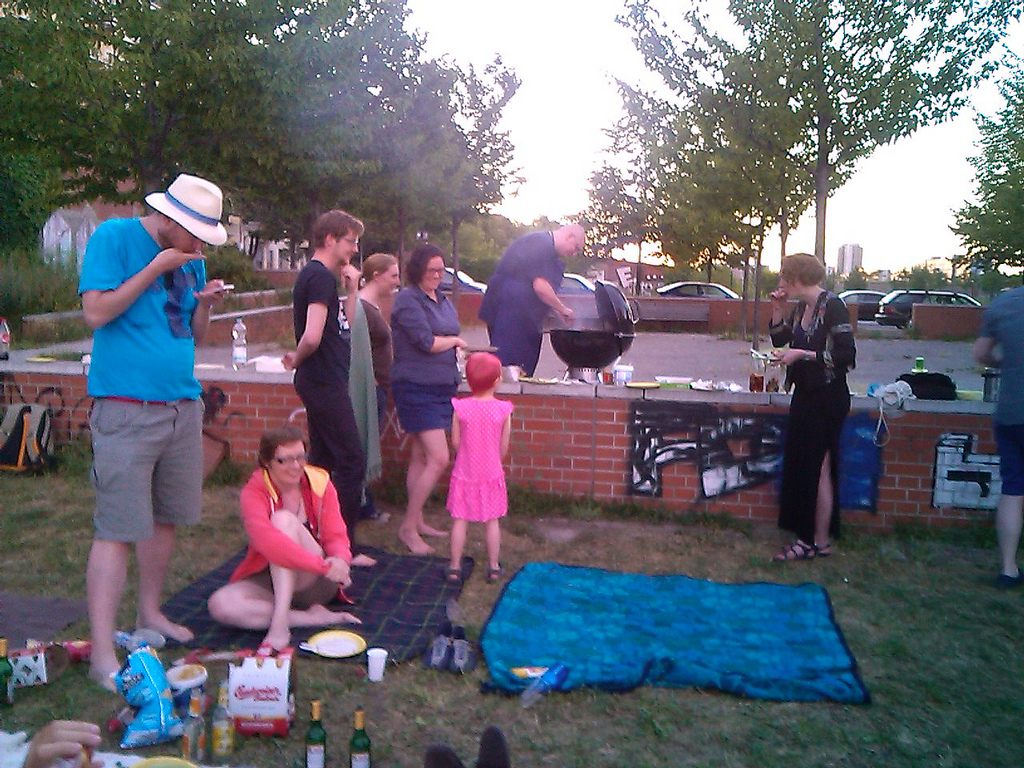 When it was all over we helped Morgan move things back to his nearby apartment and then Olle and I hopped in a cab (magically conjured up by Morgan's iPhone) and were back at our Motel One base 15 minutes later.
Sunday morning PirateBox Camp was scheduled for a second day, and we planned with more care and eeked out coffee at Bonanza on the way there.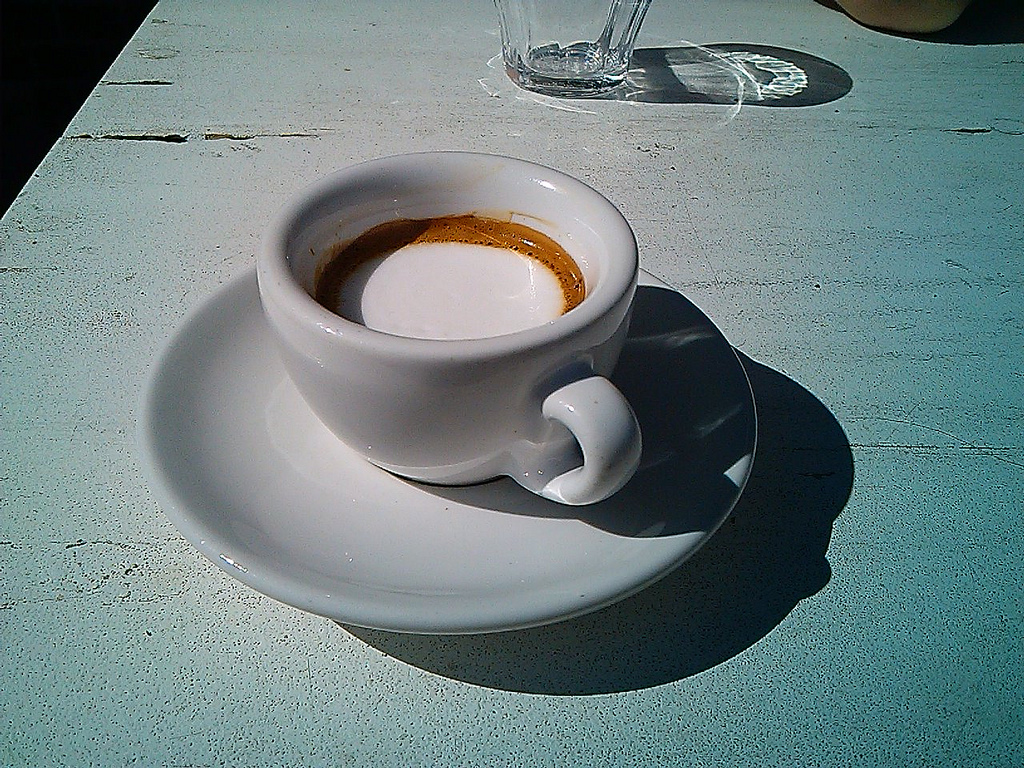 Leaving Luisa to wander, we joined our PirateBox compatriots for some more down-to-brass-tacks talk about the future organization of the project, shared a BitTorrent Sync secret (using a PirateBox, of course), and quietly hacked away in the spare moments.
Olle and I said our farewells and ducked out at 1:00 p.m., just as lunch was arriving, so as to spend Olle and Luisa's last afternoon in the city together.
We grabbed lunch at November (good food; dreadful service from overtaxed servers), coffee at The Barn Roastery (dreamy coffee and equally dreamy baristas), made a quick late-afternoon stop at the Makers Market and, finally, had a nice light supper at ChénChè.
We piled back to Moritzplatz so that Olle and Luisa good head to Tegel for their evening flight home to Malmö, leaving me to fend for myself until I head back to Canada on Wednesday morning.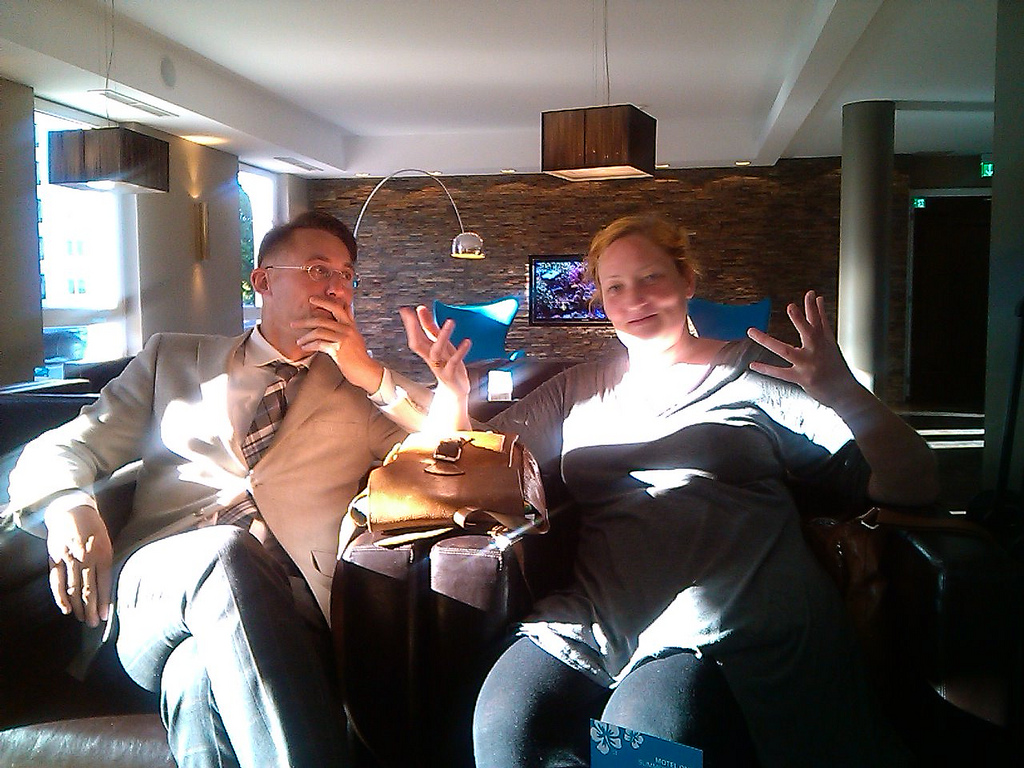 Not content to simply stew in my hotel for the evening, I walked up Oranienstrasse to Eiszeit Kino for a late showing of UNPLUGGED: Leben Guaia Guaia, a rollicking German documentary (with English subtitles) about the band Guaia Guaia and their approach to life and music. Eiszeit Kino is a great little cinema with really friendly staff and two screens located off Zeughofstrasse down and alley and up the stairs. I was the only person in the theatre, which was a shame because it was a good movie and it deserves a bigger audience than just me (perhaps I am leading or following the pack?). See it if you can.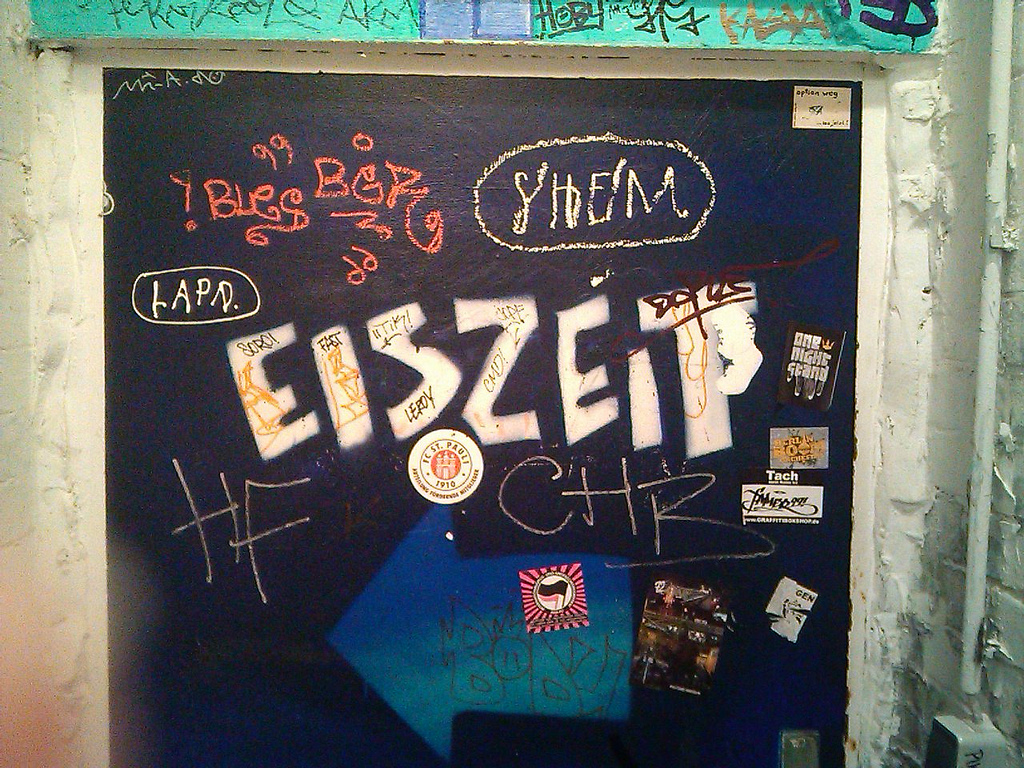 For my last two days in Berlin I've got a crowded dance card: I'm having a surgically-organized one-hour date with Martin Röll while he is on the way from Helsinki to meetings north of Berlin, coffee with Igor and a tour of the Third Wave office and, on Tuesday, drinks with my old Plazes compatriots Jeanny and Til.
It's a whirlwind trip, but I'm so glad I came: Olle told me of some advice he received recently which was, in essence, "when the workshop is set up, don't wait, start working." I'm a strong believer in not waiting until eventually to travel and see friends and engage with interesting projects; my workshop — an income, my health, a great network of generous friends — is set up, and while it takes some effort to get over the inertia (and comfort) of everyday life up and down Richmond Street, it's important to leave the home orbit once in a while.
Which is, in part, why I write all this down: to remind myself to do it again soon.