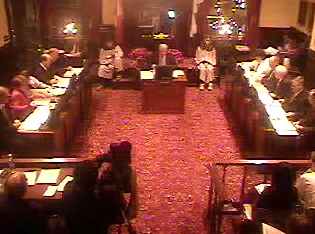 As would anyone with a technology spider-sense, I was skeptical when I heard of plans by the City of Charlottetown to install "a variety of innovative information and communications technologies (ICTs) to promote E-democracy" in the council chamber. The "innovative technologies" have now been in place for more than three years — enough time, I think, for "all the bugs to be worked out." So last night I went to the regular monthly meeting of council to try and get a sense, from the public gallery, of how it's working out. Here's what I found:
There's a flat screen terminal on every councillor's desk. That means that looking across the chamber at their fellow councillors requires looking through two large physical barriers. I can't imagine how this fosters a collegial room.
The Deputy Mayor, chairing last night's meeting in the absence of the Mayor, seemed somewhat annoyed by the technology, and operating it seemed to consume an inordinate amount of his time.
There seems to be a lot of confusion about "logging in" to the system on the part of councillors, and, once they're "logged in," the touch-screen button they have to press to request an opportunity to speak seems to be difficult enough to use that we were faced with the spectacle last night, multiple times, of councillors having to rise to speak to indicate to the chair that they had pressed the button to request to rise to speak.
Some, but not all, of the voting at meetings is conducted through the terminals, with live results available both to councillors and the chair as well as to the public gallery. For some reason, however, there are no totals displayed, so the chair has to take a minute at the end of every vote to count the votes on the screen. This renders the questionable benefits of "streamlined voting" moot.
When Council was to approve a resolution, the resolution was sometimes displayed on the two large screens for members of the public to see. This was nice.
After spending an hour at the meeting, my general impression regarding the new technology is "why?" Is it so difficult to run a meeting of ten people that complex technology must be brought in? What was wrong with the way Council meetings used to be run? Are there any councillors who would honestly state that the technology is actually, as it was supposed to, "opening its doors to more effective participation from its citizens in the democratic process."
Or is this simply an example of technology for technology's sake, introduced to try to "sex up" the council chamber, a imposition of technology by technocrats on an unknowing Council, a Council afraid to point out that the emperor may not only have no clothes, but that the emperor also can't get that darned "request to speak" button to work.