Our Saturday started with our new-usual one-two of smoked salmon bagel pickup from Gallant's, followed by a loop or two around the still-outdoor Charlottetown Farmers' Market. Next, in a radical departure from our local food trail, we headed west to Kinkora in search of dilly bars.
In May I wrote about a disappointing Dilly Bar experience at Dairy Queen; my friend Thelma responded, later in the summer, with a suggestion that we visit the Somerset Ice Cream Bar to try their take. Reasoning that, with summer's end, they will soon be closed, that's what we did. We were not disappointed: it's worth the drive to Kinkora (and, as of this writing, they're still open daily).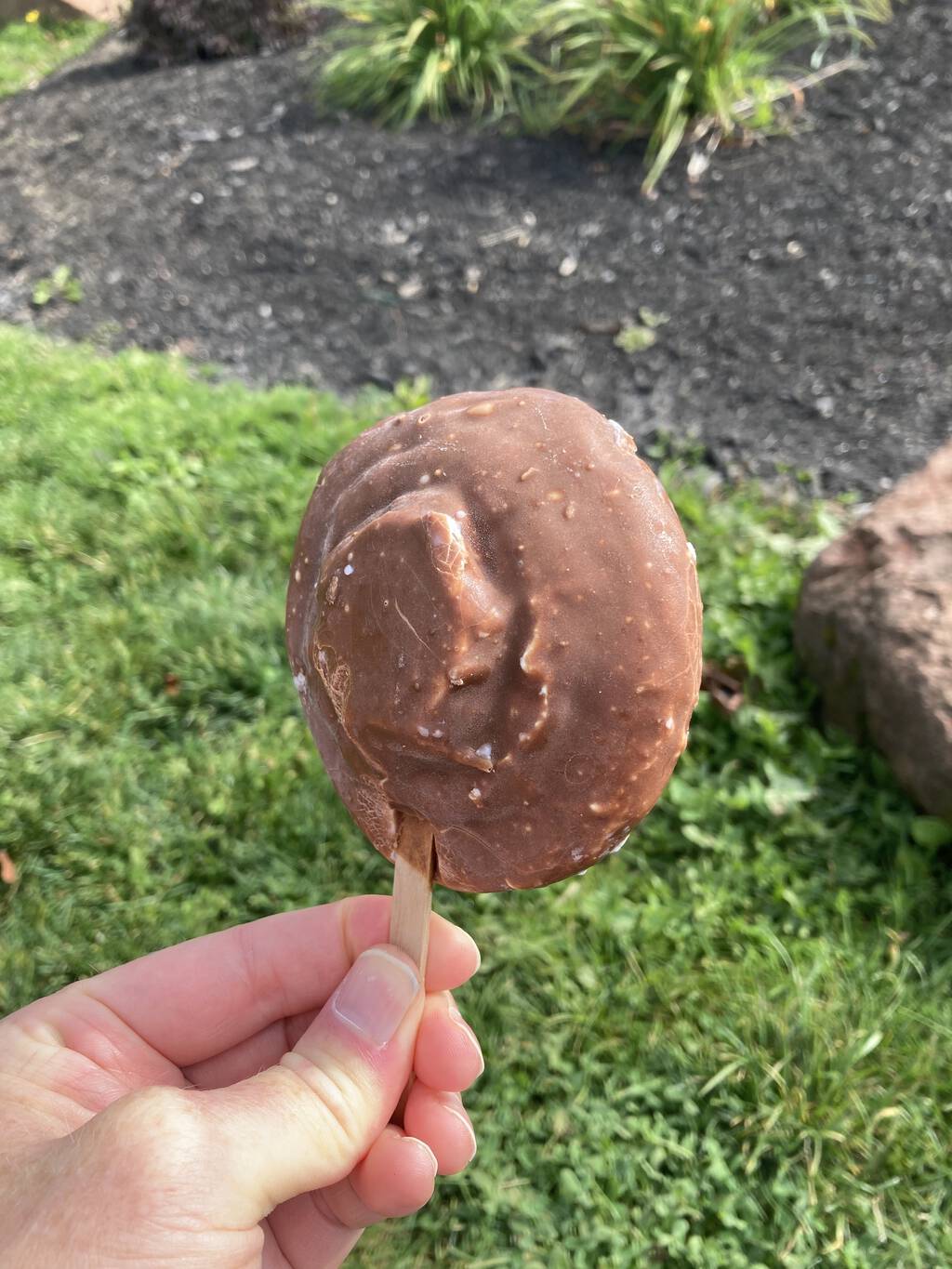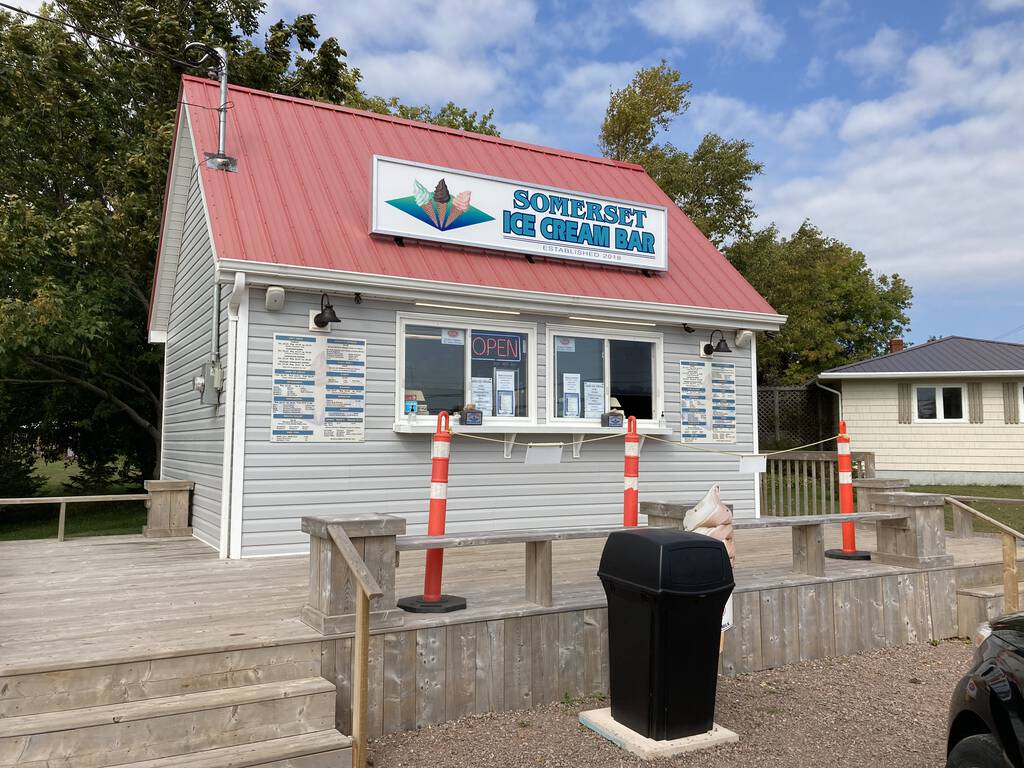 Our dilly bars consumed, I realized we were within spitting distance of The Handpie Company in Albany, so we headed there for lunch, enjoyed under the shade of a tree on the grounds. The handpies we had were light and flaky and just wonderful, and this precipitated an email thread with Sarah, personable owner of the enterprise, about how to achieve this when I heat frozen handpies at home (she advised to give a "light egg-wash first to get that golden top crust," something that's right on the instructions but a step I'd been skipping).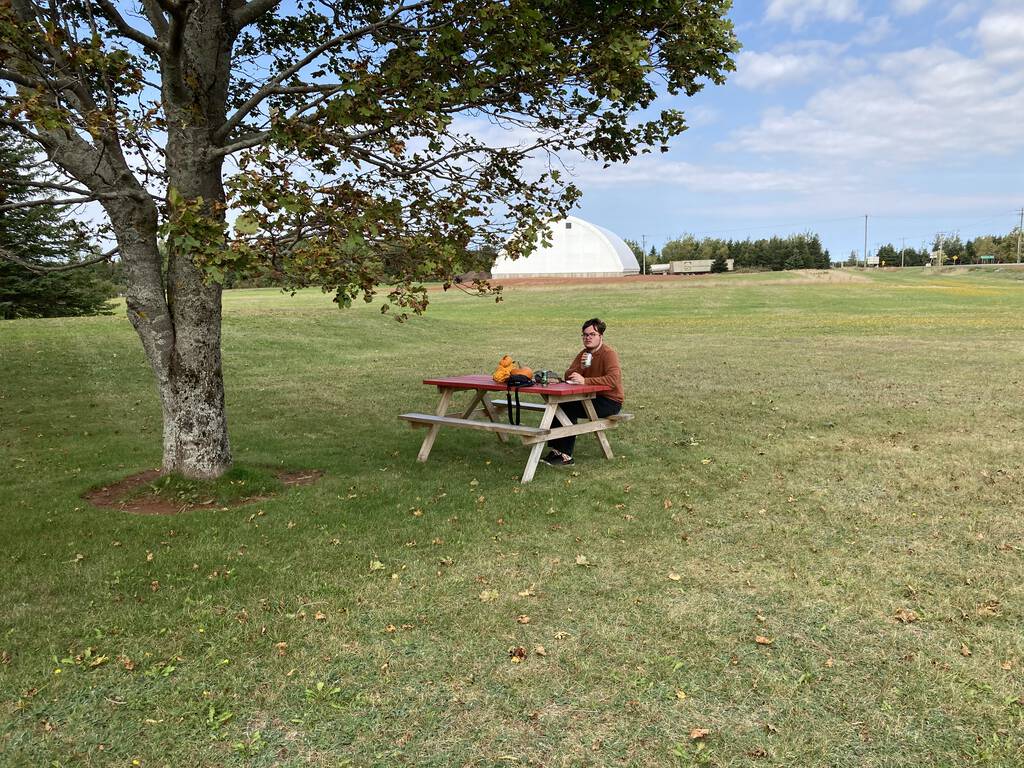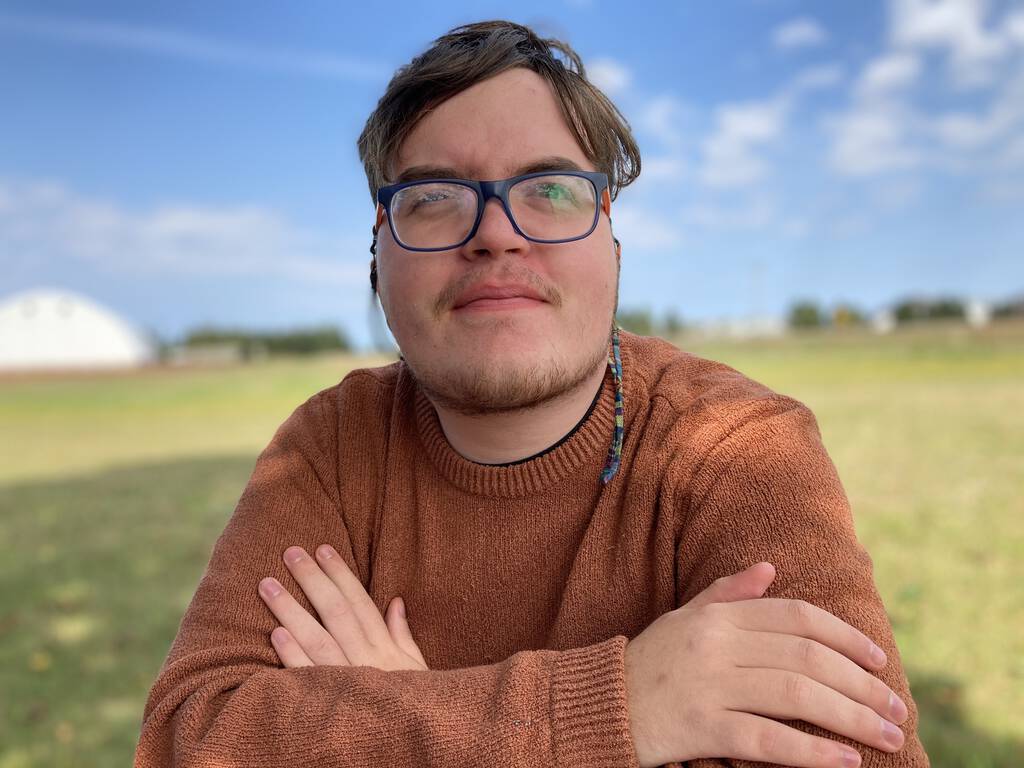 From The Handpie Company we took the back route, through downtown Albany (a lovely village; my first visit) into Borden-Carleton, where we topped up the Kia Soul EV at the new Flo charger behind the gas station. We then drove along the south shore, through Cape Traverse and Tryon, to Victoria where, what with the sugar-dam already having burst, we stopped for Factory Coffee and hot chocolate on the patio.

Fortified with caffeine and sugar, we headed toward home for afternoon chores.
Our house at 100 Prince Street shares a 24 inch "alley" with our neighbours at 104 Prince Street, an alley that, despite living here for 20 years, I'd never looked inside until a few weeks ago, when I took a look with a insulation contractor. Once of the mysteries unveiled to me on that visit was that the vents for our range fume hood, our bathroom fans and our clothes dryer were in need of repair, their flaps no longer flapping open and closed. Attending to that was my Saturday project.
And a fascinating project it was: I learned a lot about vent assemblies–a 4 inch aluminum tube attached to the flappy part–at Home Hardware, and, in sliding the existing dryer vent out, I learned just how thick the walls of our house are (from shingles to plaster is about 15 inches), and that there actually is some insulation in the walls. The job ended up extending over two days, as I wasn't satisfied with my first go at bodging the existing dryer vent together with some replacement parts on Saturday, so I ripped everything out on Sunday and did a much cleaner job. I ended up spending a lot of time in that little alley, and thus extended my dominion of comfort to a whole new region of the house.
As the afternoon drew to a close, I pressed pause on chores, made a quick supper, and prepared for Fountain Pen Night on Zoom.
Because both Oliver and I were going to attend, I decided to try an experiment in projecting the Zoom on the living room wall with our screen projector while, at the same time, capturing Oliver and I on a standalone Logitech webcam mounted on a tripod. The ergonomics and image quality left something to be desired (it was a delicate balance to get the room dark enough to see the projected Zoom clearly while light enough to allow others to see me and Oliver).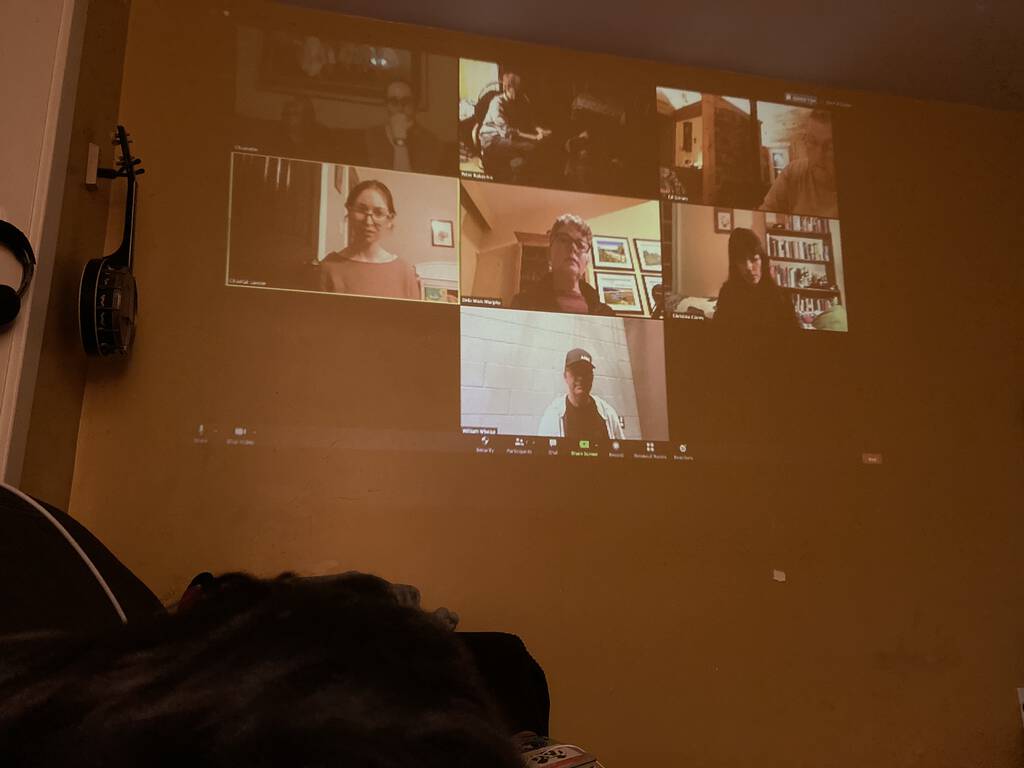 Special guest star at Pen Night this week was my friend Bill, a medical physicist with a particular research interest in optics. Bill uses fountain pen ink to approximate blood in his lab, and he walked is through spectral analysis of various ink samples. It was an interesting deep dive into colour theory, light, reflection, and absorption, and Bill, left without a webcam by circumstances beyond his control, gamely rose to the occasion of conducting the entire seminar with his iPhone.
Pen Night drew to a close around 9:30 p.m., and, in the normal course of affairs this would have been the time to start getting ready for bed, but it was also Saturday Movie Night and Oliver would have none of suspending that routine, Pen Night or not.
It was the week I was commanded to pick a movie from Oliver's teen years and, further, I was told the film had to be on the theme either of Google or Oliver. There was really only one clear choice: The Internship, the 2013 film starring Vince Vaughn and Owen Wilson that was set on the Google campus. Not a great film, but not a horrible film, and really the only one eligible given Oliver's dictates.
It was thus almost midnight by the time Oliver started his playlist playing and went off to bed.
Sunday was a two-breakfasts-no-lunch day.
We started the day with our habitual waffles, then, at noon, went down to the waterfront to enjoy Sunday pancakes with Catherine Hennessey and G. We emerged into the early afternoon again caffeine-filled (this time on Catherine's black tea), and headed to Home Depot to pick up supplies for day two of the dryer vent odyssey. 
Home Depot was positively hopping, and it took a lot of social distancing gymnastics to manoeuvre ourselves into the right aisle for long enough to pick the parts I needed for the job (I set on the flappy part, a 3 foot length of 4 inch aluminum tubing, a 4 inch pipe clamp, and a small length of flexible 4 inch conduit to allow the final connection to the dryer some flex). With Saturday's experience already under my belt, I made short work of the job, and I'm very pleased with how it all turned out.
As I already had the extension ladder up out of the basement, I used the opportunity to pick the remaining apples and plums from the trees in the back yard. I managed to pick all but the very highest ones; the apples were tiny, but plentiful, and I ended up with three dozen.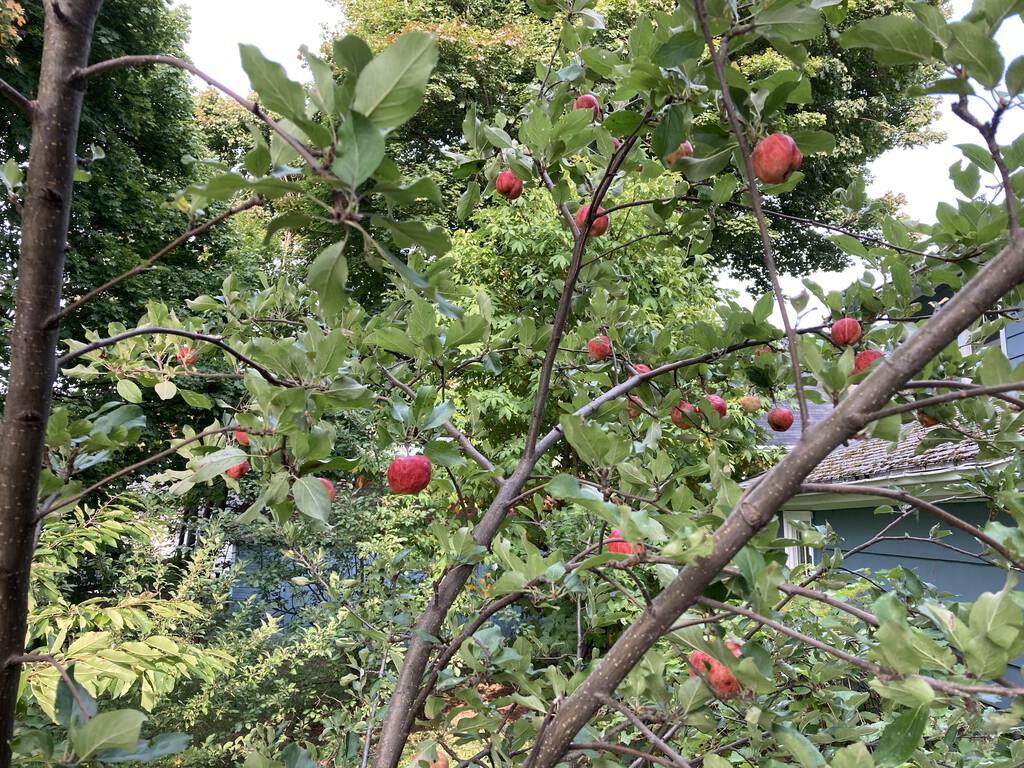 Apples and plums picked, I set the plums aside to pass along to a friend, and set out to make another batch of applesauce. The Instant Pot was almost-overflowing by the time I'd filled it with apples; 8 minutes of pressure, and 30 minutes of mashing about, and I had a quart in the fridge ready for this week's breakfast.
I was on a roll, so I just kept going after supper and made another batch of pasta sauce, using two pounds of Roma tomatoes purchased at the market from Sam at Cranbush Farms, along with carrots and zucchini from Trudy White, leeks from Paul Offer, and the single pepper I grew this summer, Fiero (who turned out to not be fiery at all). We're now set for at least three weeks of pasta eating with a couple of quarts in the freezer.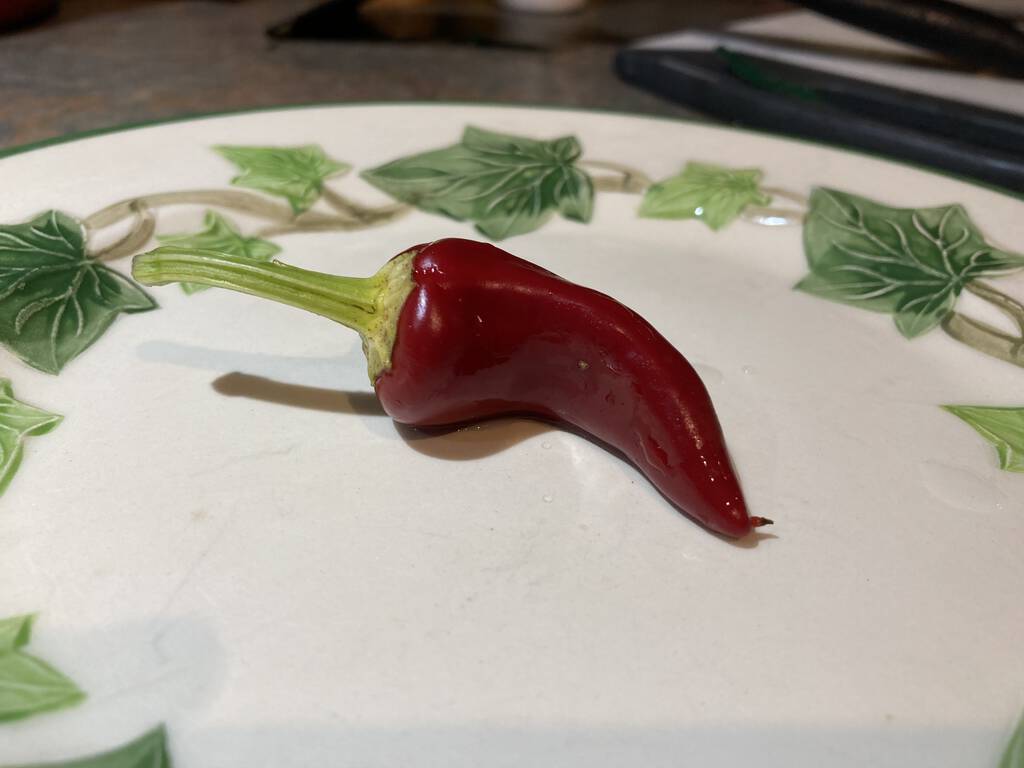 I finished the evening by running up to Sobeys for weekly groceries and then, on my return, clearing out the kitchen cupboards around the dishwasher, as a new one is set to be delivered this morning from MacArthur's, continuing the season of appliance replacement due to breakdowns (in this case the Whirlpool dishwasher, purchased only 4 years and one Premier ago, needed a $300 motor replacement; on the advice of our repairman, and brother Johnny, the replacement is a Bosch). Here's the old one on its last morning in place, for posterity: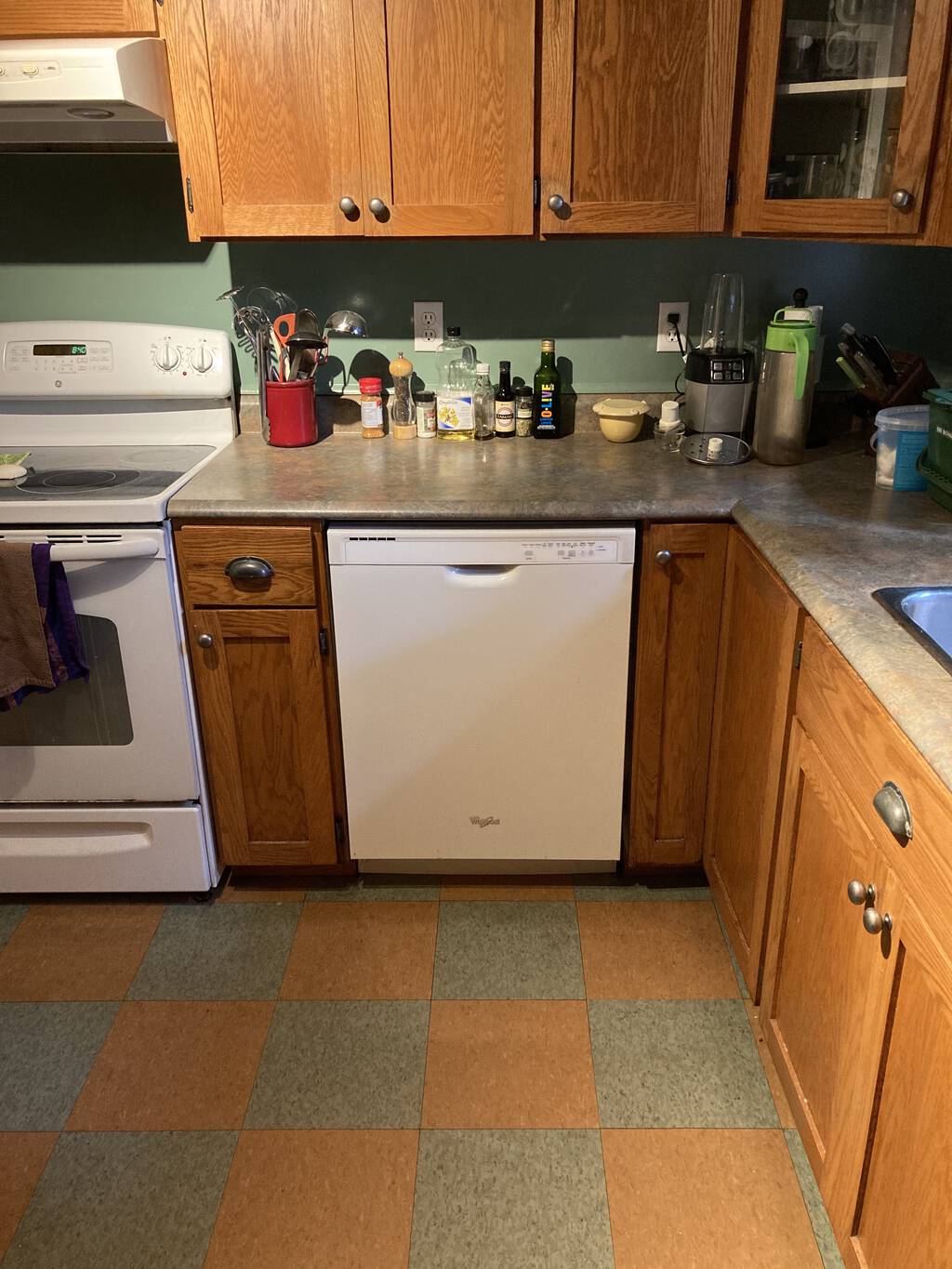 All and all a satisfying and productive weekend.