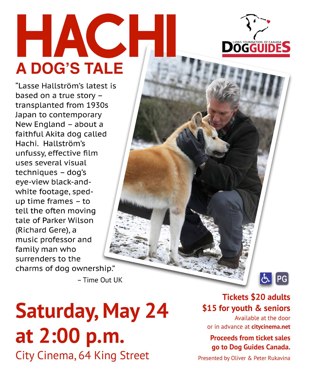 Over the last six months I have become intimately aware of what a great organization Dog Guides Canada is. From initial application for an autism assistance dog for Oliver a year ago, through our in-home interview in the fall, our acceptance in early 2014, our 10 days of training at their facility in Oakville in March and the follow-up they provide now and onward, Dog Guides is an amazing group of dedicated people devoted to a noble cause: provide dog guides to Canadians who need them, at no cost.
It's hard not to feel a tremendous urge to financially support the efforts of Dog Guides when you're living the benefits every day, and when, like us, you've been embedded in their Oakville facility and have learned about how dogs can assist a broad range of people live better lives.
And so next week we're launching ourselves into a week of fundraising for Dog Guides Canada.
On Saturday, May 24 at 2:00 p.m. Oliver and I are sponsoring a screening of the film Hachi: A Dog's Tale at City Cinema in Charlottetown. Tickets are $20 each, $15 for children, and are available online in advance or at the door. All proceeds from ticket sales go directly to Dog Guides Canada. If you are a lover of dogs (or even if you aren't), Hachi is, dare I say, a "heartwarming tale" about the love between a man and his dog. It's a tale of both sadness and joy. I really enjoyed seeing it in London, by chance, and I'm happy to bring it to Charlottetown. Please come if you can (there's even a Facebook Event if you want more information and to share with friends and family).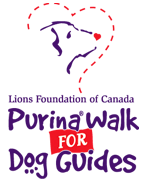 The next day, Sunday, May 25 starting at 1:00 p.m., Oliver and Catherine and I are walking in the Purina Walk for Dog Guides as "Team Ethan" with the Lions Club of Winsloe. Lions Clubs across Canada are generous benefactors of Dog Guides Canada: the walls of the Oakville facility are recognize millions of dollars of support that have come from Lions over the years. The "Walk for Dog Guides" is a great opportunity for those with dog, dog guides and not, to go for a walk on a crisp spring day to raise funds for the program. If you'd like to support Team Ethan with a donation right now, please visit the Team Ethan page and click "Make a Donation."
And if you've got a dog in your life you'd like to take for a walk, and you're willing to help raise a little money, whether you're in Charlottetown or not, visit the Purina Walk for Dog Guides website and find the location nearest you.