Because this autumn wasn't already exciting enough, fates connived to cause our roof to start leaking last month. We got by with a temporary patch job and a fleet of buckets in the attic, but the fall rains got the best of us, and I feared a completely meltdown come midwinter or spring thaw.
Fortunately, by some miracle of scheduling and logistics, MacBeth Bros. were able to squeeze in our job last week. Their crew is dynamite: they threaded the needle of roofing through the rain and snow and sleet and they got it done: the front roof went up on Tuesday, the back roof on Thursday, and the vestibules on Friday.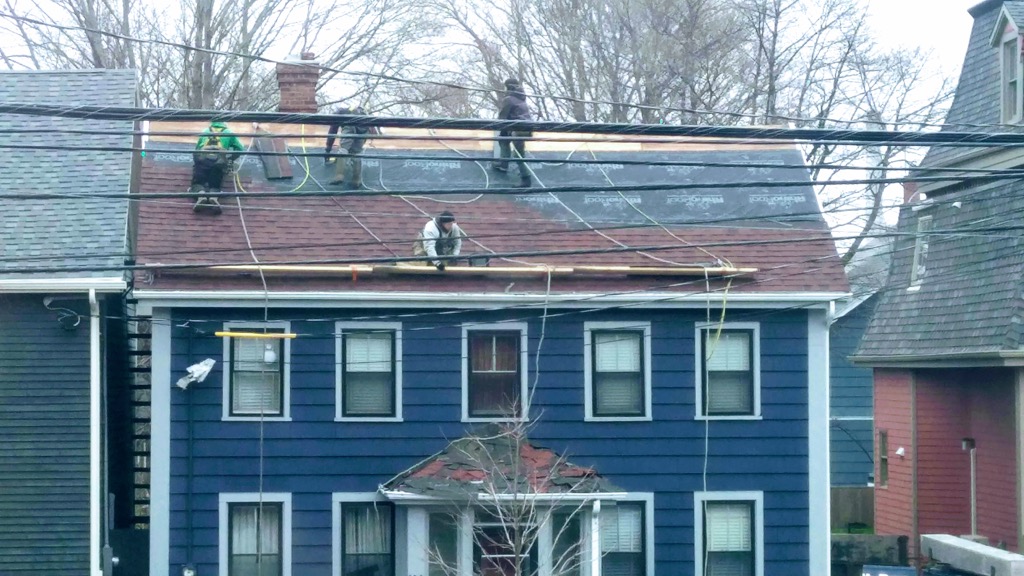 We've got more infrastructure work ahead of us this fall, as the roof worked showed up some issues with our chimney, and we have a longstanding job to insulate the attic that we really need to attend to. But we've made a good start.
The aforementioned fates, seeing that we'd taken control of things, decided to up the ante and caused our upstairs toilet to leak, which damaged our kitchen ceiling; fortunately this was covered by our PEI Mutual insurance policy, so this work was quickly attended to and the paint went up on the kitchen ceiling on Friday.
In the grander scheme of things we have nothing to complain about: we can afford to pay the bills, we have food on our plates and hot water in our radiators, and we're ready to take on the winter.