The Refrigocalypse is over: Birt's Furniture delivered our new Whirlpool fridge this morning just after 9:00 a.m., 3 days earlier than planned after I made a call earlier in the week when things went sideways with the old fridge.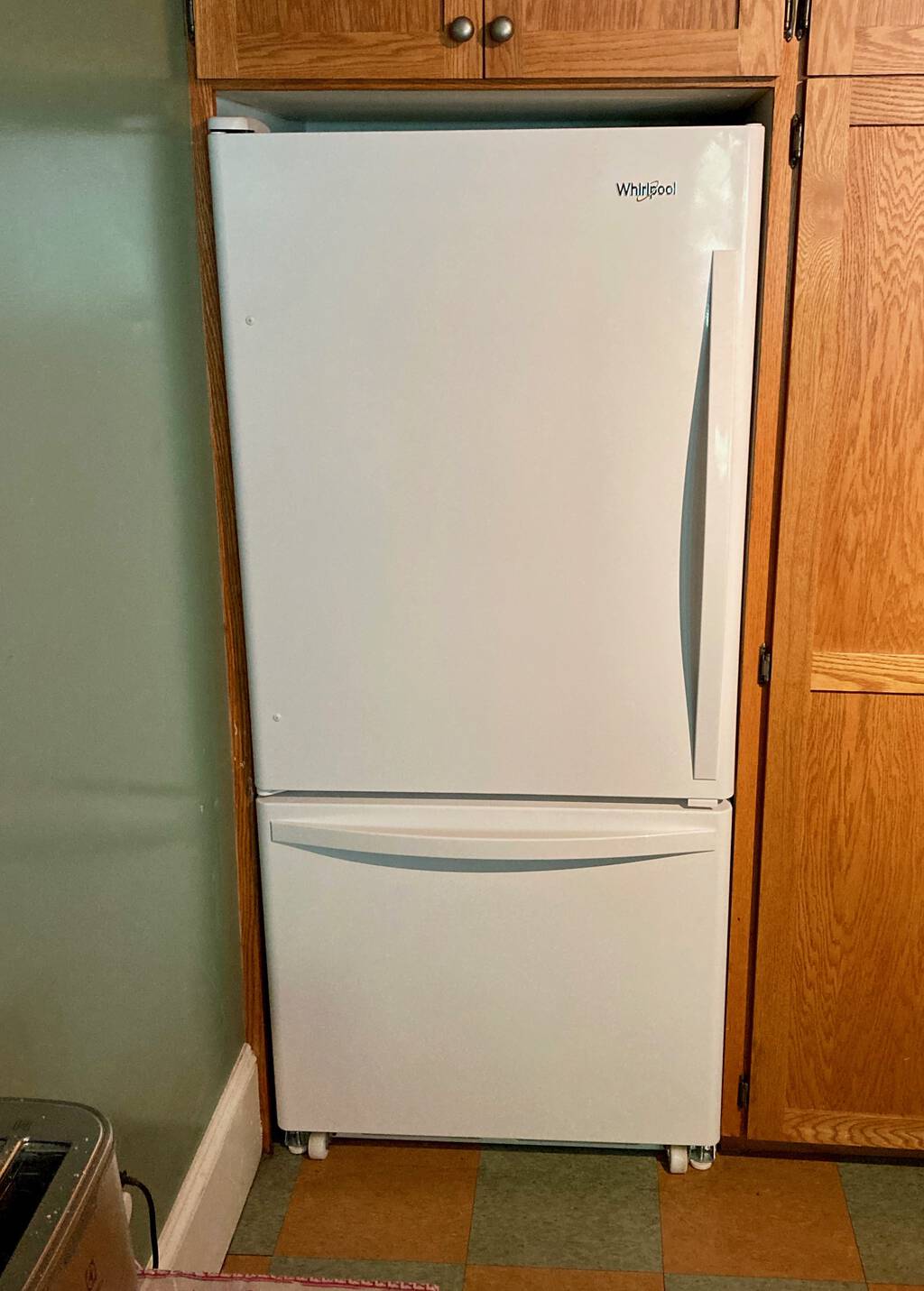 The new fridge is, in design essence, almost a clone of the old fridge; I've always been under the impression that there is a single global maker of refrigerators, throwing different brand plates on at random, and this only serves to reinforce that assumption.
A couple of notes on the purchase and delivery process, should you be in the market and considering Birt's:
To take the old fridge away was an additional $20 fee. That seems fair, given how complicated it would be to do it myself.
To get the fridge into the house, the delivery people needed to use the back door, and needed to remove the door itself, and break down the fridge, to get it to fit into the house. In other words, this is the largest possible box that can fit into our house.
Our kitchen and hallway floor got scratched in a couple of places by the removal of the old fridge; nothing too serious, but a little annoying.
I had to reverse the door, so that it opened on the right, myself. I knew this going in: my Birt's salesperson told me "this isn't something we do." It wasn't that difficult, but it did need some tools that not everyone would have: star-shaped screwdrivers in a couple of sizes, for example. This seems like something an appliance store should offer as a service, even if it's an upset.
The manual for the fridge is horrible: filled with poor descriptions and hard-to-follow graphics. If I was looking for work, I'd offer myself out as a refrigerator manual designer, as there's obviously a lot of room for improvement here.
The delivery people were friendly and helpful, and nothing at all like the notoriously gruff and complaining crew we used to get every time we had something delivered from Sears.
This was the first major appliance I've purchased all by myself: from our first appliances in our Kingston Road house back in 1995 onward, Catherine and I were always an appliance-shopping team, and we were generally a compatible one (although we had a longstanding disagreement about the role of standalone freezers that was never resolved). I managed to figure this purchase all out on my own, and I'm happy with the result. But also a little sad about yet another now-solo milestone checked off the list.