There's no doubt that tourism is important to the Prince Edward Island economy. Indeed without the dollars that tourism brings to PEI many of my friends would be out of work, either because they rely on tourists to buy their services or their products, or because they live off the secondary markets that tourism generates, from advertising to road construction. Indeed, when PEI purchases advertising in the pages of Yankee, that revenue gets used, in part, to pay my salary.
But there's another side to tourism, the part where we invite 1.6 million people to share our home with us. Dollars aside, who these people are, where they come from, how they think, and what they do when they're here has a profound effect on the way we live, the extent to which we contort ourselves to accommodate them, and the vision we have of what Prince Edward Island is.
While it seems vaguely eugenics-like to talk about demographically "programming" the nature of these visitors — shouldn't everyone be welcome on our Island? — in fact the Island's marketing efforts are very finely targeted. Here, for example, are the media targets for 2007, right out of the Tourism PEI Marketing Launch 2007: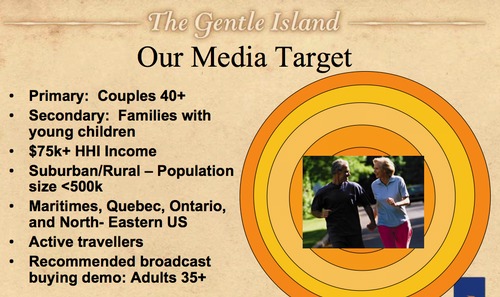 This demographic targeting then informs the places that tourism marketing dollars are spent:

Now of course marketing and advertising are inexact sciences, with results that are hard to gauge. But they must have some effect. And, indeed, if you walked down the streets of Charlottetown this week, you were quite likely to bump into 40+ couples who looked a lot like the target demo of Toronto Life, Reader's Digest and Cottage Life.
Now I don't want to make sweeping generalizations (although that's what marketing is all about, isn't it?), but if I was planning a great party, and wanted to invite a million cool people to it, I don't think the first place I'd turn would be Reader's Digest subscribers.
Such folks may be affluent active travelers ready and eager for a bit of Gentle Island rejuvenation, but, as a group, they're not particularly the kind of folks I want skulking around my neighbourhood all summer long.
That's completely a matter of my taste, of course: what I define as "cool," who I find interesting, and what I find annoying.
But imagine how our summer visitors might be different if our marketing dollars went, instead, to a mix that looked something like this:

I'm not necessarily proposing this mix as a new demographic (if indeed you can pull a common thread out of that montage). But I do think it's important to recognize that where we spend our marketing dollars has a direct impact on the kind of place we live. If we market to boring old farts, we'll get infrastructure that meets the needs of boring old farts. If we market to revitalizing feminists, we'll get infrastructure that meets the needs of revitalizing feminists.
These are not academic questions: the kind of visitors we attract determines the kinds of restaurants we have to eat in, the kind of art in the art galleries and the kind of music in the theatres. If we have visitors who drive we need more roads; if we have visitors who cycle we need more trails. Do we need more stores selling scented candles, or more stores selling guitar picks? Pad Thai or bigger burgers? Campfires or fireworks? Nickelback or Dylan or Lightfoot or the Bolshoi? Better beaches, or better lawn bowling facilities? More potatoes or cleaner rivers?
And because we can't help but have our workaday lives overlap with the lives of our visitors, the politics, persuasions, and passions of our visitors influence who we are, what we think, and how we feel about ourselves.
I'm not suggesting that we throw out the old Homemakers readers and replace them with anti-globalization hitchhikers and radical feminists (but you gotta admit that it would be more fun to run into a reader of Bitch Magazine in the line at Tim Hortons that it would be to bump into Yet Another Cottage Life Reader).
I'm simply suggesting that it would be nice to have some opportunity to consider the effects that our marketing efforts are having on the kind of place PEI will grow into: creepy and Orwellian or not, our marketing dollars and the way we spend them give us an unparalleled opportunity to determine who visits us.
We're doing it already — discriminating economically by using dollars and lodging nights as the metrics we use to judge our success. Is it possible to change our thinking so that we factor more nebulous, but ultimately profoundly more important, qualities into our spending decisions?