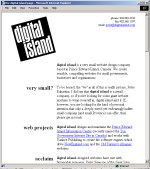 The Way Back Machine is one of the coolest web applications I've come across. The site is an archive, at selected points in history, of sites on the web; it claims to contain "over 100 terabytes and 10 billion web pages archived from 1996 to the present."
Pictured here is a thumbnail of our website from December 22, 1996, back before Digital Island Inc. got reinvented as Reinvented.
You can use their site to read the entire archived page.
One of the things I linked to back in 1996 was this CBC Morningside Log for November 13, 1995. One of the log entries is for a debate that I (credited oddly as "owner of Island Media" — I don't know where they got that) had with William Burrill, and Scott Goodfellow, moderated by Peter Gzowski, about the future of the CD-ROM.
Although the original audio is now missing from the CBC website, I managed to grab a copy and archived it here [MP3, 3.2MB] for perpetuity. My role, as you will hear if you listen, was the wry techno-sceptic. In other words, I was the jackass.
Plus ça change, plus c'est la même chose.
Notes: Scott Goodfellow is still with Good Media in Ontario; William Burrill is now entertainment columnist for The Toronto Star. Our company is no longer called Digital Island, and the use of the words Digital Island on this page should not be taken to imply any association or endorsement by Digital Island, a Cable & Wireless company.