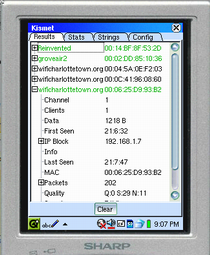 At long last I was able to get Kismet running on my Sharp Zaurus SL-5500 (these instructions did the trick). For the uninitiated, the Zaurus is a little handheld computer that runs Linux, and Kismet is a "wifi sniffing" program that lets me walk around with my wifi-equipped Zaurus and lists all of the wireless networks it encounters along the way.
So tonight I did a simple walk around the block to see what I could find in the neighbourhood.
To my surprise, there was a lot to be found:
15 wireless access points
9 of 15 were using WEP, 6 were free and open
Manufacturer breakdown:

Linksys: 4
D-Link: 4
Netgear: 2
Gemtek: 1
Zyxel: 1
Siemens: 1
Global Sun: 1
SMC: 1
That's 15 networks detectable over about 2 acres of land. This is about as close to "open wireless access everywhere" as you can get, I think.