Five years ago we made an impromptu summer road-trip to Prince County. It seemed like the time was ripe for another visit up west, and a combination of Catherine needing time alone to paint various things, and Oliver and I needing to spend time together before he gets flung into the maw of kindergarten sealed the deal.
So after our regular Saturday morning visit to the Charlottetown Farmer's Market, we headed west into the Island's hinterland.
Our first stop was Island Chocolates — I'd been lusting after one of their Factory Coffees (coffee + chocolate) since we were there last month. Oliver had a hot chocolate; as the glasses of hot chocolatey liquid look almost identical, we almost mixed them up and Oliver almost ended up downing a cup of coffee. Which would had made for a wilder afternoon. I'm willing to go out on a limb and say that the Factory Coffee is the best thing in the world, at least in the "things you can drink that are hot and involve chocolate" category. Mmmmm.
Next stop: L'Exposition agricole et Le Festival acadien de La Région Évangéline in Abram Village, the heart of the Island's Acadian community. What with all the "tourism by demographics" going on in Charlottetown these days, it was nice to attend an event that was held for no other obvious purpose than to bring together the community for a celebration. We watched pole climbing, log rolling, horse pulling, cattle showing and music making. Oliver rode a pony and bounced inside an inflatable train. We watched the lobster-eating contest, and watched Mustang, the intelligent horse, wow the crowd with his antics. It was a great way to spend the afternoon, and an excellent reminder that there is another solitude on PEI.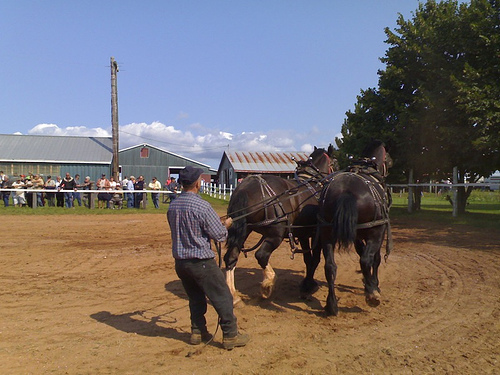 Around supper time we headed northwest to Alberton to the Northport Pier Inn, our home for the night.
The Inn is part of the "Northport Pier Development," one of those zany ACOA-backed projects, the funding of which boggles the mind:
The Government of Canada contributed more than $2.47 million to the project with ACOA providing direct contributions of $750,000 through the Strategic Communities Investment Fund (SCIF) and $495,000 through the Business Development Program and an additional $204,000 for operating costs. The Canada/Prince Edward Island Labour Market Development Agreement, co-managed by Human Resources Development Canada and the provincial Department of Development and Technology, also contributed $750,000 to the project. A further $400,000 was contributed through the Canada/Prince Edward Island Regional Economic Development Agreement (REDA), a 70/30 cost-shared agreement between ACOA and the Province of PEI. The province contributed an additional $300,000 through the Department of Development and Technology. The Community of Northport and the Northport Development Corporation have contributed $132,000.
The fact that the restaurant next door is "closed until further notice," that the "sea rescue interpretation centre" is little more than some panels on a wall in an old shed, and that the "eco-tourism centre" and "retail shops" are nowhere in evidence suggests that the development isn't exactly taking off as planned.
That all said, the Northport Pier Inn is extremely pleasant: well-designed, clean, modern, and run by friendly staff. The beds were comfortable, they had Dora the Explorer on the cable TV, and the view from our room's balcony took my breath away: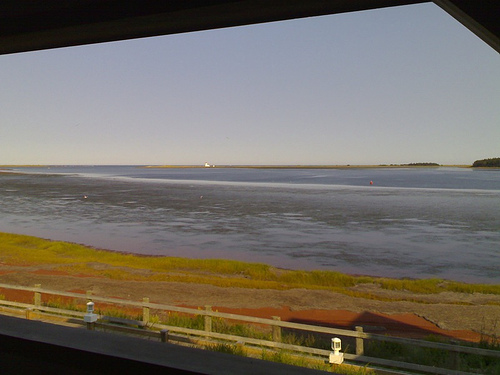 We got settled, and then headed into Alberton for dinner at the Sidewalk Café, a serviceable restaurant on the main street with a surprisingly broad dessert menu and very nice servers.
After supper it was down Rte. 12 to the Princess Pat Drive-in in Cascumpec: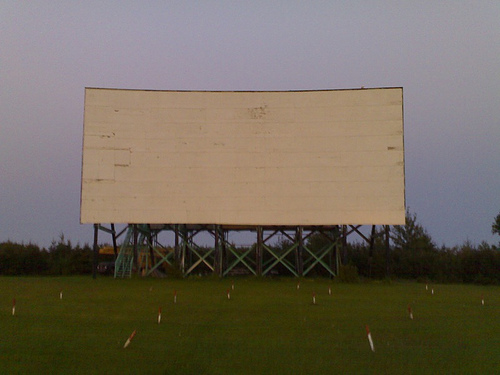 Every year that the Princess Pat stays in business is another gift to the community: it's in such an unlikely (albeit stunningly scenic) location and has projectors that are seemingly at the edge of their life. Playing on Saturday was Garfield 2, proving yet again that I will see any movie given an interesting enough setting. Actually, the movie was much, much less bad than I thought it was going to be: it was a stock "city cat, country cat" story, with an interesting cast that included Bill Murray (as the voice of Garfield), Tim Curry, and Billy Connolly. Oliver loved the movie, and stayed away until the very end, which was a first for him at the drive-in.
We made it about halfway through John Tucker Must Die, the second feature on the double bill, before I realized that staying to the end would compromise our awakeness for the next day, so we headed off to Northport around 11:00 p.m.
We started off Sunday morning with a hearty breakfast at the Inn (included with the night's stay) and then drove north to the very, very end of the Island (or the very beginning, depending on your politics) ending up at the North Cape Wind Farm: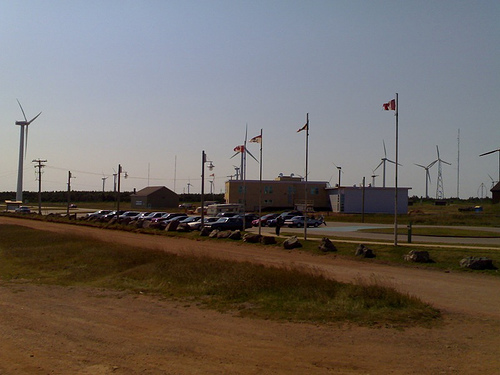 We found the interpretative centre there much upgraded since our last visit: it's now a combination of science-centre like "here's how wind works" displays, lots of pro-wind and pro-hydrogen propaganda, and the requisite "useless interactive multimedia presentations on expensive PCs." There's money dripping from the walls (yes, it's ACOA money too), but the end effect is a pleasant and educational way to spend an hour.
From North Cape we headed right down Route 14 to West Point, stopping at the Seaweed Pie Café in Miminegash for an excellent lunch (seafood chowder plus scallop burger), at West Point simply for the lighthouse photo opportunity, and ending up at Glenwood for a visit to the Pioneer Farm in Glenwood, a place we'd been turned onto by friends who'd visited a few weeks ago.
Pioneer Farm is sort of "back to the land: the next generation." It's operated by a couple who, "as the result of a series of downsizing and in the wake of the terrorist attack on the World Trade Center … became disillusioned with the life they were living." So they moved to the Island, bought 150 acres of forested land near the shore, and have developed a sort of petting farm cum demonstration farm.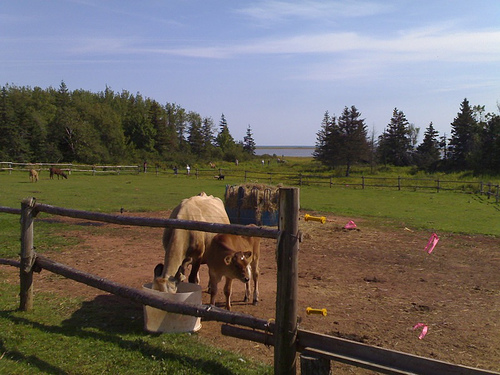 At their farm gate you drop $5 in an honour box, pick up a brochure, and then take a little self-guided tour of their turkeys, cows, chickens, horses and llamas. While the experience was a touch ascetic for my tastes, you have to admire their efforts, and their willingness to share their experience (to say nothing of their entrepreneurial pluck). If you want to drink the Kool-aid in a more serious fashion, they have a cottage for rent right on the property, and guests are invited heave and pull along side them during their stay.
The sun getting low in the sky, we made a bee-line from Pioneer Farm to Kensington for a stop at the Frosty Treat (where we found an exciting new set of signage — very well designed) and then headed home to find Catherine covered in paint and stain and wood oil.
It was a nice weekend, all in all: Oliver and I got to spend a lot of time together, we reminded ourselves of the many wonders of West Prince, and I got away from the keyboard for 48 hours. We'll have to go back in 2011.