I have driven the route between Moncton and Charlottetown perhaps 100 times in the 8 years we've lived on the Island. As I've only taken the Murray Corner back-way a couple of times, that means I've driven through the traffic circle at Port Elgin about 98 times. In all those times, I have never let my curiousity let me veer out of the traffic circle in any but the usual ways — to Moncton, Sackville, or to the ferry/bridge as the case may be. Until today.

With said curiousity piqued by mention of a world of German delights in Baie Verte and beyond, Catherine, wee Oliver and I veered right at the turn off for Port Elgin on our way back from Moncton this afternoon. This is our story.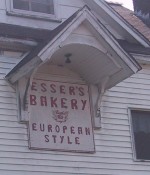 Our first stop was Esser's European Style Bakery in Baie Verte. Esser's is easy to find: just drive to Baie Verte, don't take the turn to Tidnish, drive until you think you've gone way, way too far, and at that precise moment when you turn around to go back, you will find yourself turning into Esser's driveway.

Esser's isn't exactly the picture of a modern bakery: it shares its driveway with a cattle operation, and the building that houses it has seen better days. But inside they sell a wonderment of bread, cakes, buns, biscuits and other pasteries, all German-influenced in their ingredients and presentation. We left outfitted with a half-dozen tasty desserts and a couple of loaves of bread. We will be back. Note: Esser's is a cash-only business; stop at the Trico Credit Union in Port Elgin on your way and get some cash.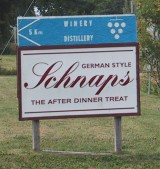 Our next stop was Winegarden Estates, a small distillery and winery that's close by. To get there from Port Elgin, drive to Baie Verte, turn left towards Tidnish, and drive exactly 5km. Winegarden Estates' store sells a dizzying array of wine, liquers and whisky, most made on the premises, with some additional products from the Gagetown Cider Company.

Like Esser's, Winegarden isn't much to look at. But their staff are friendly and helpful, you can sample everything they sell, and from out initial tasting, they make some interesting, quality products. The operational part of the distillery and winery is closed for renovations right now, but they promise that tours will be offered of the newly expanded facility in 2001. We'll do some more drinking, and report back later on what we discover. Note: Winegarden takes cash or Visa only, not Mastercard nor debit card.

Our last stop for the day was back on the more beaten track: the new visitor centre and nature park at Cape Jourimain. We didn't have it in us to take the full tour — they have trails out to the lighthouse and through the marsh — but we did get a sense of the place, and a chance to eat in their restaurant.

The entire Cape Jourimain development is designed to sit light on the land: the washrooms use recycling toilets and rainwater powered sinks, for example. When you see this technology in action, you wonder why we're not using it in all new buildings. It should be the law.

The environmentally friendly theme carries through to the restaurant, where they use brightly colour china and nicely designed silverware instead of the usual disposable dishes, and even have a big dish of butter instead of the usual little garbage-creating plastic tubes (note: there's a simple snack bar in the frontmost building; go along to the interpretive centre for the restaurant proper; ignore the signs saying you need to purchase a ticket first — you don't). Again, you wonder why all restaurants don't work this way.

The restaurant has a simple menu, with 4 or 5 entrees offered at any time. Both Catherine and I had the lobster stew. It was a little pricey ($9.95 for a large soup bowl), but it was worth every penny.

When we're feeling more spry, we'll return to drink in all that the Cape Jourimain development has to offer; in the meantime, however, I recommend it to anyone who's in need of a little rest or snack before heading home across the bridge (speaking of which: you get some of the best views of the Confederation Bridge, period, from the restaurant).

So next time you're rushing home from Moncton, realize that your rushing is an artifact of the old-time rush for the ferry, take your foot off the accelerator, and veer right. A world of wonders awaits.