I don't know the real story of how Chef Gordon Bailey went from being superstar Dayboat chef to running the new food court at the Confederation Court mall, but I've a sense that we'll all be happy he did, no matter how it happened.
Today is opening day at Urban Eatery, the recasting of the food court — formerly home to traditional mall vendors like Grandma's Deli and the Oriental Wok — as an upscale, well, urban eatery. It's still a food court — you can't completely seal off the Muzak — but boy is this not your father's food court: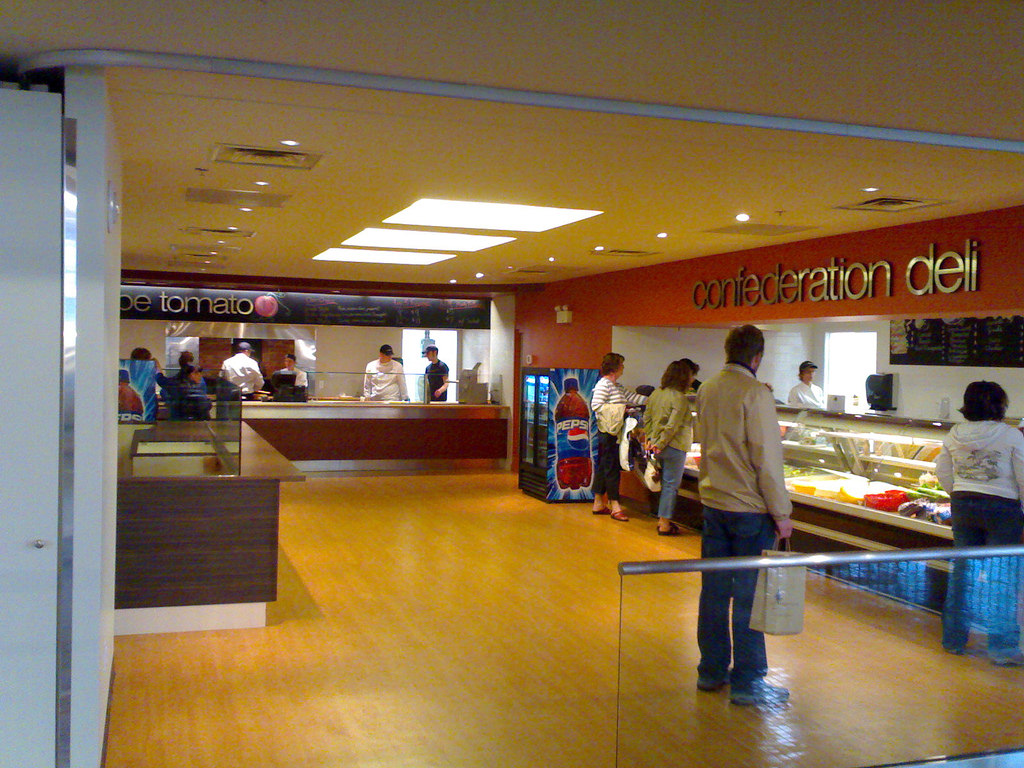 I stopped by on Saturday for their "soft opening" and had a slice of thin-crust brick-oven pizza ("Greek" style — excellent) and a cappuccino (a little milky, no takeaway sugar available, made by, alas, an espresso amateur, but nonetheless not a bad cup of coffee at all). Then Oliver and Catherine came by and we shared an apple danish (very good).
The real star of the show, however, is the "confederation deli" section, pictured above. From the looks of things this is a bona fide deli: meat, cheese, fresh veg, and bread that appears to be made in house. I'll take lunch there soon and let you know how I make out. They also sell bread "to go," by the way, and we took home an approximation of a baguette on Saturday and consumed most of it on the weekend. It wasn't "oh my God, I'm in France," but it was pretty good bread nonetheless, and surely it can only get better.
BGHJ certainly did a fantastic job on the interiors of the space: take out the Pepsi coolers that are anachronistically hulking in the midst of everything and you could be in Kastrup Airport in Copenhagen — it's all wood floors and polished metal and lower case sans-serif. If nothing else the architectural exorcism of the food court aesthetic on the inside means the place deserves our support.
I've long been a fan of the Confederation Court Mall. Having seen the downtowns of several cities in Ontario completely ravaged by downtown "redevelopment" (Brantford, Hamilton, and Peterborough are only three examples) with large-scale razing of existing buildings, the fact that in Charlottetown the same impulse was carried out by preserving what existing and building in was a fortunate masterstroke.
Now that you can get what promises to be a decent sandwich, and the whole place is lit with free wifi, it's possible that the second floor of the mall, a space that's tried so hard over the years but has never really taken off, will become an interesting place to hang out. Stay tuned.