Friday afternoon at 3:00 p.m. I got a hankering to go to the drive-in. I checked the Brackley Drive-in website and found, to my dismay, that their first show was Jurassic Park III, a movie my brother Mike recommended against seeing. So I decided it was finally time to take the long drive up to West Prince to visit the Princess Pat Drive-in. The drive was so long (in Island terms) that we decided to drive up, watch the movie, and stay overnight in a campground. Wee Oliver's first campout. This is our story:


3:15 p.m. — Find tent and sleeping bags in back room. Tent is musty smelling. Resolve to buy a new tent. Gather things needed for the trip; find that wee Oliver's size to things ratio is still way out of proportion to a normal human being.
4:30 p.m. — Car loading, email checking, phone calls, all take too long. Finally load the car and head off.
4:45 p.m. — Buy a new tent at Canadian Tire (a very nice 4-person hexagon-shaped Woods dome tent). Get an air mattress too (debate merits of foot pumped vs. self-inflating vs. new-fangled Coleman 'one use pump' models; Catherine agrees to be the foot behind the pump).
5:00 p.m. — Start to leave Charlottetown. Realize we are hungry. Stop at Tim Hortons for drive-thru dinner of sandwiches and ice cappuccinos.
5:10 p.m. — Finally heading west. Smooth drive with the exception of some road construction on Rte. 2 near Emerald.
6:00 p.m. — Stop in Kensington at Malpeque Bay Credit Union to get cash (and see weird sign in parking lot: "Wheelchair ramp is not accessible.").
7:00 p.m. — Arrive at Green Park Provincial Park to set up camp. Staff at the front gate are very friendly and helpful, and tell of secret back-way to drive-in. Get lost trying to find campsite. Finally locate campsite. Tent goes up easily on the first time (although I am wary of "before you use this tent the first time" directions, which we must ignore).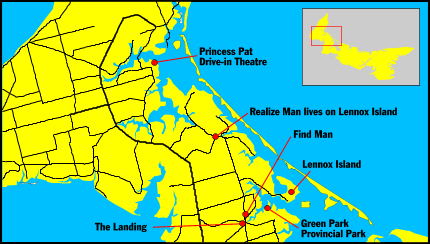 7:30 p.m. — Leave park for drive-in. Drive through beautiful Tyne Valley.
7:32 p.m. — Just outside of Tyne Valley see man in ditch waving hand back and forth. Stop. Man seems weak, but not dying. Asks if we can drive him home. Let man into car.
7:34 p.m. — Man seems to have little idea where he lives. Asks if I believe in God. Asks where we are from. Asks if I believe in God. And so on. Drive along Rte. 12 towards main highway. Try to extract from man where it is that he lives.
7:45 p.m. — Man mentions, in casual conversation, that he lives on Lennox Island. Realize that we passed turn-off to Lennox Island 10 minutes ago. Turn around. Drive to Lennox Island.
8:00 p.m. — Arrive Lennox Island. Man waves vague directions as to location of his house. Arrive man's house. Help him to front door and up stairs. Ensure he's okay. He tells me that good luck will come my way. Asks me if I believe in God. Etc. Say our good-byes.
8:05 p.m. — Back on the road to the drive-in. Think that we should call someone to see if they can look in on man. Try 411 for on the cell phone Lennox Island Police, but they have no listing for this (doesn't inspire confidence in 411). Finally get through to Stewart Memorial Hospital in Tyne Valley. Cell phone breaks up. They cannot hear me. Drive further. Call again. Give details and they say they will take it from there. Think Island Tel should improve cell service in West Prince.
8:45 p.m. — Arrive Princess Pat Drive-in. Beautiful location right on the water. Wait 5 minutes at booth as owners are on phone trying to locate source of CO2 for the pop dispenser. Pay. Enter.
9:10 p.m. — Go to canteen. Impressed by dizzying array of food available. Pop dispenser still broken. Remark to Catherine that all employees seem to use crutches; Catherine assures me that there is only one employee, she just moves around a lot. Children running canteen are very efficient and friendly. We all have a good laugh when cash register totals $350 for popcorn and drink.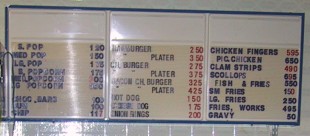 9:15 p.m. — First movie, Along Came a Spider starts. No trailers. Wrong lens on the projector makes everyone appear squished and tall. Cannot make sense of first 10 minutes of the movie. Second reel corrects problem. Enjoy the movie. Don't see the surprise plot twist coming. Movie ends, or rather peters out. Seems to short. Should have been one more surprise plot twist?
11:00 p.m. — One trailer (for Down to Earth), then blam, second movie (Save the Last Dance) starts. Remark to Catherine that they don't fool around at this drive-in, timing wise.
11:20 p.m. — Although movie looks promising, general consensus is that we are too tired to watch entire thing. Resolve to rent at a later date. Return to campsite. Sleep.


Night passes.


8:30 a.m. — Awaken at campsite. Shower, etc. Realize that this isn't much of a bona fide first camping experience for wee Oliver. Resolve quietly that next experience will involve fire, stories, toast cooked on special grill, etc.
10:15 a.m. — Check out from campground (check out time given last night by staff: "no need to hurry"). Arrive Tyne Valley looking for food. Find that The Landing restaurant serves breakfast.
10:30 a.m. — Find that The Landing started serving breakfast today and we are their first breakfast customers, ever. Find also that The Landing is in a building formerly occupied by a coffee shop and laundromat, which we visited 5 years ago. The Landing is much, much nicer than the laundry coffee place: solid wood interior, friendly staff, interesting menu, live entertainment at nights. Good meal. Recommended!
11:00 a.m. — Return to car to find that temperature has risen to 40 degrees. Or at least what seems like 40 degrees. Go insane with heat in no-AC car, and end up driving straight back to Charlottetown, aborting plans to take in local colour for early afternoon, swim, etc.
1:00 p.m. — Find that home alarm system had gone off in our absence. Look for results of break-in. Find none. Call alarm company; they detected break-in, but have flaky notes about what happened. Confused.
1:05 p.m. — Fall fast asleep. Wake up 2 hours later and realize that, despite new tent and cushy air mattress, I didn't get any sleep at all previous night. Probably worried about rolling over wee Oliver in the tent. Resolve that we must buy wee Oliver his own wee tent.