Oliver and I drove out to Victoria-by-the-Sea for our annual summertime "lunch at the Landmark Café, dessert at Island Chocolates" excursion — we are such creatures of habit that we happened to pick the same day as we did 5 years ago. There's no better way to spend a lazy Sunday: Eugene's meat pie is fantastic (as is the service, and the iced tea), and the factory coffee at Island Chocolates is the best combination of coffee and chocolate ever devised.
We decided to make a day of it and see the matinee of Trudeau Stories at Victoria Playhouse while were were there.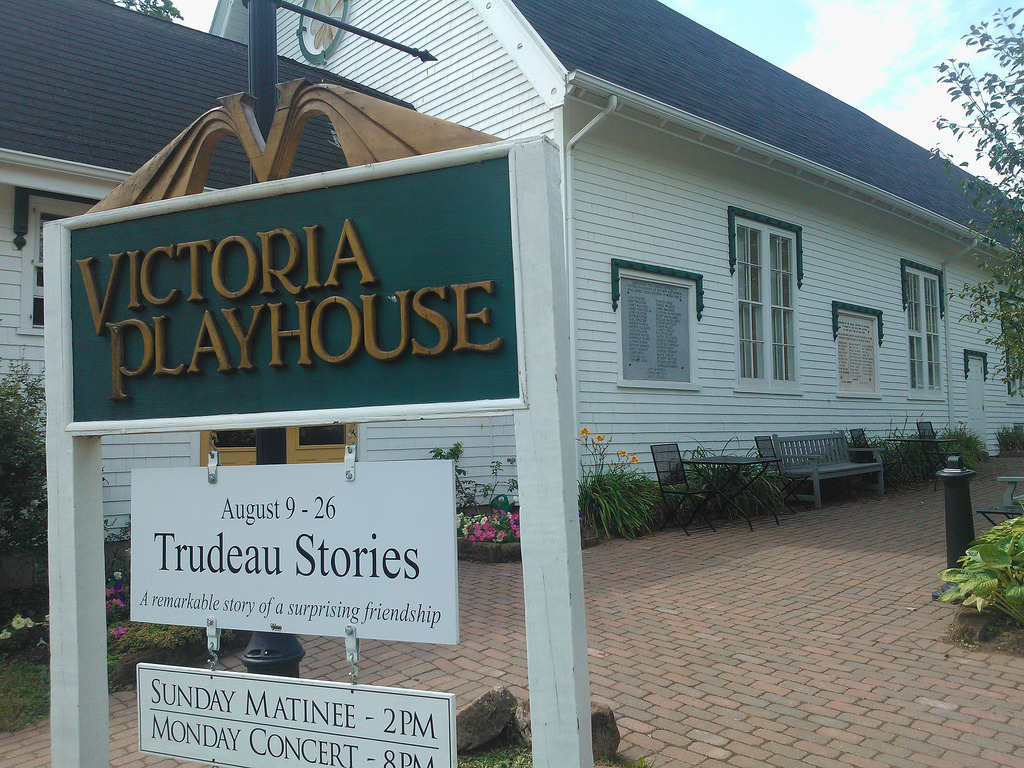 Which is how we found ourselves setting in the calm, cool environs of the little theatre along with a group of perhaps twenty sexagenarians watching Brooke Johnson interpret her unlikely friendship with Pierre Trudeau.
Pierre Trudeau was Prime Minister of Canada throughout much of my early life; as such he was both my archetypal Prime Minister, and, more generally, my archetype of what it meant to be a Canadian. So I found the notion that Johnson — herself roughly my own age — would become accidental friends with Trudeau late in his life an intriguing notion.
I enjoyed the show immensely: it's more of a theatrical ode than an exercise in storytelling, but Johnson is a talented actor, and the ode is heartfelt and compelling.
Oliver, bless his heart, sat (mostly) silently through the 75 minute intermissionless show; it was only in the car afterwards that I realized that I probably should have explained to him who Pierre Trudeau was (Oliver was born three days after Trudeau's death in 2000).
It's a shame that the audience skewed older (there were many knowing laughs from the audience, suggesting some close familiarity with the subject): it's really the younger generation that needs to understand more about what it's like to have a Prime Minister who's a facsinating, imaginative, iconoclast rather than simply economist-in-chief.
The show runs in Victoria-by-the-Sea until August 26th; I recommend you take it in.