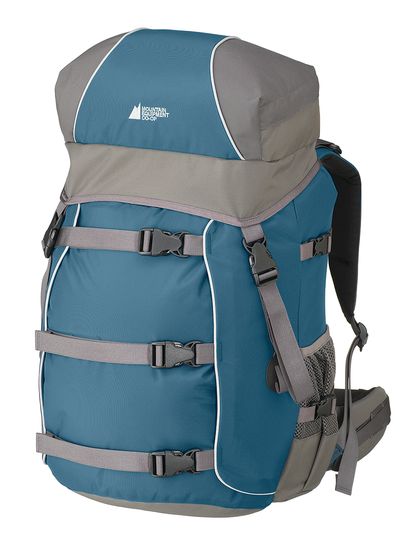 For our trip to Europe next week Oliver and I are travelling fast and low to the ground, meaning that suitcases need to give way to backpacks. We spent last Saturday scouring the sporting goods sections of stores about Charlottetown — Sporting Intentions, Sportchek, Source for Sports, Zellers — but all we could find were either adult-sized travel packs or cheap, small, Dora the Explorer-sized school packs for kids.
We were almost ready to give up when I thought to look on the Mountain Equipment Coop website, where I was happy to find the Big Squeeze Backpack, described:
The Big Squeeze is the missing link between kid's daypacks and adult multi-day packs. It is specifically designed for pre-teens heading backpacking with the family or off to summer camp. We built a compression stuff sack into the main compartment, large enough for a bulky bag.
The only question I had that was neither explained nor obvious in the product pictures was whether or not the pack has a chest strap — Oliver has wee shoulders and needs all the help he can get to keep the pack on! A quick call to MEC headquarters in British Columbia and a chat with a very helpful guy — he went down into the store to look and see for himself — revealed that not only does it have a chest strap, but one with a built-in whistle to boot.
Placed the order Saturday afternoon and the pack arrived here in Charlottetown on Wednesday morning. So far it looks like exactly what we need for 8 days on the road. We'll report back once the trip is over.