Here's a picture, taken inland from the Costa Brava in Spain, of our little Toyota Yaris, rented from EasyCar.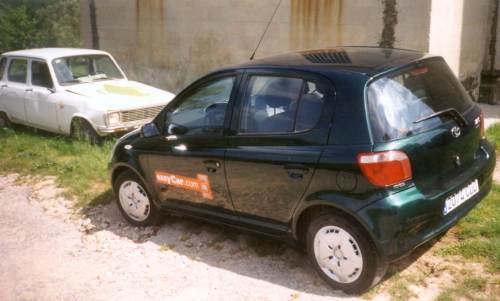 The Yaris is really a Toyota Echo hatchback. It's wildly popular in Europe — we saw them all over Spain and London. And now the model is coming to Canada (but, oddly, not the USA): the Echo Hatchback will be available here, says Charlottetown Toyota, starting in August.

I've always found the standard Echo to be a frightfully ugly car, with its jaunty high rear end. The Yaris/Echo Hatchback has the same form factor, but without a trunk, that which offends me is cut off, and the result is a sport looking car with a lot of room inside.

Although the Yaris is smaller than our 2000 Jetta Sedan (it's 72cm shorter, 7cm thinner and almost exactly the same height), the interior space is laid out in such a way as to feel much roomier. This was most obvious with Oliver in his car seat in the middle of the back seat: in the Jetta, his feet touch the back of the front seats; in the Yaris he had lots of leg room.

Fuel economy-wise the Yaris was fantastic: we filled it up in Barcelona, drove around a lot for 3 days, and didn't use a half a tank of gas. The Yaris is rated at 41/57 mpg (city/highway); our Jetta is 19/28 mpg. In other words, the Yaris can go twice as far on a gallon of gas as the Jetta.

Needless to say, we're going to take one for a test drive when they arrive in Charlottetown at the end of the summer.