I had occasion to rent a car twice over the last month, once in Boston for my trip up to Yankee and again this weekend to get Catherine, Oliver and I around Montreal. I both cases, as is my habit, I rented from Hertz (where apparently my loyalty has earned me "5 star status," something I know only because I heard an agent walkie-talkie "we've got a 5-star in here waiting for a car").
And in both cases I selected "Toyota Camry or Similar" from the Hertz website based on its inclusion in the "Green" collection of cars rated 28 Miles or more per gallon.
When I arrived in Boston, there was a Mercury Mariner SUV waiting in my assigned space. Not only is the Mariner not in the "Green" collection (it's rated only 17-21 mpg depending on the model in 2007), but it's a beast of a vehicle.
So I went inside to talk to an agent to see about getting a switch. After much fussing around — the issue seemed to be that they had no cars without the NeverLost GPS navigation system, which I hadn't ordered — another agent was brought in and she asked me if I "minded a two-door." I said that I didn't, and she handed me some keys and told me which stall to go to.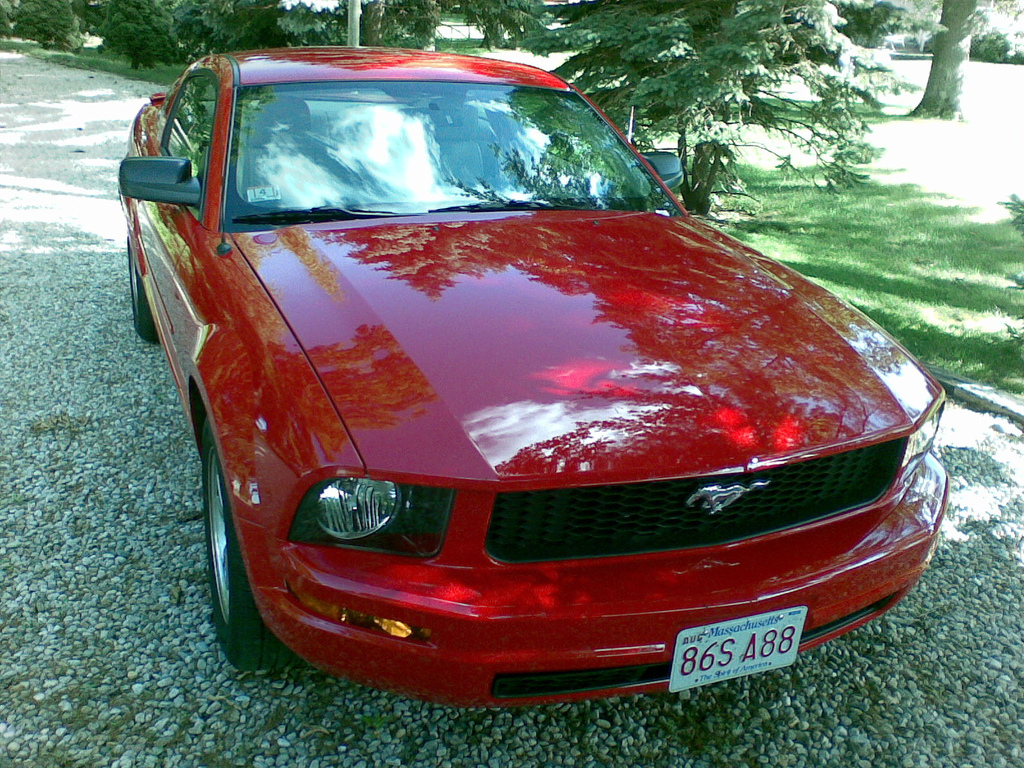 Waiting there for me was a Ford Mustang. Needless to say, the Ford Mustang isn't in the "Green" collection either (it's rated about 18 mpg). It's also a horrible beast of a car: it's uncomfortable, handles like a tank, has less oomph than my VW Jetta and telegraphs "I am an oaf" to all those around. Unfortunately I was in a hurry and in no mood to argue further, so I drove off in it.
By the time I'd driven down to Scituate and then back up to Keene, NH, I had already used a half tank of gasoline. Over the course of the week I used more gasoline than I've ever used on a trip to Yankee, and had to fill up twice.
On Friday when I arrived at Trudeau Airport in Montreal there was no car waiting for me at all, as I was 30 minutes early. There appear to have been no cars at all left at the airport for anyone without a reservation; fortunately I had one, and after a 15 minute wait I had the keys to a brand new Volvo V50 in hand: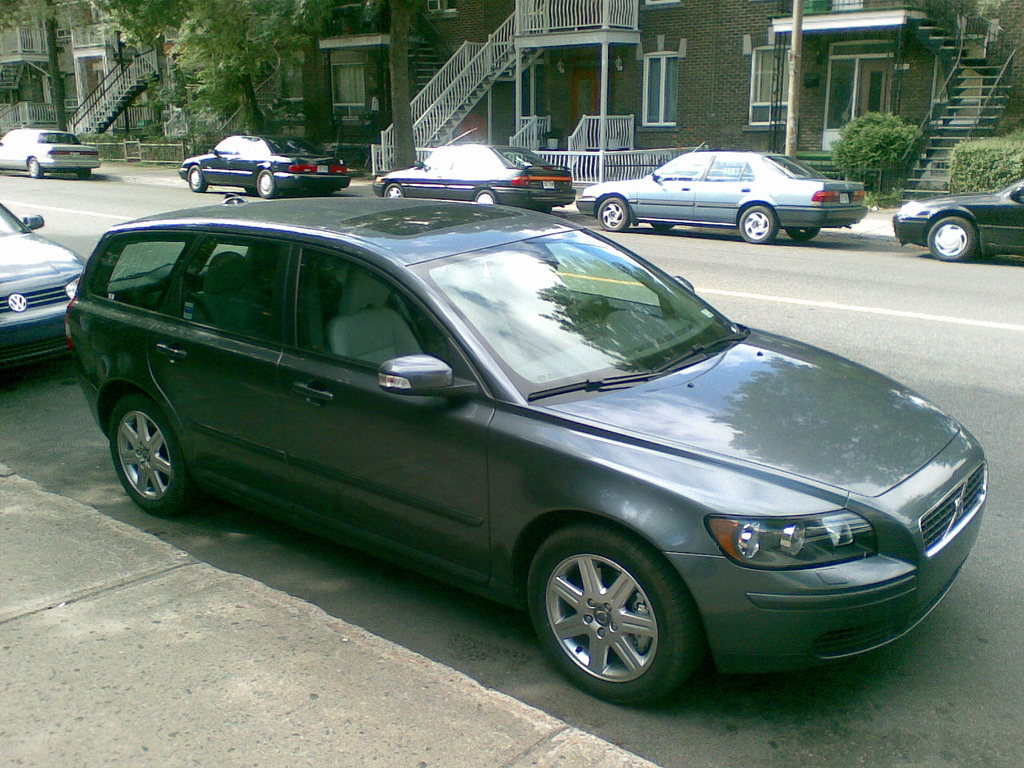 This car is rated 27 mpg city and 40 mpg highway, and it is a veritable dream of an automobile, so different from the Mustang as to feel like an entirely different breed of machine: it was comfortable, fun to drive, well-equipped inside (the radio took some getting used to, but it turned out to be pretty simply in the end). The only thing it suffers from — like many station wagons — is lack of rear visibility.
That said, in neither case could the car I ended up with be reasonably called a "Toyota Camry or Similar," although the Volvo was obviously somewhat closer that the Mustang.