We have a friend, let's call him "Larry," who, as far as I know, has never once eaten in a restaurant. Oh perhaps he once ate at a roadside stall in the Kashmir. And certain family functions may have forced him in through the back door. But in the many years that I've known him, I've never seen him eat out.
There is one exception to this habit: there was a time during the 1970s when "Larry" was living in a certain historic downtown Charlottetown house and had no access to a kitchen. As a result, he was forced to take all his meals at the The Town & Country restaurant. I'm not sure, however, whether this is a technical violation of his non-restaurant-eating stance, as eating at the T&C has always seemed more like eating at home than eating out.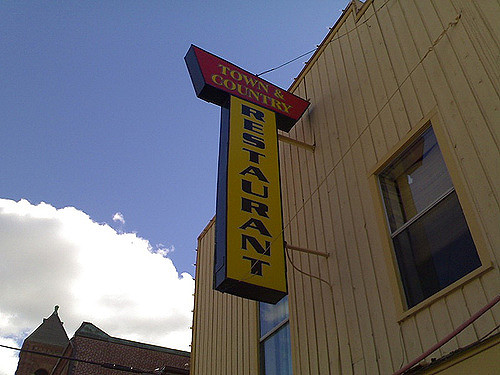 Oliver and I were eating dinner tonight — Catherine was out at the movies — when a story on Compass announced that tonight was the last night for the Town & Country: Louis and Faida Rashed, who've operated the restaurant for 42 years, are retiring.
The night before Oliver was born, Catherine and I had our last meal, before launching off into parenthood, at the Town & Country. That's the kind of meal you remember well, and I've always taken great comfort from knowing that the last little bits of Oliver snapped into place in the womb fueled by T&C food.
I've eaten there with friends, family, and colleagues. I've crammed into one of the the round banquettes with all of silverorange. I've enjoyed many a summer afternoon on the patio. I've been around for their 30th, 35th and 40th anniversary celebrations. And I've almost always ordered exactly the same thing: a shish taouk with rice. And it was the chicken soup otherwise.
And along the way I've benefited from the kindness and generosity of Louis and Faida: I've been sent home with half a dozen warm biscuits, been slipped a dessert or two on the sly, and have followed along as their granddaughter, born a month after Oliver, has grown up.
The Town & Country isn't going away — there are new owners, from Indonesia, who will re-open in a month. But I know it will never be the same: Louis and Faida made the T&C a very special place, and their absence will leave a hole in my life, and a hole downtown.
Upon hearing the news that tonight was the last night, Oliver and I got bundled up quickly, picked up some flowers on the way, and popped over for a good-bye and a last chicken soup and a chocolate milkshake.
I told Oliver about the night before he was born, and explained to him what "retirement" meant. Louis and Faida were very nice to him — he came away with a box of chocolates and a hug — and I got a chance to thank them for everything.
I asked Faida what she's going to do tomorrow morning: she told me that she has no idea.