Apparently there's a major international cycle race happening on my street on Thursday: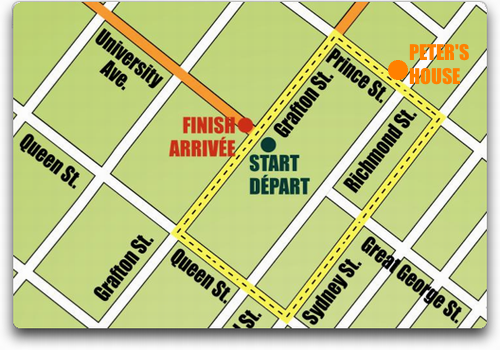 I've got no problem with the notion of holding a cycle race on city streets — cycling's great, and we should all do more of it.
It would be nice, however, for race organizers, or the city officials who allow for the street closures, to let residents know how we'll be affected. There's nothing on the race website other than the map above; I had to call the race office (which sent me to someone's cell phone) to find out that my street will be closed from Noon to 7:00 p.m. on Thursday and that I won't be able to take my car in or out during that time (I phoned the city for confirmation of this, and they told me "full closure" would extend from 1:30 p.m. to 8:30 p.m.).
Again, I support the race, and I don't even mind the inconvenience. But if you're going to rent out my street, the least you can do is tell me in advance.